Sen. Coons Says It's 'Gravely Concerning' That Putin Congratulated Biden Before McConnell
Senator Chris Coons, a Delaware Democrat, called out Senate Majority Leader Mitch McConnell and other Republicans for not publicly congratulating President-elect Joe Biden and recognizing his victory before Russian President Vladimir Putin.
Russian news agency Tass reported on Tuesday that Putin had sent a telegram to Biden, congratulating him after his formal victory in the Electoral College on Monday. Although Biden was projected to be the president-elect more than a month ago, Putin had declined to offer his congratulations as President Donald Trump's legal challenges proceeded ahead of the Electoral College vote.
McConnell did congratulate Biden later on Tuesday morning after news of Putin's message to the president-elect broke. "Our country has a president-elect and a vice president-elect. The Electoral College has spoken. I want to congratulate President-elect Joe Biden," McConnell said from the Senate floor.
The Quote
"That's a really striking development," Coons told CNN on Tuesday morning when he was asked about McConnell's failure to congratulate Biden before Putin. "It is a gravely concerning development that the Republican Party remains so enthralled by Donald Trump and President Trump's endless refusal to accept the will of the people—that it frankly puts our democracy at risk both at home and our reputation abroad."
Coons also said that, as far as he knows, McConnell, a Kentucky Republican, had not yet spoken with Biden since his victory. Newsweek reached out to McConnell's press secretary for comment but did not hear back before publication.
Why It Matters
Trump and his GOP supporters have pushed unsubstantiated claims of widespread voter fraud, claiming without evidence that Biden won because the election was "rigged." Nearly all of their legal challenges have failed in court, as judges have repeatedly noted that they have not provided evidence to support their claims.
Even Attorney General William Barr, who was widely viewed as one of Trump's most loyal Cabinet members, said there is no evidence of election fraud that would overturn Biden's win. Barr officially submitted his resignation on Monday after significant criticism from the president, as Trump and his supporters continue to insist, without evidence, that the election was "stolen."
Putin had declined to congratulate Biden until this week, pointing to the pending legal challenges. The Russian president's decision was at odds with that of most other world leaders, and the decision stood in stark contrast to 2016, when Putin quickly congratulated Trump on his victory over Hillary Clinton.
"Putin wished every success to the president-elect and expressed confidence that Russia and the U.S., who bear special responsibility for global security and stability, could, despite their differences, help solve many problems and challenges that the world now faces," the Kremlin said in a Tuesday statement reported by Tass.
"For my part, I am ready to cooperate and maintain contact with you," Putin told Biden in a telegram message.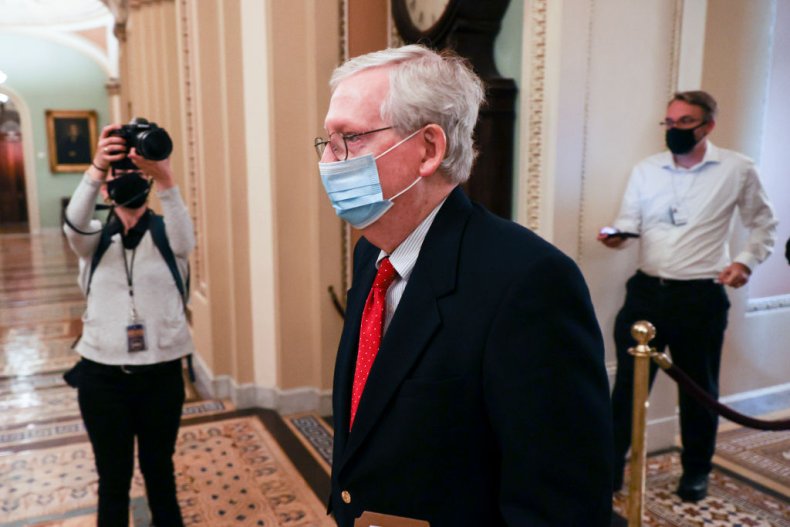 Opposing View
McConnell previously said that Trump had a right to pursue legal challenges to the election.
"Our institutions are actually built for this. We have the system in place to consider concerns, and President Trump is 100 percent within his rights to look into allegations of irregularities and weigh his legal options," McConnell said from the Senate floor on November 9.
Other GOP lawmakers pointed out that the presidential transition was moving forward, even if many within the party's ranks have not publicly accepted Trump's loss.