Sen. Dianne Feinstein, Targeted by Progressives, Backs Reviving Talking Filibuster
Sen. Dianne Feinstein (D-Calif.) said that she was "open" to reforming the Senate's filibuster on Friday, indicating an at least partial shift in of her position amid a mounting pressure campaign from progressives.
Feinstein made the announcement in a statement that began by noting that the House had recently passed gun control measures and reauthorized the Violence Against Women Act. The veteran Democrat suggested that reforming the filibuster rule could be an effective solution to Republicans in the Senate potentially "abusing" the rule by blocking the recent bills and other legislation that she had "tried for years to pass."
Feinstein had previously provoked the ire of progressives for refusing to endorse the elimination of the filibuster, a rule that requires most legislation to have the support of at least 60 senators to invoke cloture, ending debate and allowing the Senate to vote on a bill. Although she did not indicate her position had changed in that regard on Friday, Feinstein backed President Joe Biden's recent suggestion that the Senate again require a "talking filibuster."
"Ideally the Senate can reach bipartisan agreement on those issues, as well as on a voting rights bill," Feinstein said. "But if that proves impossible and Republicans continue to abuse the filibuster by requiring cloture votes, I'm open to changing the way the Senate filibuster rules are used."
"President Biden this week suggested returning to a talking filibuster so opponents of a bill must speak on the Senate floor and explain their opposition," added Feinstein. "That is an idea worth discussing. I don't want to turn away from Senate traditions, but I also don't believe one party should be able to prevent votes on important bills by abusing the filibuster."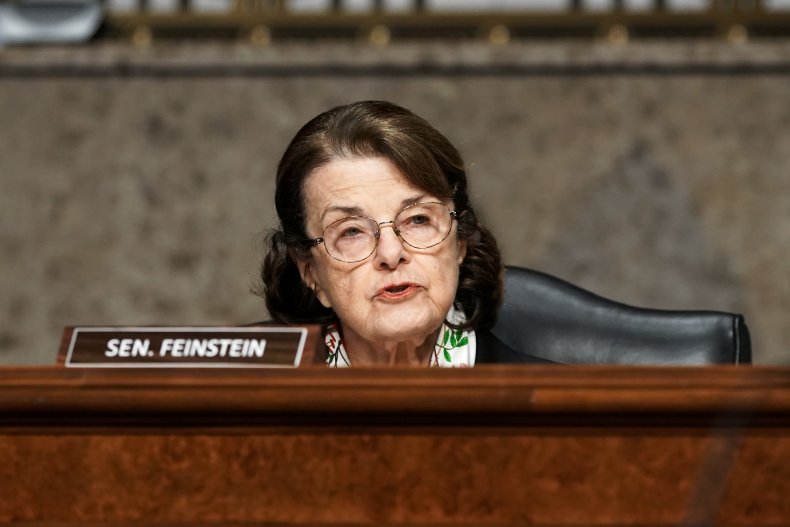 Progressives denounced Feinstein last September after she declined to support abolishing the filibuster and argued that the rule "serves a purpose." As recently as Thursday, Feinstein told conservative outlet National Review that she was still in favor of leaving the filibuster untouched, warning that "changing it" could have "ramifications for the institution" of the Senate.
Progressive groups Indivisible and Courage California have spearheaded a recent pressure campaign to convince Feinstein to back the effort to eliminate the filibuster. The groups hope to eliminate the rule in part to help facilitate the passage of the For the People Act, a voting rights bill that seems unlikely to garner the required Republican support needed to pass in the Senate under current rules.
Forcing the Senate's minority party to hold court for an extended period by reestabishing the talking filibuster, which has not been a firm requirement for several decades, could make blocking a bill a more difficult process but would not change the 60-vote requirement to invoke cloture. Several other moves that would also stop short of abolishing the filibuster, like lowering the vote threshold to a number below 60, have also been floated as potential reforms.
Even if Feinstein does eventually change her position to support eliminating the filibuster, at least two other Democratic senators have been steadfast in their opposition to the move, Sen. Joe Manchin (D-W. Va.) and Sen. Kyrsten Sinema (D-Ariz.). To change the rule, all 50 senators that caucus with Democrats would need to support it, with Vice President Kamala Harris then breaking what would almost certainly be a tie vote.
Newsweek reached out to Feinstein's office for comment.