Sen. Duckworth Rips Collins' Comments, Says I'm 'Not Sad' Soleimani's Dead, 'I Left Parts of My Body in Iraq Fighting Terrorists'
On Thursday's CNN Right Now, Senator Tammy Duckworth (D-Ill.), responded to comments made by Representative Doug Collins (R-Ga.) that Democrats are "in love with terrorists" by saying that while she didn't mourn the death of General Qassem Soleimani, "I left parts of my body in Iraq fighting terrorists."
Rep. Collins, a top member of the House's Judiciary Committee, appeared on Fox Business' Lou Dobbs Tonight Wednesday evening, where he accused Democrats of loving terrorists.
"They mourn Soleimani more than they mourn our Gold Star families who are the ones who suffered under Soleimani. That's a problem," he added, responding to Democratic criticism of President Donald Trump's handling of the airstrike which killed General Soleimani.
"I'm not going to dignify that with a response.... I don't need to justify myself to anyone," Duckworth replied during her CNN appearance.
"I'm disgusted. I would never, ever use Gold Star families, military men and women or their families as any pawn in any political game. Let me tell you something: This issue is about America's national security. It is not a partisan political issue," she said.
"My concern is, is America safer today than it was before the president made this rash decision without considering the consequences and having a plan in place to handle the consequences? And my answer at this point is no," Duckworth continued.
"I am not sad that this man is dead. I am glad that he's gone to meet his maker and that he will get his just desserts. But at the end of the day, because of the poor handling of the White House and the consequences of their actions, American troops are now hunkered down, American forces are now under greater danger of attacks from Iran and other hostile forces in the Middle East," Senator Duckworth concluded.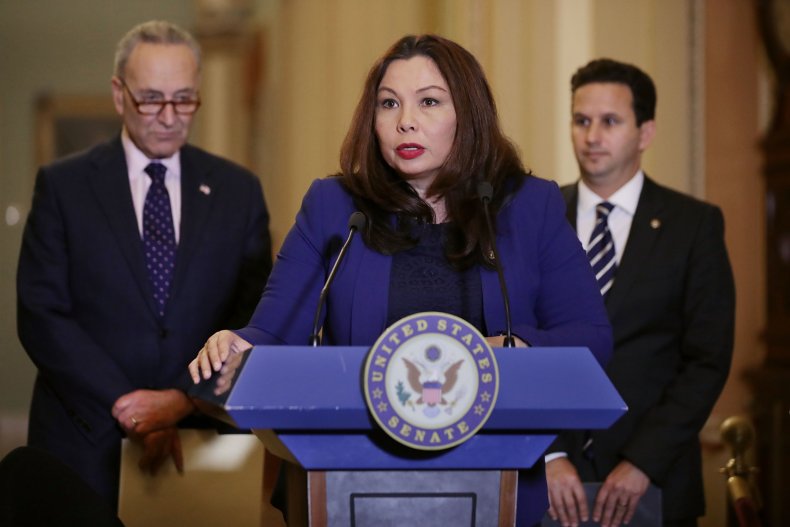 Multiple others have criticized Collins' statement, including Eric Columbus, a former senior Obama administration official, who tweeted that Trump had experienced conflicts with multiple other service members and their families.
Duckworth lost both of her legs—the right near the hip and the left below the knee—while serving as a helicopter pilot during the Iraq war. On November 12, 2004, the helicopter she was co-piloting was struck by grenade fire launched by Iraqi combatants. She attained the rank of Major and was awarded the Purple Heart for her service.
As a senator, Duckworth made history by being the first sitting senator to give birth. In 2018, Duckworth's daughter, Maile, became the first baby to be present during a senate session.
Newsweek attempted to reach Rep. Collins for comment, but did not hear back at press time.