Sen. Ed Markey overcame a Democratic primary challenge from U.S. Rep. Joe Kennedy III on Tuesday, who became the first politician from the Kennedy family to lose an election in Massachusetts.
Kennedy, 39, conceded to 74-year-old Markey after a contentious race that saw him painted as a more moderate alternative to the incumbent. Markey was endorsed by several prominent figures from the progressive wing of the Democratic party, including Rep. Alexandria Ocasio-Cortez and Sen. Elizabeth Warren.
Markey congratulated Kennedy for a "fierce" campaign after the victory, while remarking that he hopes to work with him "to make the lasting, meaningful change that I know that we are both committed to." Kennedy praised Markey as "a good man" in his concession speech and pledged to support his former rival's bid for reelection.
Kennedy, the grandson of former Senator and Attorney General Robert F. Kennedy, had started his primary challenge strong. While eventually gathering endorsements from House Speaker Nancy Pelosi and Sen. Kyrsten Sinema, he had led polling during the early stages of the campaign.
However, Markey quickly became favored to retain his seat after gaining ground among many younger voters, some of whom promoted him with online memes that featured his well-worn Nike basketball shoes.
"This campaign has always been about the young people of this country, you are our future," Markey said during his victory speech. "Thank you for believing in me because I believe in you. And if we all keep believing together, we just may get my sneakers to last another eight weeks on the campaign trail."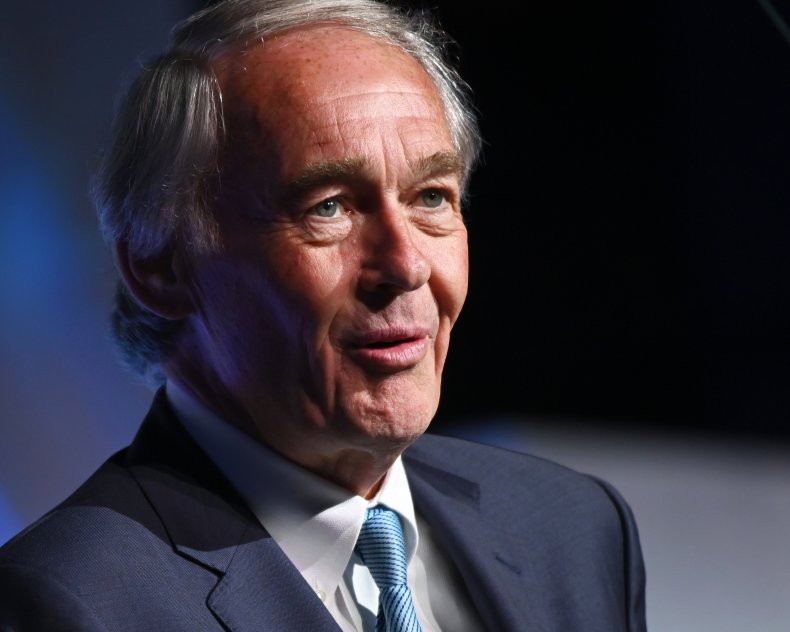 Markey was favored by many due to his support for progressive policies, such as the Green New Deal, which he had co-sponsored with Ocasio-Cortez. He vowed to work to pass the legislation, saying he would accept no compromise after winning the primary.
"This is a matter of life and death, the very future of our civilization depends on it. There is no time for simply doing what we can," said Markey. "There is no time for compromise on the existential threat to our time. We must pass a Green New Deal."
Both candidates characterized their rivals as out of touch with current politics. Kennedy suggested that Markey's decades in politics had distorted his perspective, while Markey accused Kennedy of being "a progressive in name only" and turned his status as a member of America's most famous political dynasty against him.
In a campaign ad where he was billed as "The Green New Dealmaker," Markey touted his own family's working class roots while reversing a famous quote from former President John F. Kennedy by saying "with all due respect, it's time to start asking what your country can do for you."
Markey was first elected to the Senate in a special election in 2013, held after former President Barack Obama nominated former Sen. John Kerry to become Secretary of State. Prior to that, he had represented Massachusetts in the House for more than three decades.
Nine Democrats were also contending in a Democratic primary for U.S. Representative of Massachusetts's 4th Congressional District on Tuesday, the House seat Kennedy gave up to face Markey. The primary was too close to call at time of publication.