Sen. Elizabeth Warren Calls for House to Impeach President Donald Trump; Will Other Candidates Follow?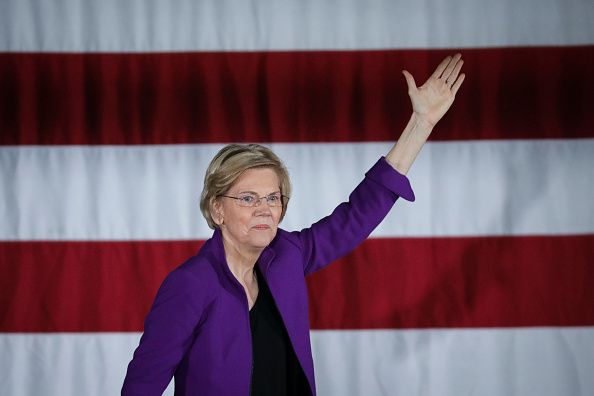 Senator and 2020 presidential candidate Elizabeth Warren called on her fellow lawmakers in the House of Representatives to start impeachment proceedings against President Donald Trump, following the recent release of Special Counsel Robert Mueller's full report on his investigation into Russian election interference and allegations of obstruction of justice by the president.
"The Mueller report lays out facts showing that a hostile foreign government attacked our 2016 election to help Donald Trump and Donald Trump welcomed that help," wrote Warren in a multipart tweet published Friday afternoon. "Once elected, Donald Trump obstructed the investigation into that attack."
While the special counsel could find no concrete evidence of a conspiracy between the Trump campaign and the Russian government to interfere in the 2016 election, the report did note that then-candidate Trump publicly stated in July 2016 that he hoped Russia would recover emails of Democratic candidate Hillary Clinton that were believed to be missing.
Mueller's team also pointed out that in October 2016, hours after video surfaced of Trump speaking crudely about women on Access Hollywood, WikiLeaks released documents, stolen by Russian hackers, from Clinton campaign chairman John Podesta.
Regarding allegations of obstruction by Trump, Mueller declined to make any final decision regarding the president's legal culpability. At a press conference Thursday in advance of the report's release, Attorney General William Barr said the special counsel did not indicate that his purpose was to leave the decision to Congress. In her statement Friday, Warren used Mueller's words to counter Barr's claim.
"Mueller put the next step in the hands of Congress: 'Congress has authority to prohibit a President's corrupt use of his authority in order to protect the integrity of the administration of justice.' The correct process for exercising that authority is impeachment," tweeted the senator.
Though Mueller drew no conclusion on obstruction, Barr and Deputy Attorney General Rod Rosenstein subsequently made a determination that they believed no crime had been committed. At his press conference, Barr said it was "important to bear in mind the context" of Trump's alleged obstructive acts, like firing FBI Director James Comey or attempting to have White House Counsel Don McGahn remove Mueller from the investigation. "President Trump faced an unprecedented situation. As he entered into office, and sought to perform his responsibilities as President, federal agents and prosecutors were scrutinizing his conduct before and after taking office, and the conduct of some of his associates. At the same time, there was relentless speculation in the news media about the President's personal culpability."
Warren said Friday that this decision to not hold Trump accountable would do harm to America.
"To ignore a President's repeated efforts to obstruct an investigation into his own disloyal behavior would inflict great and lasting damage on this country," she tweeted, "and it would suggest that both the current and future Presidents would be free to abuse their power in similar ways."
Closing out her statement, Warren called on both Democrats and Republicans to move forward with articles of impeachment against Trump: "The severity of this misconduct demands that elected officials in both parties set aside political considerations and do their constitutional duty. That means the House should initiate impeachment proceedings against the President of the United States."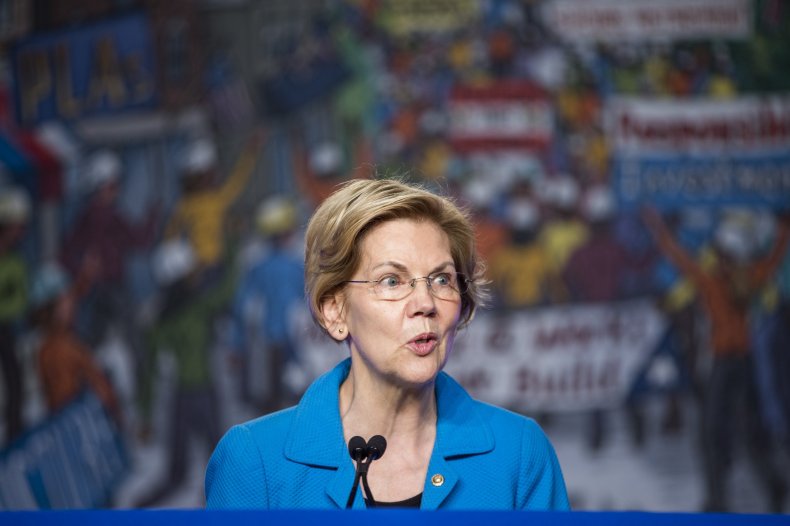 Warren's statement is believed to be the first public call for Trump's impeachment by any of the major Democratic candidates for the 2020 presidential race.
Candidate Pete Buttigieg, mayor of South Bend, Indiana, said Thursday in Boston, "I think he may well deserve [impeachment], but my focus, since I'm not a part of Congress but I am part of 2020, is to give him a decisive defeat at the ballot box," according to CBS News.
Other candidates, including Bernie Sanders, Joe Biden, Kamala Harris and Beto O'Rourke, have either not addressed the impeachment question directly or have previously stated there wasn't enough evidence to support removing the president.
In 2018, Biden said in an interview with CBS This Morning, "I hope they don't" impeach Trump. "I don't think there's a basis for doing that right now."
Sanders, of Vermont, issued a qualified support of possible impeachment in 2018 when he said that halting the Mueller investigation would be an impeachable offense.
He was more cautious this week, telling CBS in a statement, that "While we have more detail from today's report than before, Congress must continue its investigation into Trump's conduct and any foreign attempts to influence our election."
Sen. Harris of California said Thursday on MSNBC that "there's definitely a conversation to be had on" impeachment, but that she first wanted to "hear from Bob Mueller and really understand what exactly is the evidence that supports the summary that we have been given today."
In October 2018, when he was still trying to unseat Ted Cruz from his Senate seat, O'Rourke told CNN about possible impeachment that, "There is enough there to proceed with a trial for a full vetting of the facts and to make the best-informed decision in the interest of this country."
Since all of these candidates are either in the Senate or not currently a federal legislator, none of them would be able to actually initiate the impeachment process.
Any impeachment would, by law, have to begin in the House, where Democrats currently hold a majority of the chamber. Only a simple majority is required for the impeachment to succeed, at which point it would move to the Senate for a trial. To convict a president and remove him from office, a more substantial two-thirds majority is required in the Senate. Currently, the GOP holds a 53 seat majority in the Senate, meaning Democrats would need to convince more than a dozen Republicans of the president's guilt to succeed.
The last president to be impeached was Bill Clinton. In 1998, the House approved two charges — obstruction of justice and perjury — against Clinton, who was subsequently acquitted on all charges following a 1999 Senate trial.