Sen. Graham's Calls for Putin's Assassination Are 'Unacceptable': Russia
Russia responded to U.S. Senator Lindsey Graham's calls for Russian citizens to assassinate President Vladimir Putin, calling his remarks "unacceptable."
"I find the statement of American politics unacceptable and outrageous," Russian Ambassador to the U.S. Anatoly Antonov said in a Facebook post on Friday. "The degree of Russophobia and hatred in the USA towards Russia is off the charts."
"It's getting scary for the fate of the United States, which has such irresponsible and unprofessional politicians at the helm. We demand official explanations and decisive condemnation of this American's criminal statements," Antonov added.
On Thursday night, Graham, a South Carolina Republican, posted a series of tweets in which he suggested that Russian citizens should attempt to assassinate Putin amid the country's ongoing conflict with Ukraine.
"Is there a Brutus in Russia? Is there a more successful Colonel [Claus von] Stauffenberg in the Russian military? The only way this ends is for somebody in Russia to take this guy out. You would be doing your country - and the world - a great service," Graham wrote.
Brutus is widely known as the man who assassinated former Roman dictator Julius Caesar, while Stauffenberg attempted to kill Nazi leader Adolf Hitler.
In a subsequent tweet, Graham wrote, "The only people who can fix this are the Russian people."
During an interview with Fox News on Thursday night, Graham made similar comments, saying "somebody in Russia has to step up to the plate....The only way this ends, my friend, is for somebody in Russia to take this guy out."
According to NBC News, Kremlin press secretary Dmitry Peskov also hit back at Graham's comments, telling reporters on Friday: "Unfortunately, in such an extremely tense atmosphere, there is a hysterical escalation of Russophobia. These days, not everyone manages to maintain sobriety, I would even say sanity, and many lose their mind."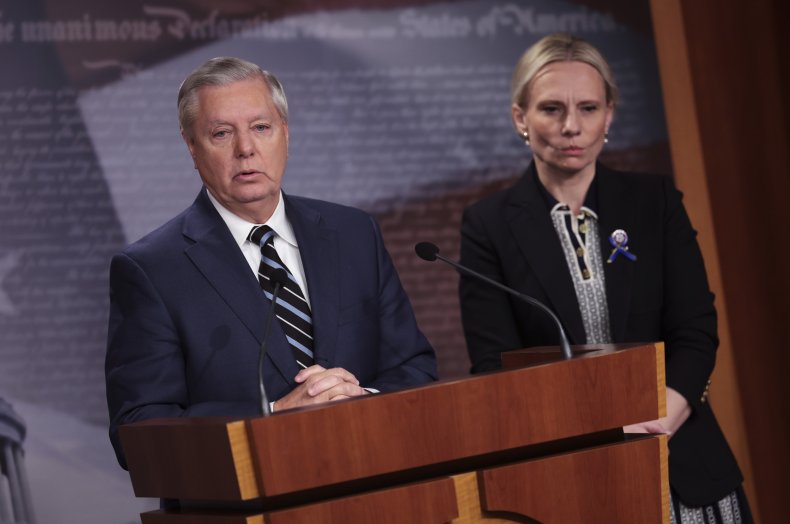 On Friday, Graham responded to Antonov's comments during an appearance on Fox News' Fox & Friends.
"Mr. Ambassador, you're supporting a war criminal in Putin. Your country's engaged in war crimes in front of the entire world," Graham said. "You need to apologize to the world for how Putin has stolen your country blind, how they're dismembering a neighboring democracy called Ukraine, how they're killing innocent men, women and children.
"You, my friend, are the one that needs to apologize, and when it comes to Putin, he needs to go to jail."
Graham's office declined further comment when Newsweek reached out.
In addition to those in Russia, several U.S. lawmakers criticized Graham's comments on Thursday.
U.S. Senator Ted Cruz, a Texas Republican, called Graham's suggestions "an exceptionally bad idea," while Republican Representative Marjorie Taylor-Greene of Georgia said they were "irresponsible, dangerous & unhinged."
White House press secretary Jen Psaki was asked about Graham's remarks during a news conference on Friday.
"That is not the position of the United States government and certainly not a statement you'd hear come from the mouths of anybody working in this administration," Psaki said.