Sen. Kirsten Gillibrand: Donald Trump's Presidency is Resulting in 'War on Women'
Senator Kirsten Gillibrand appeared on CBS' Face the Nation Sunday and argued that President Donald Trump had started a "war on women."
Speaking to host Margaret Brennan, the 2020 Democratic presidential hopeful credited Trump with establishing a climate in which conservative states are able to pass a slew of restrictive anti-abortion laws.
"This is nothing short of an all-out assault on women's reproductive freedom, an effort to take away our basic human rights and civil rights," the senator from New York said during the interview.
Gillibrand added: "I hope America's women are paying attention because President Trump has started a war on America's women. And if it's a fight he wants to have, it's a fight he's going to have, and he's going to lose."
The former congresswoman, who is polling in 12th place among a crowded heap Democratic hopefuls, has positioned women's rights as one of her central campaign platforms.
Since launching her campaign in January, she has promised to codify Roe v. Wade, as well as repeal the Hyde Amendment, which places limits on funding for abortion services. Even if elected, Gillibrand would need a Democratic majority in both the House and the Senate to accomplish those goals.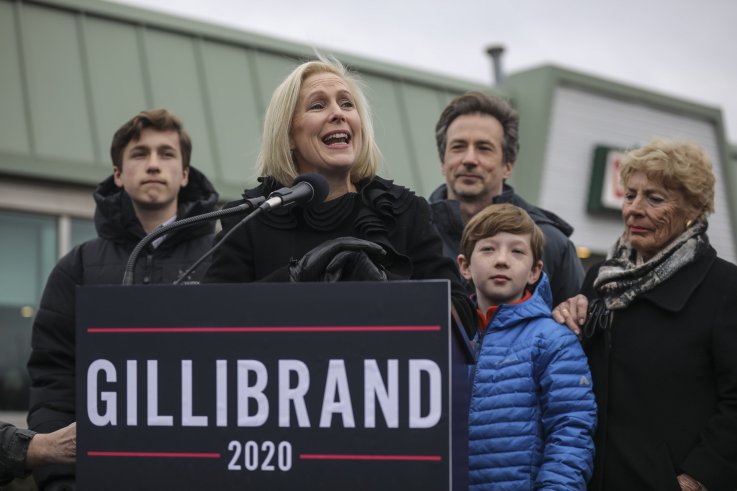 Asked if there was "room on her ticket" for voters who have personal objections to abortion, Gillibrand said, "of course."
"You can have your personal views on any issue," Gillibrand said. "There's nothing wrong with having a religious perspective on this issue. But what I do not accept is any Democratic leader or candidate to not believe in full civil rights and human rights for women."
Kentucky, Mississippi, Ohio, Iowa and Georgia have all passed so-called heartbeat bills, which ban abortion once a fetal heartbeat can be detected—sometimes as early as six weeks and before most women realize they are pregnant.
The state of Alabama passed the nation's most restrictive abortion law last week, criminalizing abortion providers and banning the procedure in all cases except when it's performed in order to save the life of the mother.
There is no exception for pregnancy resulting from rape or incest in the Alabama law, a hardline approach that some pro-life Republicans—including Sen. Mitt Romey of Utah and Sen. Tim Cotton of Arkansas—responded to this weekend by saying they personally believe these exceptions should be included. Trump also weighed in on the issue, writing on Twitter that he was against abortion except in cases of rape, incest or when it was necessary to maintain the health of the mother.
The wave of heartbeat bills and the Alabama law—part of a broader effort to push the Supreme Court into taking up the issue—have yet to take effect and are facing numerous legal challenges. In the meantime, abortion continues to be legal in all 50 states plus Washington, D.C.
Sen. Kirsten Gillibrand: Donald Trump's Presidency is Resulting in 'War on Women' | U.S.