Sen. Lindsey Graham Tells Sean Hannity Iranians Are 'Religious Nazis' Who Want to 'Kill All the Jews'
Reacting to a strike by Iranian forces against an Iraqi military base housing American and allied forces and other sites in Kurdistan's Erbil during a Tuesday evening appearance on Fox News' Hannity, Sen. Lindsey Graham (R-S.C.) supported President Donald Trump's strategy in the region.
"You can't build a wall between us and radical Islam," Lindsey said. "We need some of our people over there working with others to keep these bastards at bay."
While saying that Trump is "the first president to understand Iran in 40 years," Lindsey said, "When they killed our contractor, everything changed. America first means to me now more than anything else, you kill an American, you're going to be the first we come after."
Graham then declared that Americans should "never lose sight that we're dealing with religious Nazis. They really mean it when they want to destroy Israel and kill all the Jews."
"They've been disrupting the Middle East for 40 years," Graham added. "It needs to stop."
He added that "this regime" lies "somewhere between Al Baghdadi, he's on a religious quest to destroy the world and change it to a certain form of radical Islam, and Kim Jong Un."
Graham told Hannity, "Here's what the president, I think, understands about the Iranians—they're never going to change until you make them change. For the last 40 years, they've been wreaking havoc on the world and you've got a new sheriff in town."
Graham said he thought Trump would be thinking of three questions Tuesday evening: "What do I have to do to tomorrow or the next day to get them back into a deterrent mode to leave us alone?"; "How do I get them to change their missile program to get a better deal on their nuclear program so they won't have a pathway to bomb?" and "What can I do to stop their being the largest state sponsor of terrorism?"
Graham emphasized that "the president is not looking for a regime change, but he is looking for a behavior change."
"Let me say tonight, if you're watching television in Iran," Graham concluded, "I just got off the phone to the president. Your fate is in your own hands in terms of the regime's economic viability. You continue this crap, you're going to wake up one day out of the oil business," echoing an argument Graham previously made that the United States should target Iranian oil fields and refineries.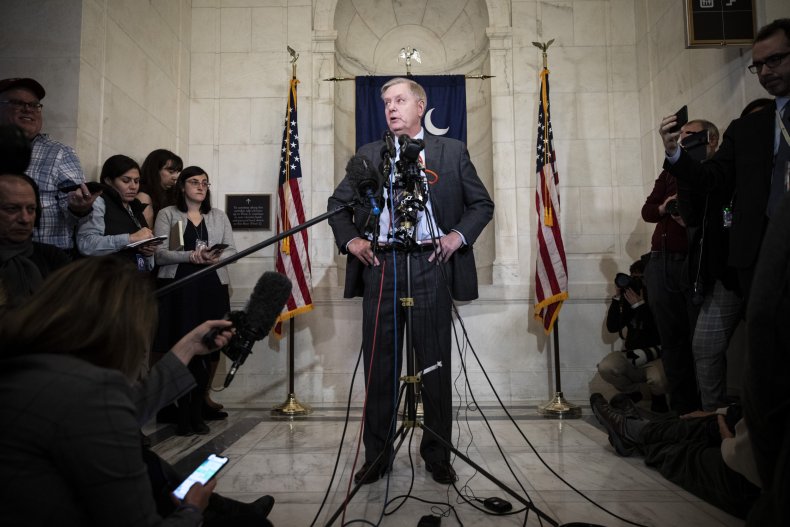 The missile launch was carried out by Iran's Revolutionary Guard, which has claimed responsibility for firing on the Ayn al-Asad Air Base and other targets.
The conflict between Iran and the United States has been intensifying since a rocket attack allegedly launched by members of the Kataib Hezbollah militia on an Iraqi military base in Kirkuk on December 27. That assault killed one American, a civil contractor, and wounded several U.S. soldiers. A spokesperson for Kataib Hezbollah denied involvement in the attack, according to The New York Times.
On December 29, the U.S. launched airstrikes which killed 24 Kataib Hezbollah combatants.
In response, a large group of Iraqi protesters forced its way past security forces and into the U.S.'s embassy in Baghdad on December 31.
Armed with rocks and chanting "Death to America," they marked the interior walls of the embassy with graffiti, set fires, destroyed property, broke windows and announced their demands—a complete withdrawal of U.S. troops from Iraq.
According to a statement from the Pentagon, the resultant strike against Soleimani was "aimed at deterring future Iranian attack plans."
"We do not seek regime change," Trump said during a Friday afternoon press briefing. "The future belongs to the people of Iran... We took action to stop a war, we did not take action to start a war."