Sen. Lisa Murkowski's Challenger Kelly Tshibaka Joins 'Freedom Convoy'
Kelly Tshibaka, who is running for the U.S. Senate seat currently held by Senator Lisa Murkowski, participated in a rally in support of the Canadian Freedom Convoy drivers on Sunday.
Tshibaka, who has been endorsed by former President Donald Trump, posted a video on Twitter of her and a rally participant in a truck. During the video, she expresses support for the Freedom Convoy currently protesting against vaccine mandates throughout Canada. This support comes as the initial protesters are facing government backlash, with Ottawa Mayor Jim Watson saying on February 6 that "someone is going to get killed" as the protests intensify.
"This is really about freedom," says Tshibaka in the video. "Political leaders shouldn't push their way into the patient-provider relationship."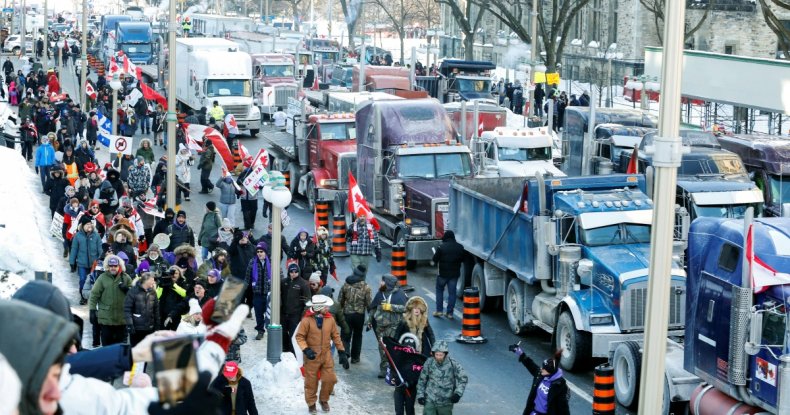 The rally took place in South Anchorage from the parking lot of a Cabela's store to the Eagle River Lions Club. The protesters consisted of truckers and their supporters driving their own personal cars. Many of those in attendance spoke out against vaccine mandates and voiced support for personal choice.
"We have to have the shot stamps on our medical cards in order to go out of state, and we don't want them," trucker Jeremy Speldrich told local newspaper Anchorage Daily News. "Mandates should be our choice, whether you want the shots or not."
Despite the support from Alaska and other states across America, the original Freedom Convoy has been receiving further political and social scrutiny in Canada. Ottawa has become a major focal point of the protests, and Watson warned that something terrible could happen if the protesters continued to stay in the city.
"We're in the midst of a serious emergency. The most serious emergency our city has ever faced, and we need to get moving much more quickly, much more proactively, to bring order back to the streets," said Watson. "Someone is going to get killed or seriously injured because of the irresponsible behavior of some of these people who are honking their horns and destroying the fabric of neighborhood. Imagine living through that hell, time and time again, for 10 days."
Canadian Prime Minister Justin Trudeau has also urged members of the Freedom Convoy to cease their protest.
"Individuals are trying to blockade our economy, our democracy, and our fellow citizens' daily lives. It has to stop," Trudeau said on February 7 during a Parliament session. "People of Ottawa don't deserve to be harassed in their own neighborhoods. They don't deserve to be confronted with the inherent violence of a swastika flying on a street corner or Confederate flag."
Newsweek has reached out to representatives for Tshibaka and Murkowski for comment.
Correction 2/8/2022 at 11:44 a.m. ET: This story has been corrected to clarify that the man with Tshibaka in her video was not her husband, but rather a participant in the rally.