Sen. Marsha Blackburn Says Many Non-Republican Voters Tell Her They 'Miss' Trump's Policies
Tennessee Senator Marsha Blackburn claimed on Monday that many non-Republican voters have been telling her they "miss" former President Trump's policies.
The Republican congresswoman made the comment during a Monday appearance on Fox Business' Kudlow. Much of the segment centered upon a discussion about Trump's border wall.
Blackburn told host Larry Kudlow her ideas for how to fund the wall, adding that, "I've had so many tell me: 'I'm not a Republican but I miss the policies of President Donald Trump.'"
Although Trump was campaigning for the office of president in 2015 on the claim that he would build a wall and that Mexico would pay for it, Mexican leaders never agreed to that promise.
Blackburn lamented the loss of Trump in a national leadership role as she discussed dissatisfaction with the bipartisan $1 trillion infrastructure bill, which appears to be very close to passing after almost 70 senators voted to advance it on Sunday.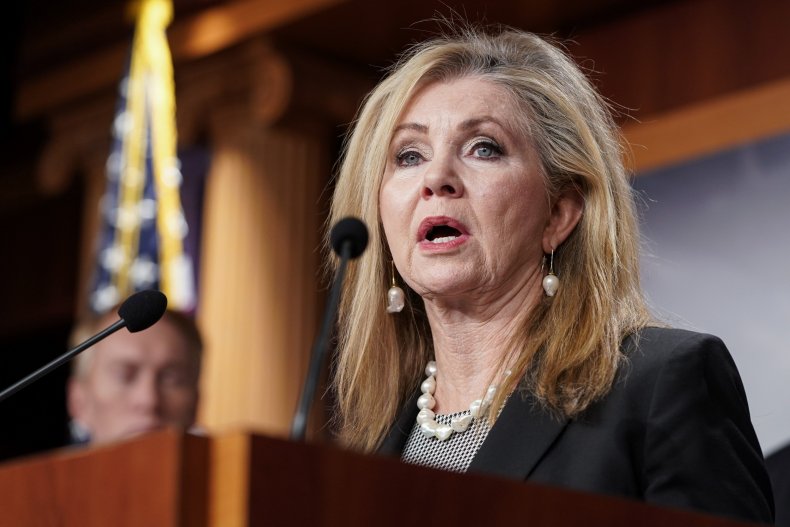 The congresswoman attempted to drive funds within the proposed bill toward more construction on the border wall but was blocked by Senate Democrats.
"You know, they're not interested," Blackburn said. "The Democrats aren't interested in improving the bill. I had one amendment that would have called for taking a billion dollars from Amtrak's slush fund and using it to build the wall in the southern border but see they're not interested in addressing the need."
While the $1 trillion infrastructure bill is intended to fund large projects, President Joe Biden and the other bipartisan architects of the bill have been focusing the budget on building things like roads and bridges, rather than walls.
Newsweek reached out to Blackburn's office for comment but did not hear back in time for publication.
Blackburn has been embroiled in controversy amid accusations of xenophobia and racism over the past couple of years.
During her initial campaign to become a senator in Tennessee, her team ran ads falsely claiming the incumbent, Phil Bredesen, "lured illegal immigrants to Tennessee" by offering them driving permits against "Trump's immigration ban."
In 2020, she called China the "new axis of evil" and blamed the Chinese people for the pandemic. She also pushed to deny Chinese scholars student visas. And in December, Blackburn faced backlash after tweeting "China has a 5,000 year history of cheating and stealing. Some things will never change..."
Chen Weihua, a Chinese state media bureau chief and a columnist for China Daily replied, "This is the most racist and ignorant US Senator I have seen. A lifetime b***h."