Sen. Mike Rounds 'Disappointed But Not Surprised' By Trump's Attack on Election Assertion
Senator Mike Rounds mostly shrugged off an attack from former President Donald Trump who suggested the South Dakota Republican is "crazy or just stupid" for saying the 2020 election wasn't rigged.
"I'm disappointed but not surprised by the former president's reaction," Rounds said in a statement on Monday, according to the Sioux Falls Argus Leader. "However, the facts remain the same. I stand by my statement. The former president lost the 2020 election."
Rounds' office did not respond to a request from Newsweek Monday evening.
Trump took aim at Rounds earlier on Monday for contradicting the former president's baseless claims that widespread voter fraud prevented him from prevailing in the 2020 elections. During a Sunday appearance on ABC News, Rounds said the election "was as fair as we have seen" and Republicans should instead focus on "what it's going to take to win the presidency."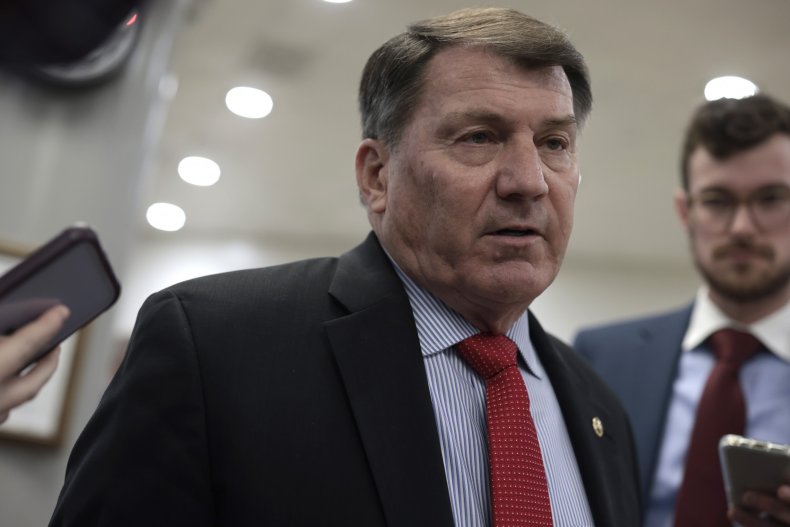 Calling Rounds a "RINO"—Republican in name only, Trump said the senator wasn't making it "easy for our Country to succeed" and promised to oppose his re-election.
As the 2022 midterm elections approach, Trump has singled out congressional Republicans that have criticized him or pushed back on his claims of widespread election fraud. Trump is backing primary challenges against Republican representatives including Wyoming's Liz Cheney, Michigan's Peter Meijer, Washington's Jaime Herrera Beutler and others.
Although Rounds won't be up for re-election until 2026, Trump promised to "never endorse this jerk again."
But Rounds didn't back down on Monday.
"If we're being honest, there was no evidence of widespread fraud that would have altered the results of the election," said Rounds in the statement. "To that point, nearly all of my Senate Republican colleagues acknowledged this last January."
Rounds pointed out that as the Senate was certifying the 2020 election last year, lawmakers considered challenges brought by Trump. However, Rounds said that "over 90 senators agreed that there was not enough evidence to overturn the results and, therefore, certified the election as our Constitution calls for."
Although 147 congressional Republicans raised objections to certifying the 2020 race, Rounds voted to give the elections the Senate's blessing. Rounds was not among the seven Senate Republicans who last year voted to impeach Trump on charges of inciting the January 6 insurrection at the Capitol.
Trump said on Monday that Rounds "got my endorsement and easily won his state in 2020." Trump carried South Dakota with nearly 62 percent of the vote in 2020. In the same election, Rounds prevailed over Democratic contender Dan Alhers with about 66 percent of the vote.
Senator Mitt Romney, a Utah Republican who has also drawn Trump's ire, posted a statement to Twitter on Monday saying, "Mike Rounds speaks truth knowing that our Republic depends on it."