After breaking ranks with Senate Republicans and calling for additional testimony from witnesses in the impeachment trial of President Donald Trump, Utah Senator Mitt Romney has been "formally NOT invited" to the Conservative Political Action Conference (CPAC) expected to take place in February 2020 in Fort Washington, Maryland.
American Conservative Union (ACU) Chairman Matt Schlapp made the announcement on Twitter Friday.
"BREAKING: The 'extreme conservative' and Junior Senator from the great state of Utah, @SenatorRomney is formally NOT invited to #CPAC2020."
Newsweek reached out to Senator Romney's office for comment but did not receive a response in time for publication.
Held yearly, the CPAC is conducted under the auspices of the ACU. Essentially a convention for conservatives, CPAC began in 1974 with then-California governor Ronald Reagan on hand to deliver the keynote address.
In a Wednesday interview with radio host Larry O'Connor, Schlapp said Trump is expected to attend this year's CPAC. If that holds true, it would mark Trump's fourth appearance at the conference.
"Every time I see the president he says 'I'm coming, I'm coming,'" Schlapp said. "I'm taking all the intrigue out of it, but I feel pretty good that he's going to make it."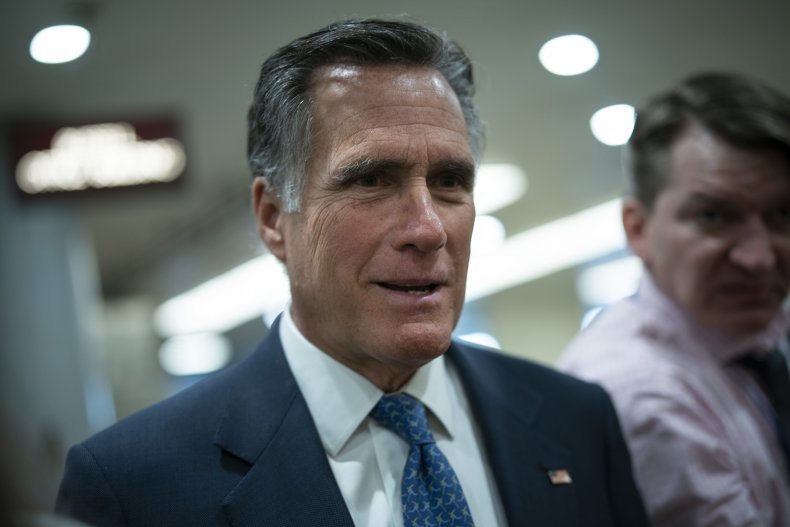 Romney has been a speaker at CPAC before, including delivering an address in 2013, the year after he lost the presidential election to Democrat Barack Obama.
"If I were to offer advice to any president of the United States, it would be this," Romney said at the time. "Do whatever you can do to keep America the most prosperous and free and powerful nation on earth."
During Trump's impeachment trial, Senate Democrats hoped that Romney and at least three other Senate Republicans would join them in voting for hearing new testimony and allowing new documents to be entered into the record.
Romney told reporters he was especially interested in hearing the testimony of former national security adviser John Bolton after reports in The New York Times indicated that information from Bolton's upcoming memoir may have been "relevant" to the case.
In the book, Bolton reportedly describes a conversation with Trump in which Trump expressly said that he did not want to release millions of dollars in military aid to Ukraine until they announced investigations into Trump's political rival, former Vice President Joe Biden and Biden's son, Hunter.
Hunter Biden took a position on the board of Burisma Holdings, a Ukrainian natural gas company in 2014 while his father served as vice president during the Obama administration. As part of his responsibilities within the cabinet, Biden was instrumental in shaping that administration's policy towards Ukraine.
At the center of the impeachment effort was a phone call between Trump and Ukraine President Volodymyr Zelenskiy in which Trump allegedly suggested a quid pro quo—investigation of the Bidens in return for military aid. Democrats seized on that as an abuse of power and began impeachment hearings against Trump.
Romney said on Monday that "John Bolton has a relevant testimony to provide to those of us who are sitting in impartial justice."
House Democrats were not able to gain enough support for that idea and on Friday, the vote for witnesses was rejected by a vote of 51-49. Trump's acquittal is expected to be voted on next week.