Sen. Pat Toomey Blocks Bill Protecting Stimulus Money from Debt Collectors, Says It's Too Late
Republican Senator Pat Toomey (Pa.) has blocked a proposal from Senate Democrats to prevent debt collectors from garnishing the $1,400 stimulus checks included in President Joe Biden's American Rescue Plan.
Democrats introduced an amendment to the COVID-19 relief package on Wednesday, hoping to add protections to stop debt collection companies from taking the checks from recipients who owe them money. On Thursday, Toomey single-handedly prevented the Senate from voting on the bill after Sen. Ron Wyden (D-Ore.) and Sen. Sherrod Brown (D-Ohio) attempted to pass it by unanimous consent.
The Republican senator complained that the relief package had been passed without bipartisan support and insisted that the debt collectors have a "valid legal claim" to the payments. Toomey also argued that the amendment was coming too late to be anything other than a "political statement." The U.S. Treasury Department estimated that 90 million checks had already been issued on Wednesday.
"Now our Democratic colleagues perceive a problem with this legislation and they'd like Republicans' consent to fix what might have been resolved with some kind of compromise," Toomey said from the Senate floor. "My colleagues want to come here and block a valid legal claim from being honored."
"At best this is now a political statement because, as one of my colleagues just alluded to, these payments have already gone out the door," added Toomey. "To the extent that a person was subject to garnishment, the garnishment happens automatically. So, it's already happened."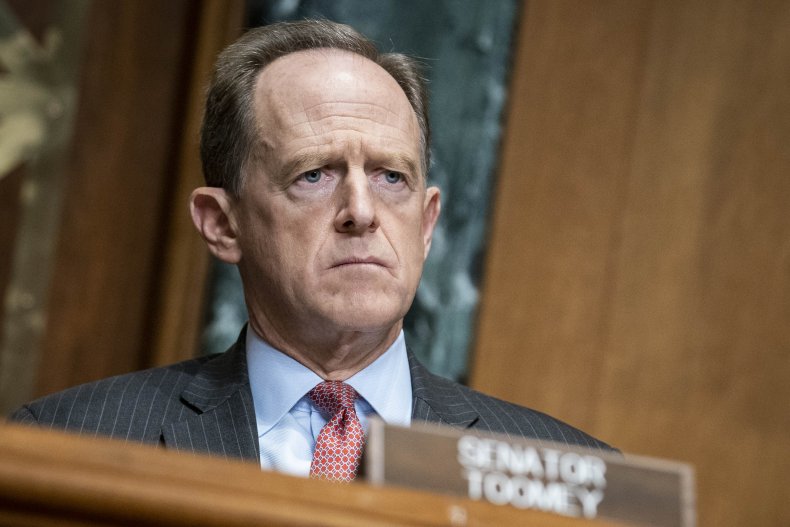 Toomey repeatedly suggested that the amendment would be used to protect "deadbeat" dads and ex-husbands who have refused to pay alimony or child support. Wyden noted that millions of stimulus checks have yet to be issued and admonished Toomey for siding with private debt collectors over "folks who are hurting."
"Senator Brown and I are for those folks who are hurting, they've been laid off through no fault of their own," Wyden said. "And Republicans, unfortunately, with checks still going out... have decided that they are for the private debt collectors. I think it really shows whose side you're on."
Wyden and Brown, along with Sen. Bob Menendez (D-N.J.) and Sen. Chris Van Hollen (D-Md.) urged Congress to pass the amendment "immediately" after introducing it on Wednesday. Wyden said the measure was needed to prevent "predatory debt collectors" from taking money from "struggling families."
It is not clear whether Democrats will work to pass the bill despite Toomey's objection. They would likely need the support of at least 10 Republicans and even an unsuccessful effort could take several days, a time during which more payments would be issued and possibly garnished by debt collectors.
Republicans agreed with Democrats that debt collectors should be blocked from garnishing the previous round of stimulus checks, the $600 payments that passed last December, with protections against the practice included with bipartisan support.
Lawmakers were unable to include protections against debt collection for the new round of payments because the American Rescue Plan was passed without a single Republican vote using the budget reconciliation process, which does not allow the inclusion of provisions that have no impact on the federal budget.
Newsweek reached out to Toomey's office for comment.