Connecticut Senator Richard Blumenthal said it is time to end social media giants' self-regulation and implement "independent" and "objective" oversight during a Wednesday hearing on Capitol Hill with Instagram CEO Adam Mosseri.
Blumenthal, the Democrat who chairs the U.S. Senate Commerce Committee's Subcommittee on Consumer Protection, Product Safety, and Data Security, delivered an opening statement at the start of the hearing, during which he said, "I believe that the time for self-policing and self-regulation is over."
The hearing, officially titled Protecting Kids Online: Instagram and Reforms for Young Users, was convened in the wake of whistleblower reports earlier this fall that researchers at Meta, Instagram's parent company formerly known as Facebook, said Instagram had a negative impact on body image for some young users.
"Some of the big tech companies have said, 'trust us.' That seems to be what Instagram is saying in your testimony," Blumenthal said, referring to the opening statement Mosseri prepared ahead of the hearing.
"But self-policing depends on trust. The trust is gone," Blumenthal continued. "What we need now is independent researchers, objective overseers—not chosen by big tech but from outside—and strong, vigorous enforcement of standards that stop the destructive, toxic content that now, too often, is driven at kids and takes them down rabbit holes to dark places."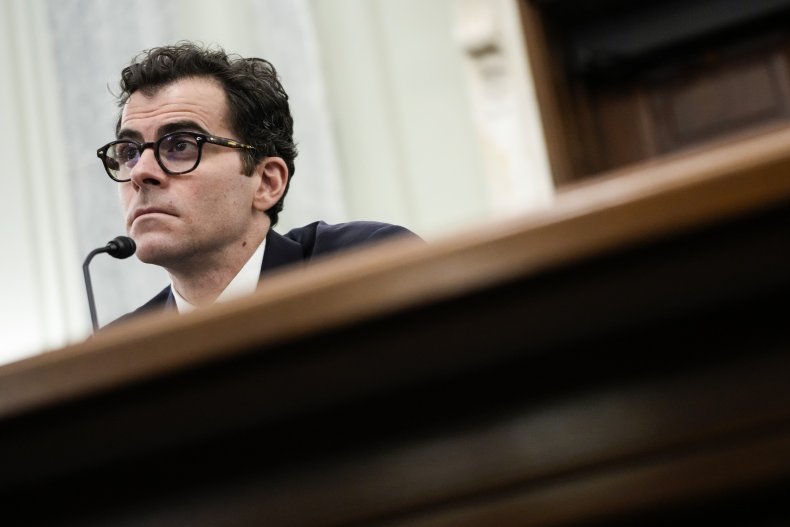 In Mosseri's prepared testimony obtained by Reuters prior to the hearing, he said officials at Instagram think about the impact the platform has on its young users "every day" and said Instagram has evolved over the years from a photo-sharing app to an avenue for personal expression.
"I firmly believe that Instagram can be a force for good in the lives of young people," Mosseri said in his prepared testimony.
While presenting his opening statement, Mosseri said social media's impact on young people is an industry-wide concern. He suggested the creation of what he called an "industry body" to identify and enforce best practices with input from parents, regulators and others.
Mosseri said the proposed "industry body" would be in charge of identifying "best practices" for three main issues: verifying the ages of young account holders, designing "age-appropriate" experiences on the platform, and creating parental control tools.
"This body should receive input from civil society, parents, and regulators to create standards that are high and protections that are universal," Mosseri's prepared testimony said. He added companies like Instagram "should have to adhere to these standards to earn some of our Section 230 protections."
Blumenthal asked Mosseri if he would commit to allowing independent researchers access to data on the social media platform's impact on young users and on how the algorithms it uses drive content.
Mosseri told Blumenthal he would "be happy to have my office work with you on that" and later added that while he was not clear on how the legal specifics of his proposed industry body would work, "I think there should be requirements and standards for how companies like ours are transparent about both data and algorithms."
Speaking with MSNBC's Morning Joe Wednesday morning, Blumenthal said he was hoping Mosseri would voice "some real commitments to reform and supporting legislation" during the hearing. Blumenthal said Instagram and other social media companies have continued to propose self-policing in the wake of criticisms about the platforms' impacts on young users' mental health and well-being, but he said they have lost the public's trust to do so.
Blumenthal said on Morning Joe that he and other legislators are working on legislative solutions, which he suggested could include revisions to 1998's Children's Online Privacy Protection Act. He also pointed to the child protection system in place in the United Kingdom and suggested some of the strategies could be incorporated into protections for children in the U.S.
Addressing Mosseri's proposed industry body during the hearing, Blumenthal said the suggested group was not the equivalent of government regulation.
"An industry body setting standards is not the same as an independent one," Blumenthal said.
Tennessee Senator Marsha Blackburn, the subcommittee's ranking member and top Republican, also raised concerns about the proposed group during Wednesday's hearing.
"An industry group is not going to give the controls that are needed, and probably not even an independent group," Blackburn said. "That is why we'll do something with federal statute."
The day before Mosseri was due to appear at the subcommittee hearing, Instagram announced new safety strategies intended "to keep young people even safer on Instagram," including an education hub and tools for parents and guardians that are expected to be ready for use "early next year," according to a Tuesday Instagram blog post.
Blumenthal criticized the timing of Instagram's announcement in a Tuesday tweet.
"Make no mistake: these simple time management & parental oversight tools should have—& could have—been implemented long ago," he tweeted.
Blackburn also criticized the "all for show" announcement in a Wednesday tweet. "It's time for them to take substantive action to keep teens and users safe," her tweet said.