Sen. Ron Johnson Op-Ed Annotated by Editorial Board of Wisconsin's Largest Newspaper
Wisconsin Senator Ron Johnson's recent op-ed includes 19 annotations from editorial board of the state's largest newspaper.
Johnson published his op-ed in the Milwaukee Journal Sentinel, whose editorial board previously called for his resignation in an op-ed published last week.
The calls for his resignation stemmed from his objection to Congress certifying state's electoral votes. Amid his objection, supporters of President Donald Trump breached the U.S. Capitol in protest of the results of the election.
The op-ed began with an editor's note that said that Johnson asked for "space to respond" to the editorial board's op-ed. "We are providing him that courtesy today. We also are taking the rare step of footnoting Johnson's commentary to provide additional context so that readers have a fuller understanding of the senator's actions," the note said.
The editorial board went on to include 19 footnotes throughout Johnson's op-ed, disputing some of his claims and offering further criticism toward the Republican senator.
In the opening paragraph of his op-ed, Johnson called the editorial "unhinged and uninformed" and added that it accused him "of 'inciting violence and an act of domestic terrorism,' being 'a leading member of the Senate Sedition Caucus,' 'stoking an insurrection,' 'violating my solemn oaths.'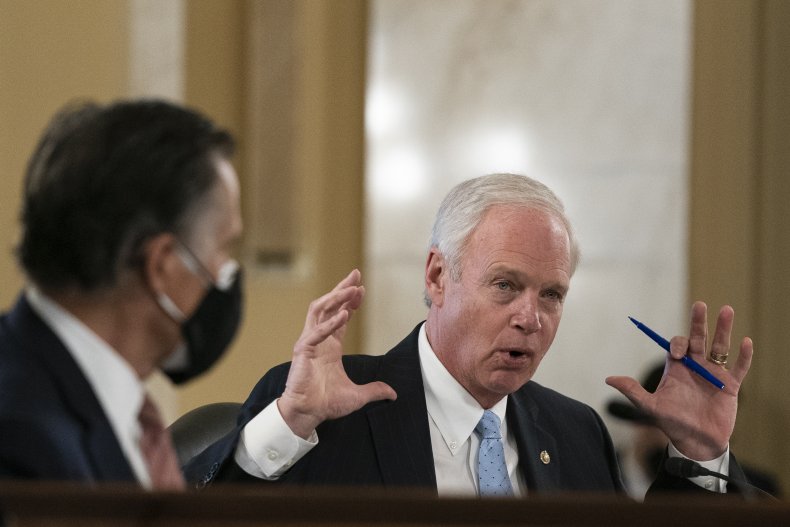 In response, the editorial board added an annotation that read, "Sen. Ron Johnson took an oath to support and defend the Constitution of the United States. In our system, the states certify Electoral College votes and Congress acknowledges the victor. Senators and representatives cannot overturn the will of citizen voters by rejecting a state's electoral votes."
In the op-ed, Johnson also touched on how he felt it was important to acknowledge the concerns Americans have on the election, but his point was met with another footnote that questioned why Trump voters have lost faith in the election process and said, "It is precisely because irresponsible politicians like Trump and Johnson, aided by reckless allies at right-wing propaganda outlets, continually called those election results into question."
Johnson also noted in the op-ed that he acknowledged Joe Biden as the president-elect in December. The editorial board, however, cited comments he made just a week after the election, when he was asked if he had congratulated Biden, to which he responded, "Nothing to congratulate him about."
As Johnson stated in the op-ed, he did acknowledge Biden's victory in the election, but not until December 15, during an interview with the Journal Sentinel.
The editorial board also criticized Johnson for saying that "greater rancor and division" will "fester" if election irregularities are not fully investigated, saying, "By encouraging the lie about election 'irregularities' and by acting as if Congress could overturn the results and negate the certified ballots of millions of Americans, it is Johnson who has done more than most to foment 'rancor and division.'"
On Tuesday night, Johnson posted his op-ed on Twitter, with a caption that read, "Here's my rebuttal to @journalsentinel. They gave me 1,000 words to refute 3,200, then say I'm wrong to claim media bias. Can't solve a problem if you don't admit you have one. The thin-skinned MSM will never admit they abandoned objectivity & chose a side."
Newsweek was directed to Johnson's tweet after reaching out to his office for comment.
In an email sent to Newsweek, David Haynes, editor of the Ideas Lab for the Journal Sentinel, said that the newspaper believed they had an obligation to let Johnson "have his say but we do not have an obligation to let him spin or play loose with facts."
"We considered several options, including writing a third editorial. But I've been a fan of the way The Washington Post has used annotation in recent years, and so we decided to do that," Haynes told Newsweek. We allowed Senator Johnson to reach our audience but still hold him to account."
According to Haynes, the newspaper also informed Johnson's aides before he wrote the op-ed "that we might respond to whatever he wrote."
In addition to the op-ed from last week, the Wisconsin Democratic Party also called for Johnson's resignation in the first video ad released for the 2022 campaign cycle.