Sen. Tim Kaine Introduces Resolution to Stop War With Iran: 'I've Been Deeply Concerned About President Trump Stumbling Into a War'
On Friday, Senator Tim Kaine of Virginia said he would introduce a new resolution when the Senate reconvenes after its holiday recess that would prevent President Donald Trump from further escalating the ongoing Iranian crisis without prior congressional authorization.
The resolution will not prevent Trump from acting independently in emergency situations, such as a retaliatory attack against the country. It also instructs Trump to withdraw any American troops from conflict with Iran no later than 30 days after the law's enactment, unless there is congressional approval for further intervention.
To be enacted, the law must pass both chambers via a majority vote, then be signed by the president. Should the resolution reach the president's desk only for it to be vetoed, a two-thirds majority must be achieved through both branches to override the veto.
"For years I've been deeply concerned about President Trump stumbling into a war with Iran. We're now at a boiling point and Congress must step in before Trump puts even more of our troops in harm's way," read a statement from Kaine released to the press.
"We owe it to our servicemembers to have a debate and vote about whether or not it's in our national interest to engage in another unnecessary war in the Middle East."
The resolution is privileged, meaning Republicans will not be able to block it from being debated.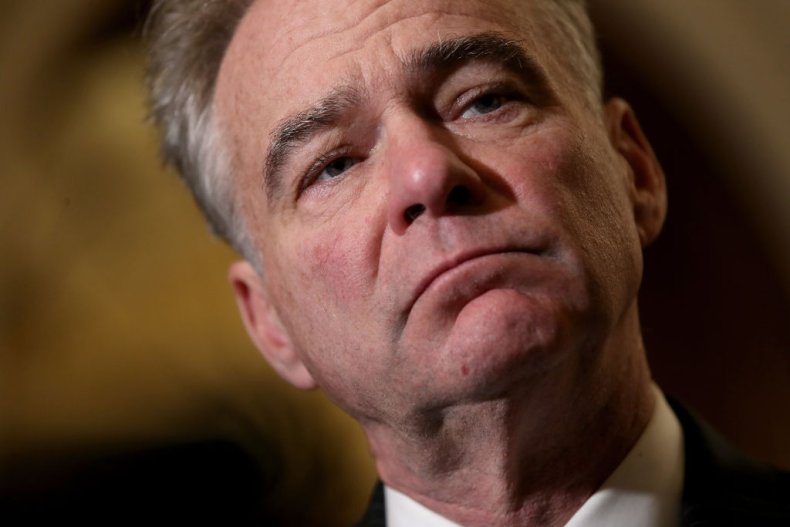 The measure is a response to a drone attack authorized by Trump which killed Iranian General Qassem Soleimani, head of the Islamic Revolutionary Guard Corps' Quds Force, on Thursday.
"We do not seek regime change," Trump said during a Friday afternoon press briefing. "The future belongs to the people of Iran... We took action to stop a war, we did not take action to start a war."
According to a statement from the Pentagon, the "strike was aimed at deterring future Iranian attack plans."
The conflict between Iran and the United States has been intensifying since a rocket attack allegedly launched by members of the Kataib Hezbollah militia on an Iraqi military base in Kirkuk on December 27. That assault killed one American, a civil contractor, and wounded several U.S. soldiers. A spokesperson for Kataib Hezbollah denied involvement in the attack, according to The New York Times.
On Sunday, the U.S. launched airstrikes which killed twenty-four Kataib Hezbollah combatants.
In response, a large group of Iraqi protesters forced its way past security forces and into the U.S.'s embassy in Baghdad on Tuesday.
Armed with rocks and chanting "Death to America," they marked the interior walls of the embassy with graffiti, set fires, destroyed property, broke windows and announced their demands—a complete withdrawal of U.S. troops from Iraq.
Newsweek reached out to the White House for comment but did not hear back at press time.