Sen. Toomey Against Trump as GOP 2024 Nominee After 'Unacceptable' Post-Election Behavior
Senator Pat Toomey of Pennsylvania is urging fellow Republicans not to nominate Donald Trump should he announce a bid to be the 2024 GOP presidential nominee, as is expected.
Toomey, who has a long record of voting as a conservative, was speaking to CNBC at Italy's Ambrosetti Forum on Friday. "I think after what happened post-2020 election, I think the president's behavior was completely unacceptable," he said. "So I don't think he should be the nominee to lead the party in 2024."
After largely supporting Trump's agenda, Toomey drew the line at the former president's behavior following his 2020 election loss and his involvement in the January 6 assault on the U.S. Capitol.
Toomey became one of seven Republican senators to vote to convict Trump on an impeachment charge of inciting an insurrection at the Capitol. For this departure from the kind of Trump loyalism that had become required of Republicans since 2016, Toomey nearly received formal censure from his party. However, he ended up receiving only a "strong rebuke."
The Pennsylvania senator was also one of the first high-up members of his party to congratulate President Joe Biden for his win, saying that "Trump should accept the outcome of the election and facilitate the presidential transition process."
Although Toomey has received blowback from some members of the GOP, he said Friday that he is a true conservative Republican and that it has been Trump whose actions have polluted Republican waters.
"I'm a conservative Republican by any objective measure, by looking at the voting record, by looking at my views compared to that of a traditional conservative Republican," Toomey told CNBC's Steve Sedgwick.
"It is President Trump who departed from Republican orthodoxy and conservative orthodoxy in a variety of ways. I stuck to the conservative views that I've had for a long time. He had a different point of view on matters such as trade and sometimes immigration and other things," the senator said.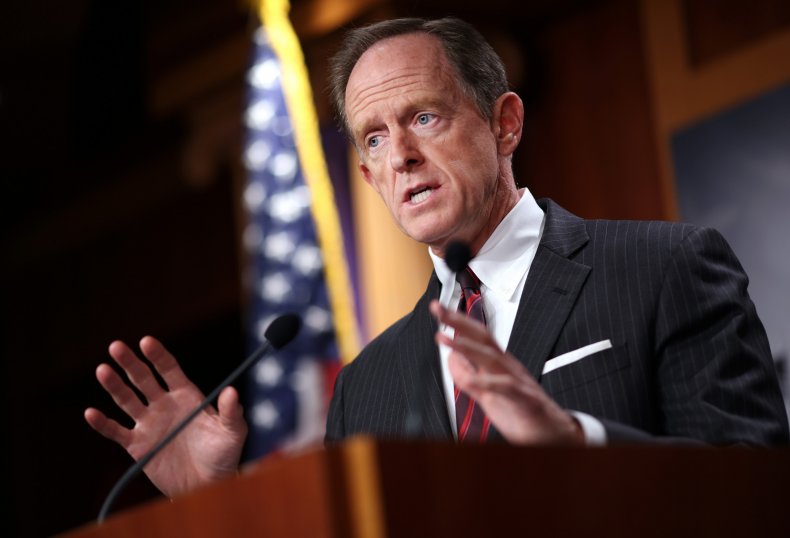 Trump has yet to officially announce a bid for the White House in 2024. However, he has suggested many times publicly that he will run. GOP Representative Jim Jordan of Ohio reportedly told a journalist on Thursday that Trump will announce his intention to run "any day now."
Toomey declined to provide any names of alternative candidates for the Republican nomination, instead insisting there are "many, many" potential candidates who "could do a fantastic job."
Toomey has said he will not seek reelection. Often, politicians who are not running again feel less pressure to toe their party's line and can speak more freely.
Newsweek reached out to Toomey's office for comment but did not hear back before publication.