Senate Candidate Slammed for Comparing Obama and AOC to Trump Raid
A Republican U.S. Senate candidate in California is facing criticism after comparing the FBI's raid of former President Donald Trump's Mar-a-Lago residence to hypothetical law enforcement action against top Democrats.
"Imagine the backlash if while he was in office, Trump had Obama's home raided and AOC's phone seized," Mark Meuser, a constitutional and election law attorney, wrote in a Twitter post on Wednesday.
"Are you tired of the double standard?" he added.
The raid of Trump's Palm Beach, Florida, residence on Monday was reportedly related to an investigation of potentially unlawful handling of White House records after he left office. Trump blasted the raid, and in a statement on Tuesday said the raid "was an unprecedented infringement of the rights of every American citizen."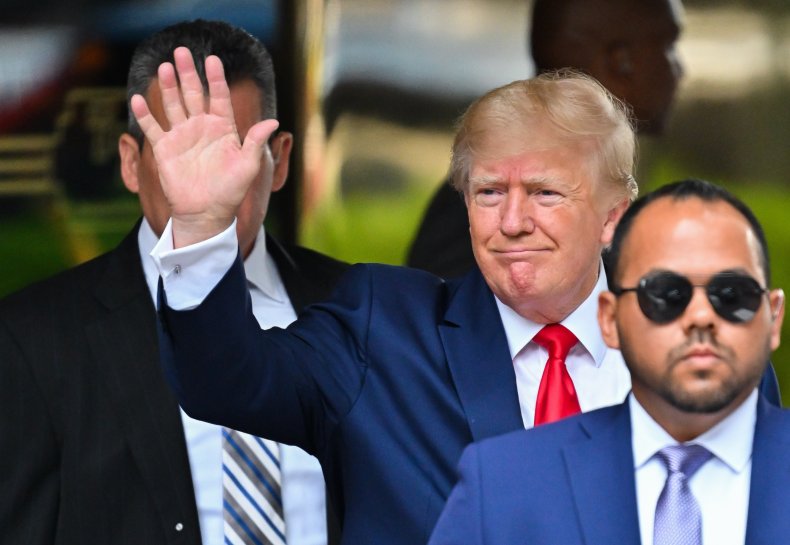 In reaction to Meuser's tweet, several social media users blasted him for comparing the raid to former President Barack Obama and Representative Alexandria Ocasio-Cortez, a New York Democrat.
"You mean treating guilty traitors differently than law abiding public servants like Obama and AOC? THAT double standard?" political commentator Keith Olbermann tweeted.
"Obama and AOC haven't committed any crimes tho... Trump stole documents? You can't see this? Of course not," actor Angela Belcamino tweeted.
"There was a 'scandal' because President Obama wore a tan suit. Trump tried to overthrow the election and got folks killed," Reverend Dr. Jacqui Lewis wrote, retweeting Meuser's post. "I am absolutely tired of the double standard."
In response to Newsweek's request for comment, Meuser's campaign pointed to tweets he posted on Thursday in response to Olbermann and Lewis.
"In Keith's country it is sentence first - verdict afterward. But we live in America, not Wonderland, where everyone is innocent until proven guilty. Can you tell me what court has convicted Trump of treason?" Meuser tweeted.
"Absence makes the heart grow fonder. Time has clearly caused you to forget about:
Benghazi
IRS going after Tea Party groups
AP phone records scandal
Fast and Furious
just to name a few," Meuser wrote, responding to Lewis.
Conservatives have sharply criticized the raid.
"The FBI and the DOJ have ruthlessly violated the Constitution and law in America," conservative political commentator Lou Dobbs said in a tweet on Monday. "Joe Biden and Merrick Garland are no more than Marxist thugs, not public servants. They're an outrage against decency, judgment, a former President, and the American people."
Republican Representative Don Bishop of North Carolina said Monday that "the FBI and DOJ are acting as the political enforcers of the Democrat Party" and that "Republicans must smash the FBl into a million pieces."
Some of Trump's allies have spread an unsubstantiated claim that the FBI planted evidence against the former president. In a tweet on Wednesday, Representative Marjorie Taylor Greene, a Georgia Republican, wrote on Twitter that she believes "there is an extremely high probability that the FBI planted "evidence" against President Trump."
"Otherwise WHY would they NOT allow his attorneys or anyone watch them while they conducted their unprecedented raid?"
Update 8/11/22, 12:06 p.m. ET: This story was updated with a response from Mark Meuser's campaign.