Senate Candidate Smokes Weed in Campaign Ad to 'Destigmatize' Drug
A U.S. Senate candidate's newly released campaign ad shows the aspiring politician smoking marijuana, a move he said was meant to "destigmatize" the drug and inspire a conversation he hopes will lead to its legalization.
The first campaign video from Gary Chambers, a Democrat running in Louisiana, had garnered about 684,000 views on Twitter and more than 15,000 views on YouTube by Tuesday afternoon.
In the 37-second video, aptly titled "37 Seconds," Chambers speaks with the sound of a ticking clock in the background. Wearing a dark blue suit, he sits in a leather chair in the middle of a field, lights a blunt and is seen smoking it throughout the duration of the ad.
Chambers says that someone in the U.S. is arrested every 37 seconds for possession of marijuana, and that state and local police have arrested an estimated 7.3 million Americans since 2010 for breaching marijuana laws.
This accounts for more than half of all drug arrests, he says, adding that Black people are "four times more likely to be arrested for marijuana laws than white people." He then says that states "waste" "$3.7 billion every year working to enforce marijuana laws.
"Most of the people police are arresting aren't dealers, but rather people with small amounts of pot. Just like me," he says, concluding the campaign ad by reiterating his U.S. Senate run and stamping his approval on the message.
"I hope this ad works to not only destigmatize the use of marijuana, but also forces a new conversation that creates the pathway to legalize this beneficial drug, and forgive those who were arrested due to outdated ideology," Chambers wrote in a tweet with the video.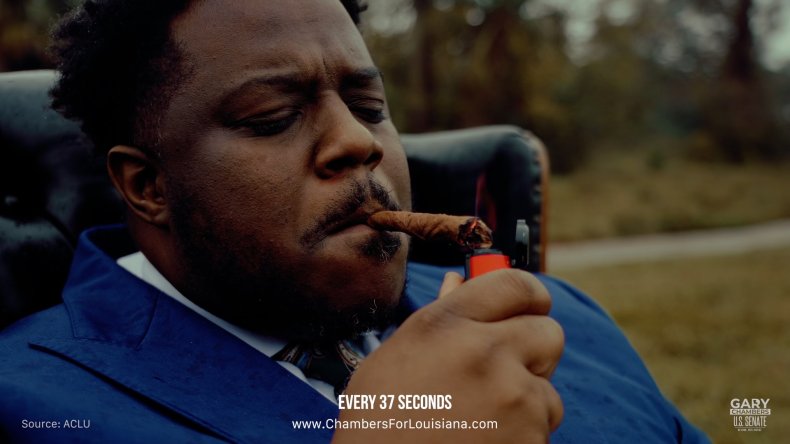 Chambers also included the hashtag #JustLikeMe in the tweet, which some users have used to respond to the unprecedented ad.
RootsAction, a progressive activist group, tweeted, "Legalize it and FREE THEM ALL! Keep fighting," tagging Chambers.
Another Twitter user, @garywright2, tweeted that he "would seriously consider any candidate with a message this honest and bold" with the hashtag #LegalizeIt.
In a comment sent to Newsweek, Chambers said that the time "is long past due that politicians stop pretending to be better or different than the people they represent."
"We must move toward criminal justice reform regarding marijuana arrests by pushing away the stigma and being real. Some parts of the country are fighting opioid addictions and creating millionaires and better schools from the marijuana industry. Others are creating felonies and destroyed families. I can't stand for that," he said.
Chambers is a native of Baton Rouge and an entrepreneur whose past work has included "advancing the most disenfranchised communities across Louisiana," according to his campaign website.
He is running for the seat currently held by Republican Senator John Kennedy, who was first elected in 2016. Luke Mixon, another Democrat, has also announced his own bid for the seat.
Chambers also ran in the Democratic primary in the 2021 special election to replace Representative Cedric Richmond, but he was unsuccessful.