Trump's New Solicitor General Could Fire Russia Investigator Robert Mueller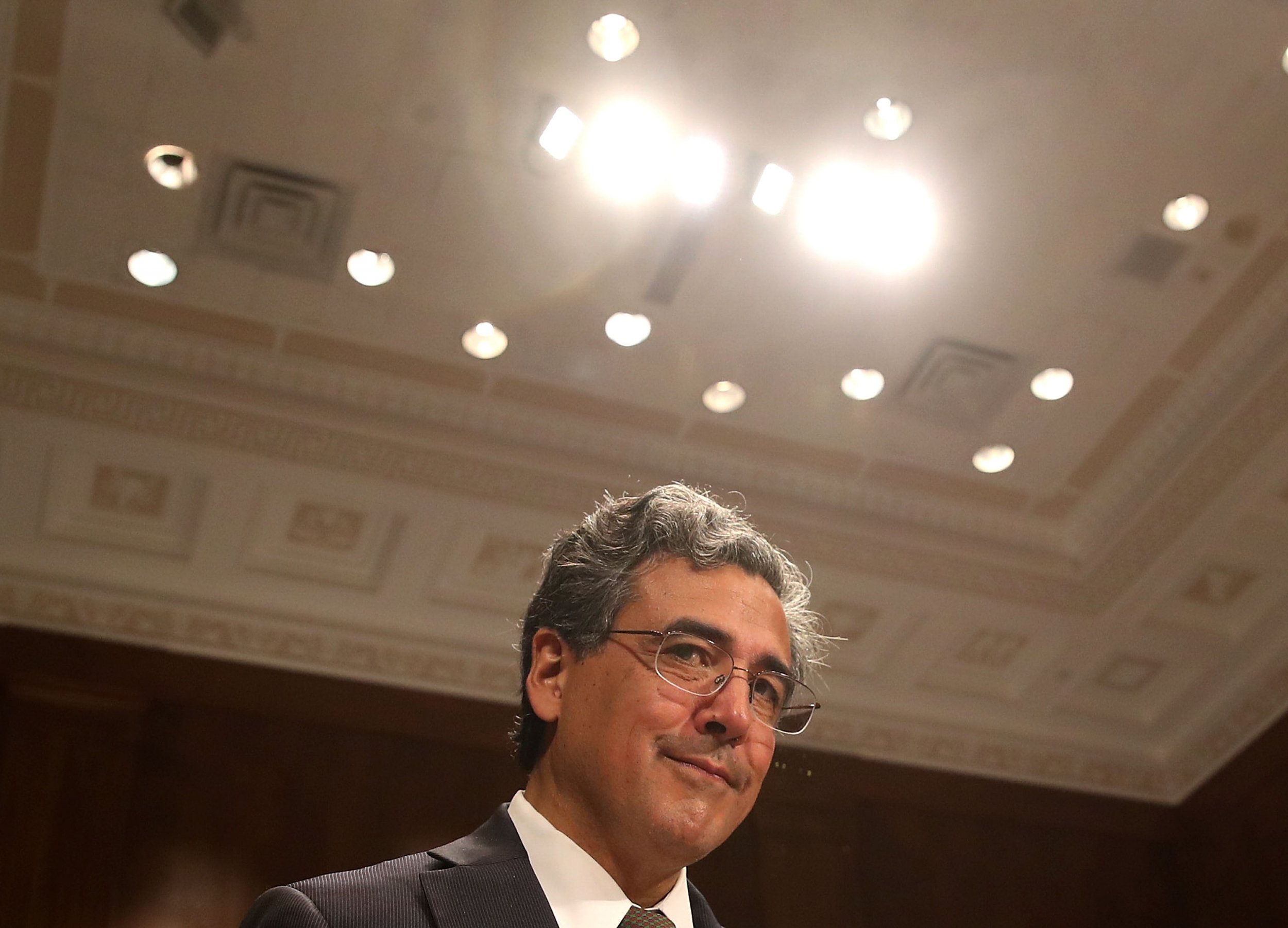 The Senate has confirmed President Donald Trump's pick for solicitor general, Noel Francisco. The vote on Tuesday was largely split, with 50 voting in favor and 47 opposed.
The solicitor general is responsible for representing the government before the Supreme Court. But the attorney general can also add the solicitor general to the line of succession at the top of the Department of Justice. That means if Trump asks the department to fire special counsel Robert Mueller, who is investigating Russian meddling in the 2016 presidential election and possible coordination with the Trump campaign, and enough officials recuse themselves, resign or lose their jobs, Francisco could be faced with the decision.
That series of events unfolded during the "Saturday Night Massacre" of 1973. When the attorney general and the deputy attorney general resigned instead of agreeing to carry out President Richard Nixon's order to fire the independent special prosecutor who was investigating him, the decision went to the solicitor general, who handled the firing.
But given Francisco's testimony before the Senate Judiciary Committee during his confirmation hearing in May, it seems unlikely that he would carry out an order he did not believe was justified. "One of the things that makes this country great is that we have a government that is bound by the constitution," he told the committee, "and just as importantly, a separation of powers that is able to enforce that."
Francisco was a partner at Jones Day, which Bloomberg Businessweek has called "Trump's favorite law firm." The outlet reported in March that at least 14 lawyers from the firm had joined the Trump administration or had been nominated to do so, including Don McGahn, the White House counsel. But as Businessweek pointed out, citing the nonprofit Center for Responsive Politics, lawyers from "Trump's favorite" firm contributed only $7,422 to Trump's campaign, compared to $267,899 to Hillary Clinton's.
Related: This nominee for U.S. attorney could fire Robert Mueller
Francisco also is an expert at the Federalist Society, a group of conservative and libertarians in the legal world. The executive vice president, Leonard Leo, is said to have secured the confirmation of Neil Gorsuch for the Supreme Court. Gorsuch and FBI Director Christopher Wray also are listed as experts there. Francisco has donated thousands of dollars to federal election candidates, all Republicans, though not to Trump.
Some lawmakers praised the confirmation on Tuesday. "Pleased to see Noel Francisco confirmed as US Solicitor General," tweeted Senator Ted Cruz, who once worked with Francisco at the law firm Cooper & Kirk. "He's a brilliant lawyer & a principled conservative."