Trump's Controversial Judicial Nominee Steven Menashi Confirmed to Lifetime Appointment on Second Circuit
President Donald Trump's controversial judicial nominee Steven Menashi was confirmed by the Senate to a lifetime appointment to the U.S. Court of Appeals for the Second Circuit on Thursday.
Despite his having no experience as a judge, Trump nominated Menashi to the position in August. The 40-year-old serves as the associate White House counsel and special assistant to the president and also worked as a legal adviser for Education Secretary Betsy DeVos.
The Senate confirmed Menashi to serve on the court in a 51 to 41 vote. Every Republican present except Senator Susan Collins of Maine supported Menashi, while all the Democrats present opposed him. Menashi will now take over a judicial seat that was once filled by Civil Rights leader Thurgood Marshall.
Several progressive organizations, including Planned Parenthood, the Council on American-Islamic Relations and Alliance for Justice, oppose Menashi's confirmation and over 100 protesters gathered outside Menashi's hearing in front of the Senate Judiciary Committee last month. Capitol Police arrested at least 10 people during the demonstration.
"Steven Menashi has supported policies that are overwhelmingly racist, sexist, homophobic, and Islamophobic. Access to sexual and reproductive health care is on the line. People of color, the LGBTQ community, women, and Muslims need someone who will protect their constitutional rights—not someone who has spent his career working against them," Alexis McGill Johnson, acting president of Planned Parenthood Federation of America, said in a statement before his confirmation.
Menashi has been under fire for the work he has done with DeVos, as well as dozens of editorials and blog posts he wrote in the late 1990s and early 2000s. His writing includes inflammatory remarks about women, LGBTQ people and racial minorities.
In October 2000, when Menashi was editor in chief of the Dartmouth Review, the student paper ran an editorial railing against women's marches and 'Take Back the Night' rallies on college campuses.
"'Take Back the Night' marches charge the majority of male students with complicity in rape and sexual violence (every man's a potential rapist, they say; it's part of the patriarchal culture)—not to mention the 'Frats Rape' accusation that's chalked on the sidewalks from time to time," the editorial read.
Menashi also once referred to the Supreme Court's landmark Roe v. Wade decision that recognizes a woman's constitutional right to an abortion as an example of "radical abortion rights." He wrote in the college editorial that the decision codified "abortion on demand, for any reason, at any stage of pregnancy."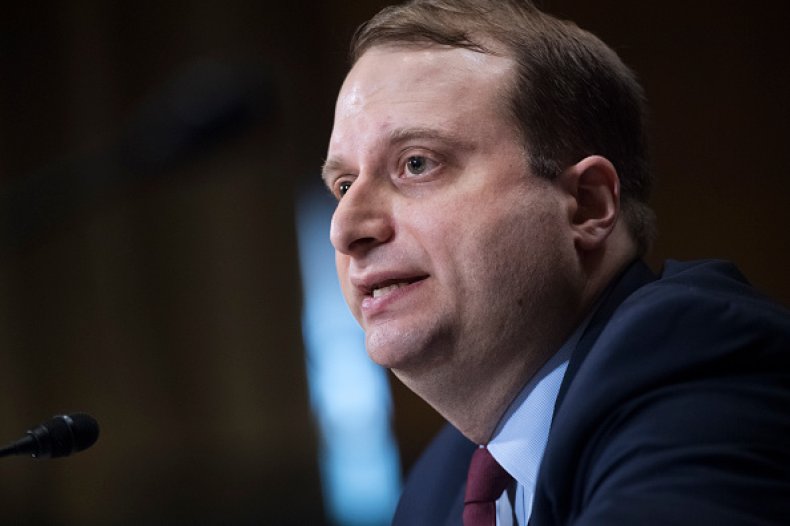 In another opinion piece, Menashi accused the Human Rights Campaign, the country's largest LGBTQ civil rights group, of ignoring crimes committed by gay men and of exploiting the murder of Matthew Shepard for both "financial and political benefit." Shepard was an openly gay student at the University of Wyoming when he was beaten to death in 1998.
Menashi told lawmakers during his confirmation hearing in September that he regrets that some of his past writing may seem "overheated or extreme."
"Some of the writings I did in college were writing from the perspective that I thought that it was inappropriate to treat people as members of groups rather than individuals," he said. "Which was important to me, because my family had suffered discrimination on the basis of group status. And if some of the writing was overheated or extreme in advancing that view, I regret that implication."
In his role at the Department of Education, Menashi helped DeVos rollback several Obama-era protections for LGBTQ students. During his time at the agency, DeVos also made many changes to Title IX protections for sexual assault survivors, including a proposed rule that would allow colleges to dismiss many complaints of sexual harassment.