Congress is Back in Session With Just 21 Days to Avoid a Shutdown: Will Anything Get Done?
Monday marks the return of Representatives and Senators to Washington D.C., fresh off a six-week summer recess to focus on district work. They return with an ambitious agenda and less than four months before the year ends. They also return to a pressing deadline: There are just 21 days to pass a series of spending bills and avoid a government shutdown.
The House will likely focus on legislation around gun policy and election security and the Senate, led by Republican Mitch McConnell, has a large group of judicial nominees waiting for approval. There's also always the chance that Republicans will find the time to have another go at healthcare, and that Democrats will hold more hearings around the possible impeachment of President Donald Trump.
On top of that, Trump's U.S.-Mexico-Canada (USMCA) trade deal awaits approval and there seems to be some bipartisan movement on a bill to control pharmaceutical drug prices.
So how likely is it that any of this will get done at all?
Well...that depends on who you ask.
Gun Policy
There is a lot of momentum in the Democratically-held House around some sort of gun legislation, but the president has been wishy-washy about whether he supports stricter background checks. In the Republican-held Senate, McConnell has made it clear he'll only support whatever the president wants to do. Still, the House will work to get something passed even if it doesn't make it into law. Democrats will be able to use their bill and Senate's inaction in their campaign messaging come 2020.
The House Judiciary Committee will kickstart the issue this week with a hearing on assault weapons. The Senate, meanwhile, will reportedly focus on mental health policy and looking into violent video games.
Spending Bills
The House and Senate have less than a month to sign 12 spending bills to keep the lights on at the federal government. The House has already approved a majority of the bills and the Senate has said they'll begin to look at them this week (which seems prudent) that gives them very little time to negotiate and come to a final agreement with the House.
In order to prevent a shutdown, House Democrats announced last week they'd agree to a stopgap measure where funding continues at the same levels while negotiations occur. Trump and Senate Republicans, however, haven't been so receptive to that idea.
One big controversial point to watch for as the left and right hammer out spending: How will Democrats respond to Trump sanctioning $3.6 billion from military construction budgets to build his wall along the southern border of the United States?
Here's what Amy McGrath, the retired Lieutenant Colonel who is challenging Mitch McConnell for his Senate seat in 2020, had to say about that in an upcoming interview (out later this week):
What happens when you take away military construction money? That's from military housing, repairs for our troops and their families to the houses and the apartments that they live from on base. That's what you're taking that money from. You're also taking it from childcare centers and construction. It's directly affecting our troops and their livelihoods and the things they need that affect military readiness.
Election Security
Senate Minority Leader Chuck Schumer attempted to introduce a series of election security bills before the August recess began, but was quickly shut down by McConnell, earning him the nickname "Moscow Mitch." Schumer will likely float these proposals once more, but with so much else to do and momentum from special counsel Robert Mueller's testimony about Russia's current interference fading, it's unlikely we'll see movement along these lines this year.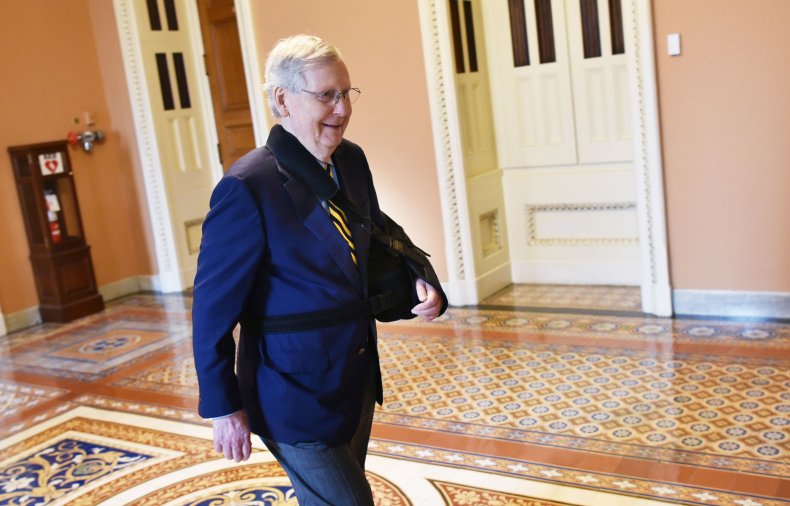 Impeachment
And as for impeachment...The drumbeat grows louder in the halls of Congress. House Judiciary Committee Chairman Jerry Nadler told CNN this August that the House had already begun "formal impeachment hearings" and his committee will hold hearings this month with Trump's former campaign manager Corey Lewandowski and other former White House employees.
But Speaker Nancy Pelosi still isn't sold on the idea and if they want to see any action on impeachment, the House will have to take it up before the 2020 election year begins.