All 22 Female Senators Blast Male Leaders for Inaction on Sexual Harassment
Every female senator joined together Wednesday in a bipartisan effort to ask their male leaders to move on sexual harassment legislation, citing "deep disappointment" in the delay of action.
The letter, sent to Senate Majority Leader Mitch McConnell and Minority Leader Chuck Schumer, was spearheaded by Democratic Senators Amy Klobuchar, Kirsten Gillibrand and Patty Murray, and signed by all 22 women in the Senate.
"Survivors who have bravely come forward to share their stories have brought to light just how widespread harassment and discrimination continue to be throughout Capitol Hill," the letter said. "No longer can we allow the perpetrators of these crimes to hide behind a 23-year-old law," it continued, referring to the Congressional Accountability Act of 1995.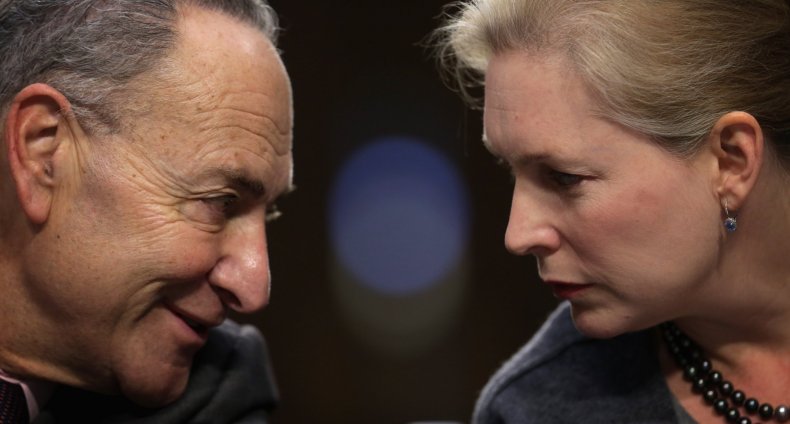 The House of Representatives approved a bill reforming the system for handling harassment last month, but little progress has been made in pushing the bill through Senate. A bipartisan update was almost added to the omnibus spending package signed by President Donald Trump last week, but a fight over what legislators should be held personally liable for caused the proposal to flatline.
Many believed an addition to the spending bill was the best way to get the Hill's sexual harassment laws updated.
The House bill would require lawmakers to personally pay the cost of harassment and discrimination claims brought about by their behavior, eliminate mandatory counseling for victims of harassment, and require public reporting of what settling misconduct claims costs taxpayers. The House has also created an Office of Employee Advocacy to represent harassment victims on the hill.
"Senate staff who face similar harassment or discrimination must pay personally for legal representation or represent themselves through complicated legal proceedings," the senators' letter said. Meanwhile, those in the House have "access to free legal representation."
Senators disagree over specific provisions in the bill, particularly whether to hold lawmakers personally liable for discrimination and harassment settlements tied to their behavior.
The letter requested that McConnell and Schumer "bring before the full Senate legislation that would update and strengthen the procedures available to survivors of sexual harassment and discrimination in congressional workplaces."
Schumer insisted last week that some version of the bill would be passed. "We are going to get something done," he said. "It's a very important issue, and we're going to get something done in the next little while."
The legislative push began last fall, after a number of Senators and Congressmen were accused of sexual harassment, and it was revealed that some used taxpayer money to quietly settle complaints.