Senate Democrats have announced a $3.5 trillion budget agreement that would prioritize agenda items championed by President Joe Biden.
The plan, which has only been agreed upon by Democratic members of the Senate's Budget Committee, would fund efforts to combat climate change, improvements to infrastructure and broadband internet, support child- and elder-care as well as other Democratic agenda items, the Associated Press reported.
"We are very proud of this plan," Schumer said on Tuesday while surrounded by 11 Democrats on the Senate Budget Committee. "We know we have a long road to go. We're going to get this done for the sake of making average Americans' lives a whole lot better."
The announcement came after weeks of discussions between party moderates and progressives, the AP reported. Budget specifics include expanded eye, dental and vision healthcare benefits for elderly Americans, investments in electric cars and the removal of lead in drinking water pipes.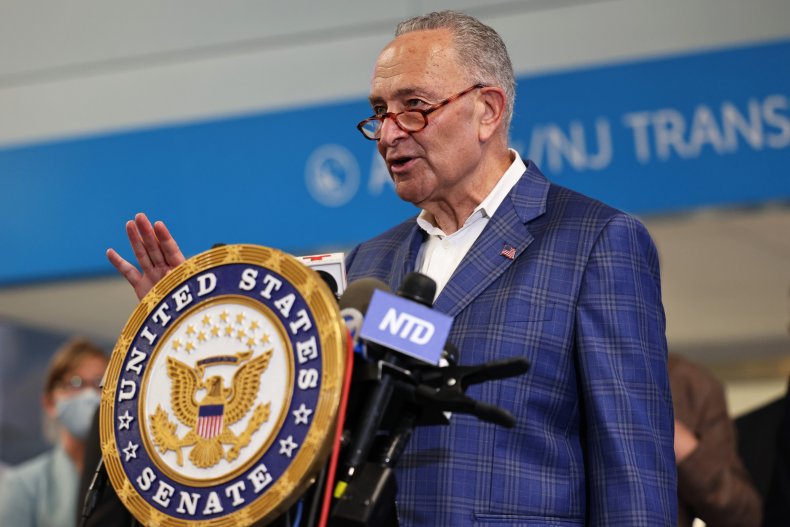 Budget Chairman Independent Vermont Senator Bernie Sanders reportedly encouraged committee members to focus on items to meet working people's needs and the challenges of the climate crisis. Sanders said on Monday that he and Biden are united in seeking a "transformative" investment in the nation's future.
"My job is to do everything I can to see that the Senate comes forward with the strongest possible legislation to protect the needs of the working families of this country. At the end of the day, we're going to accomplish something very significant," Sanders said.
The budget could possibly pass through the upper congressional chamber without needing approval from any of the Senate's 50 Republican members. In order to do this, the budget would have to be presented as a budget resolution, and all 50 members of the Senate's Democratic caucus would have to vote in favor of it.
It's unclear if Democratic West Virginia Senator Joe Manchin or Sen. Kyrsten Sinema (D-AZ) will support the budget. Both senators have opposed previous efforts to pass large legislative items without bipartisan support.
Manchin has said would like to see any proposed budget first be assessed by the Congressional Budget Office (CBO) to make sure that "everything's paid for." The CBO is a non-partisan office that runs a cost estimate based on legislative proposals. Its estimates use certain economic assumptions and financial projections to determine the cost of legislation, taking government revenue streams into account.
Manchin said he hopes the CBO's assessment will demonstrate that the proposed budget can be reasonably financed. "If not, we'll have to make some adjustments," Manchin said.
Newsweek contacted Sanders' office for comment.