Senate Democrats Block $250 Billion in Small Business Relief, Accuse McConnell of a 'Political Stunt'
Emergency aid for small businesses was blocked by Senate Democrats Thursday amid demands that Republicans include broader funding measures and stipulations, including protections for under-served communities.
Senate Majority Leader Mitch McConnell (R-Ky.) attempted to pass the legislation, which would provide an additional $250 billion in loans to help relieve financial strains on businesses amid the coronavirus pandemic, by unanimous consent. It was blocked by Sen. Ben Cardin (D-Md.), who accused Republicans of deploying a "political stunt" to pass legislation that was not negotiated.
"This was designed to fail," said Cardin's Maryland colleague, Democratic Sen. Chris Van Hollen. "This was designed as a political stunt."
The decision to prevent the relief from passing came despite news just hours earlier that another 6.6 million people filed for unemployment benefits last week, bringing the total number of Americans who've said they've found themselves jobless in the past three weeks to nearly 17 million. The numbers were a stark—and grim—reality for how the pandemic has crippled the American economy.
McConnell characterized Democrats' block of the funding as equivalent to holding "Americans' paychecks hostage" and urged lawmakers to act swiftly to address the crisis at hand.
"A country cannot afford unnecessary wrangling or political maneuvering. Treating this as a normal, partisan negotiation could literally cost Americans their jobs," he said on the floor. "Our country needs us to be nimble to fix urgent problems as fast as we can, to be able to have focused discussions on urgent subjects without turning every conversation into a conversation about everything."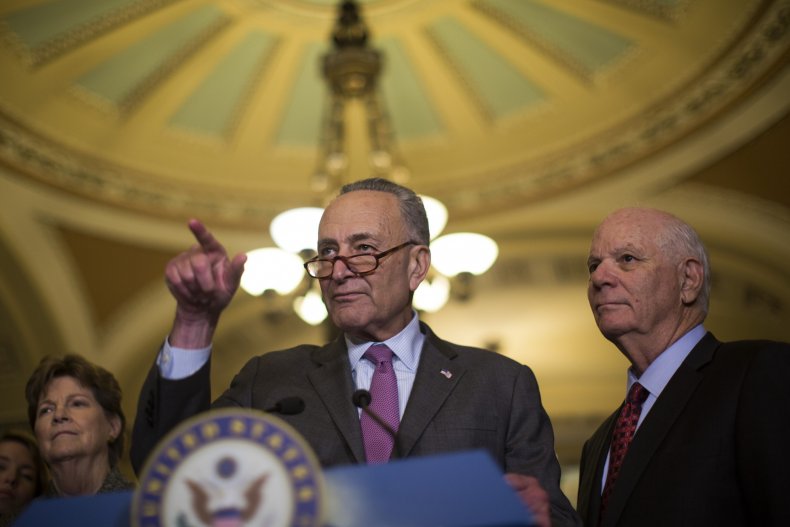 The small business loan program, known as the Paycheck Protection Program (PPP), was created under a $2 trillion economic stimulus package passed last month. It was appropriated $350 billion, but the Treasury Department sounded the alarm this week that due to so many applicants, the fund was at risk of eventually being depleted unless Congress stepped in. Nearly a third of the money has already been committed to businesses but not yet distributed.
The federally backed loans are to help employers keep their employees. Small businesses that use the money for certain operating costs, such as payroll, won't have to pay the money back.
However, Democrats want to more than double the $250 billion bill to more than $500 billion. It would include $100 billion for hospitals and local medical facilities; $150 billion for state and local governments; and a 15 percent increase to food stamp funding. Within the $250 billion for business loans, Democrats also want to include measures that would ensure $125 billion goes to certain business owners, like farmers, women, minorities and veterans, and that owners can't be as easily turned away for lacking a relationship with a bank. About $60 billion would go through smaller, community-based banks.
McConnell rejected the Democratic proposal when Van Hollen offered it as an amendment. Although the majority leader said he supports more hospital funding "down the line," there was "zero chance" of passing such a "sprawling proposal" by unanimous consent in either chamber of Congress.
Senator Marco Rubio (R-Fla.), who along with Cardin and others helped craft the PPP, issued a statement of urgency to approve more funds while criticizing Democrats. "We have days, not weeks, until PPP runs out of money," he said in a statement. "Today's unemployment numbers remind us that now is not the time for congressional horse trading or partisan politics."
On the other side of the Capitol building in the House, Speaker Nancy Pelosi (D-Calif.) has said the clean $250 billion would not pass her chamber. In conference calls with reporters Thursday, she also labeled McConnell's maneuver a "stunt" while Minority Leader Kevin McCarthy (R-Calif.) characterized Democrats' blockage of the funding as "disgusting."
How the two political sides overcome their impasse is yet to be seen.
The Senate will not reconvene until Monday, at which point further legislation could be voted on. However, if both sides prove unable to reach an agreement, the fate of any further measures will be met with the same defeat and partisan accusations that the Senate floor saw play out on Thursday.
As of Thursday afternoon, Pelosi said she had not spoken with Mnuchin, the Trump administration's point man to handle congressional negotiations.
"I don't have any intention of spending any one second on Sunday trying to convince anybody that it's necessary for us to address the needs of everyone in our society," Pelosi said. "If we don't share that value, they're not going to get it on Easter Sunday."
This story was updated to include remarks from Pelosi, McCarthy and Rubio.