Senate Democrats Try to Force Trump's Hand on Bases Named After Confederate Generals
Senate Democrats have written to lawmakers on the House and Senate Armed Services Committees urging the chairmen and ranking members to keep plans to rename bases named after Confederate officers in the latest defense bill.
Signatories of the open letter published on Tuesday said the military properties named after Confederate generals honored "traitors" who killed Americans to defend the practice of slavery.
They also argued that renaming the bases would not "disrespect" military personnel, but honor the "sacrifices and contributions" of U.S. servicemembers in a way that reflected the country's "diversity and values" in the modern era.
Releasing their joint letter, the Democratic senators said: "We strongly oppose removing this provision and respectfully request the conferees to retain in the conference report the provision endorsed by both chambers: a requirement for the Department to rename all military assets named for the Confederacy no later than three years after the date of enactment.
"Millions of servicemembers of color have lived on, trained at, and deployed from installations named to honor traitors that killed Americans in defense of chattel slavery. Renaming these bases does not disrespect our military—it honors the sacrifices and contributions of our servicemembers in a way that better reflects our nation's diversity and values."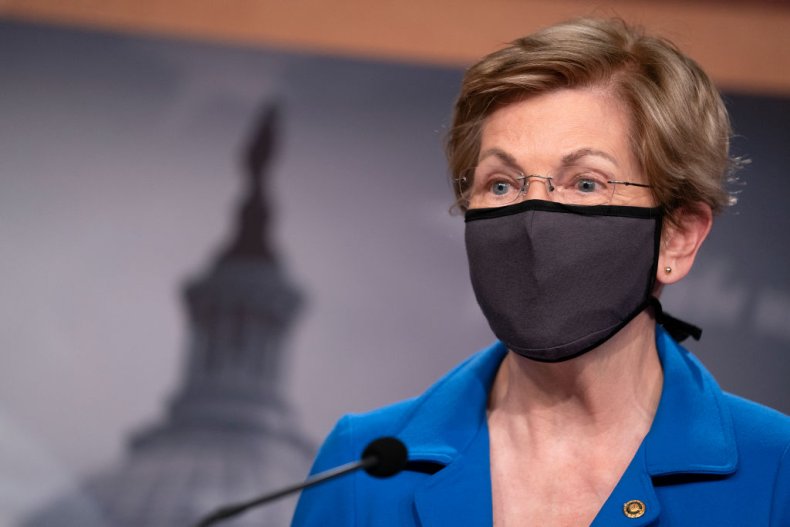 The signatories added that it was "long past the time" that the bases be renamed in order to correct the "historic injustice" of the Confederacy.
At the time of writing, 36 Democratic senators have signed the letter addressed to Senate Armed Services Committee Chairman Jim Inhofe (R-OK), House Armed Services Committee Chairman Adam Smith and the ranking members of the two panels.
The Independent Senator Bernie Sanders of Vermont also put his name to the demand.
Sen. Elizabeth Warren of Massachusetts (D) published the letter days after NBC News reported that the former Defense Secretary Mark Esper was preparing to work with lawmakers to strip bases of Confederate names before he was fired earlier this week.
President Donald Trump and Sen. Inhofe have both made it clear that they would oppose efforts to rename the bases, with the Senate Armed Services Committee chairman saying he would ensure provisions to rename the bases would not survive in the annual National Defense Authorization Act spending bill.
"I spoke to highly respected (Chairman) Senator Jim Inhofe, who has informed me that he WILL NOT be changing the names of our great Military Bases and Forts, places from which we won two World Wars (and more!)," Trump tweeted in July. "Like me, Jim is not a believer in 'Cancel Culture.'"