Donald Trump Must Disclose Saudi Arabia Business Ties Following Apparent Murder of Jamal Khashoggi, Democrats Demand
On the heels of the disappearance and apparent murder of Washington Post journalist and U.S. resident Jamal Khashoggi in the Saudi consulate in Istanbul two weeks ago, Senate Democrats are calling on President Donald Trump to divulge his past and current financial ties to the Middle Eastern country.
In letters sent on Wednesday to Trump and the Trump Organization, 11 Senate Democrats said they want information on the president's business dealings with Saudi Arabia over the past 10 years for fear it could present a conflict of interest in investigating Khashoggi's death. Trump has taken a fairly soft tone against the foreign ally, unwilling to condemn Saudi Crown Prince Mohammed bin Salman and King Salman. He appeared to come to the regime's defense over the alleged murder, which has garnered international outcry from U.S. and Turkish officials, by suggesting the journalist's death could have resulted from "rogue killers."
"Here we go again with you're guilty until proven innocent," Trump told the Associated Press Tuesday. On Twitter and to the cameras, the president has said he believes Mohammed bin Salman's denial that neither he nor the Saudi government was in any way involved with Khashoggi's disappearance.
Audio recordings obtained by various news outlets have detailed the grim torture and murder of the journalist, involving his beheading believed to have occurred after he was seen entering the Saudi consulate but never leaving. Khashoggi was a longtime critic of the Saudi government.
"It is imperative that" sanctions under the Global Magnitsky Act, "and U.S. policy toward Saudi Arabi generally, are not influenced by any conflicts of interest that may exist because of your or your family's deep financial ties to Saudi Arabia," the Democrats said.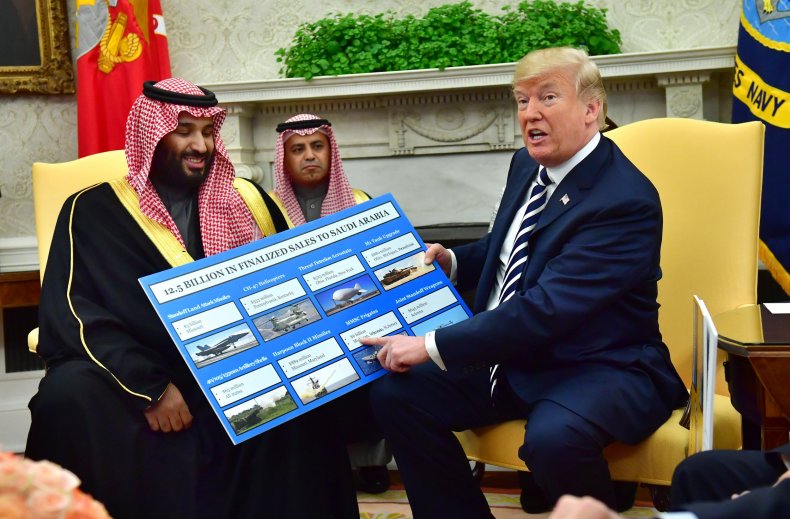 Despite repeated denials and claims of "fake news" by the president, Trump has a long personal history with the Saudi government consisting of tens of millions of dollars. Those transactions include a $20 million 282-foot yacht sold in 1991 and a stake in his Plaza Hotel in New York to a billionaire Saudi Prince, the 45th floor of the Trump World Tower in 2001 for $12 million to the Saudi government and a $270,000 payment from a Saudi public relations firm after a trip to Trump's D.C. hotel. The general manager of the Trump International Hotel in New York City even told investors this spring, according to a letter obtained by The Washington Post, that revenue went up for the first time following a two-year decline thanks to a visit from the crown prince.
During that same trip, Trump proudly outlined the billions of dollars worth of military equipment the U.S. was constructing for the Middle Eastern country, which is also the number one international buyer of U.S. weapons.
In June 2015, when announcing his presidential bid at Trump Tower in New York, Trump said he "[loved] the Saudis" and that "many are in this building." At an August 2015 campaign rally in Alabama, Trump boasted how he got "along with all of them" and that Saudis "spend $40 million, $50 million" on buying apartments from him. "Am I supposed to dislike them?" the president added. "I like them very much."
The 11 Democratic senators who signed onto the letter included Tom Udall, Dick Durbin, Elizabeth Warren, Cory Booker, Martin Heinrich, Edward Markey, Tammy Duckworth, Patrick Leahy, Jeff Merkley, Richard Blumenthal and Sheldon Whitehouse. They requested a response from Trump and his organization by November 17 detailing any "documents pertaining to financial transfers from the Kingdom of Saudi Arabia to the Trump Organization over the last 10 years; information about discussions surrounding potential business deals involving Saudi Arabia and the Trump Organization; and information about any potential gifts provided to the president by Saudi nationals."
The senators also demanded the president suspend any ongoing business deals with the government, which would include the current arms deal, and to terminate such deals if an investigation finds the Saudi government ordered the death of Khashoggi. Last week, a bipartisan coalition of 22 senators requested the administration push for an independent forensic investigation and to impose sanctions on Saudi Arabia under the Global Magnitsky Act.