Senate Dems' Campaign Director Calls Facebook, Google Ad Bans 'Voter Suppression' Amid Georgia Senate Runoffs
Facebook and Google's decision to continue a joint policy restricting political advertisements through December could impact ongoing senatorial races in Georgia, with undue consequences for Democratic candidates, a congressional campaign director said Wednesday.
Scott Fairchild, executive director at the Democratic Senatorial Campaign Committee (DSCC), suggested the extended ad bans amounted to voter suppression efforts and argued they will predominantly benefit Georgia's sitting Republican senators. The DSCC is one of four major political committees, known as Hill committees, that endeavor to fill congressional seats with members of their respective parties.
"With just 55 days until the runoff elections in Georgia and critically important deadlines coming up for voters, Facebook and Google's plans to extend their ban on political ads are unacceptable," Fairchild said in a statement.
The four Senate contenders will continue their campaigns ahead of January's critical runoff elections, which could determine whether Democrats are able to gain control of the U.S. Senate. Democrats Jon Ossoff and Raphael Warnock will challenge incumbent Republicans David Perdue and Kelly Loeffler at the polls. Georgia will begin distributing absentee ballots to state voters next week, and those planning to vote in the runoff elections must register before December 7. The elections will take place on January 5.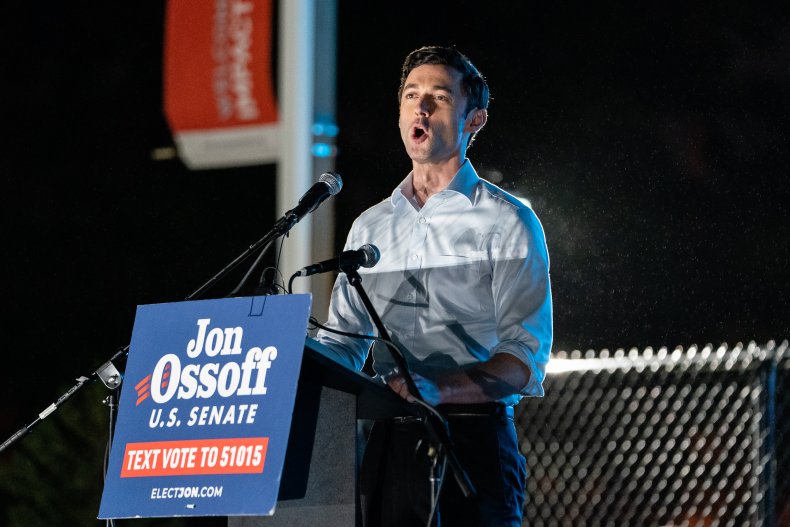 The DSCC said an ongoing ban on digital advertisements "disproportionately hurts the Ossoff and Warnock campaign outreach efforts," which, in turn, offers advantages to both Perdue and Loeffler.
"Organic disinformation is the actual problem on these platforms, and continuing to ban ads is now actively harmful to organizations working to inform Georgia's diverse voters about the January runoffs," Fairchild continued, referring to the platforms' restrictions as "voter suppression plain and simple." The DSCC noted that each senatorial candidate's campaign "will have to do more voter outreach and mobilization" leading up to January 5 than they would in a more traditional scenario, since some voters might not be familiar with the timing of, or processes related to, a runoff election.
Facebook and Google temporarily removed all advertisements connected to political, electoral and social issues after polls closed on Election Day. Given the lingering conversations about results of the presidential race, the companies reportedly informed advertisers of their intentions to extend the embargo in a Wednesday email, according to the Wall Street Journal.
"While multiple sources have projected a presidential winner, we still believe it's important to help prevent confusion or abuse on our platform," Facebook reportedly said.
Major news outlets declared Joe Biden and Kamala Harris' as the projected winners on Saturday. However, states will not officially certify election results until later this month. Georgia is preparing to conduct a manual ballot recount prior to the deadline following a very close race. However, the recount is not expected to alter Georgia's vote for Biden, who leads Trump by over 14,000 votes.
Newsweek reached out to Facebook and Google for comments but did not receive replies in time for publication.