On Senate Floor, Oregon Senator Demands End to 'Trump's Secret Police' In Portland: 'Dictators Use Secret Police'
Oregon Democratic Senator Jeff Merkley took to the Senate floor Tuesday to decry the usage of federal law enforcement agents in major U.S. cities.
The Trump Administration sent federal agents into Portland, Oregon in July after a prolonged series of protests against racism and police brutality. Federal agents bear no identifying marks on their camouflage uniforms. Protesters have been seen being abducted and placed into unmarked vehicles. Although lawmakers have called for an end to the policing program, President Donald Trump has indicated agents may be sent into other cities. Merkley tweeted Tuesday that he wanted to end the "use of Trump's secret police in Portland & across the country."
"Dictators use secret police," Merkley tweeted, "not leaders of a Democratic Republic."
In his Tuesday speech, Merkley called for a vote on an amendment to the Senate's version of the National Defense Authorization Act which would prevent federal forces from being utilized against U.S. citizens.
"I say to every Republican colleague and every Democratic colleague: I want a vote," Merkley said. "What is this chamber if it cannot take on and hold a debate and a discussion of authoritarian secret policing strategies brought to the streets of America?"
In a Monday statement, Merkley called the policing actions as a "gross violation of Americans' civil rights."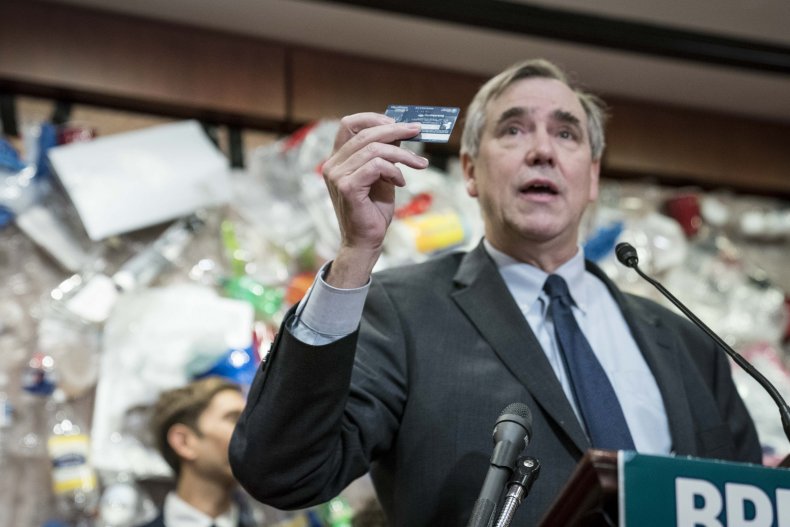 Portland Mayor Ted Wheeler said that the presence of the forces in his city is not quelling the protests.
"We're demanding that the President remove these additional troops that he sent to our city," Wheeler said in July. "It is not helping to contain or de-escalate the situation. It's obviously having exactly the opposite impact."
Democratic House Speaker Nancy Pelosi tweeted Friday that "Trump & his stormtroopers must be stopped."
Department of Homeland Security (DHS) Acting Secretary Chad Wolf said that he has the authority to deploy federal agents wherever he perceives they are needed.
"I don't need invitations by the state, state mayors or state governors to do our job," Wolf told Fox News on Monday. "We're going to do that, whether they like us there or not."
Newsweek reached out to the DHS for comment.
President Donald Trump said Monday that the forces in Portland had done a "fantastic job" and described the protesters as "anarchists." Trump said he was considering sending agents to other U.S. cities where protests have occurred including Chicago, Oakland and Philadelphia.
"I'm going to do something," Trump told reporters Monday. "That, I can tell you."
"We're not going to let this happen in our country," Trump continued, adding that all the cities where protests were happening were "all run by Democrats, all run by very liberal Democrats. All run, really, by radical left."