Senate GOP Still Waiting for Trump's Approval to Move Forward on Gun Control: 'We Gotta Hear From The President'
Senate Republicans remain in a state of limbo on gun control as they await President Donald Trump to take a definitive stance on which — if any — gun control measures he supports so the party can move forward in considering legislation aimed to curb future gun violence.
GOP members indicated that, while they may support certain gun violence prevention measures like so-called "red flag" laws and increased background checks, they're unwilling to take concrete steps without support from Trump because it would be futile to only have their efforts thwarted by a presidential veto.
"I agree with [Senate Majority Leader Mitch] McConnell. I think it's very important that we know where the president is at," Sen. Lindsey Graham (R-SC) told Newsweek. "You got senators, like myself, and others reaching out to Democratic colleagues to find common ground on protective orders and background checks. They're working with the White House, and we gotta hear from the president and his team that they're in the game because if they're not in the game, it won't work."
Graham, a close ally to Trump, was unsure when the president would take a public stance on which gun control measures he supports, considering his messaging on the matter has been inconsistent in the wake of several mass shootings in August that left dozens of people dead.
Following a weekly luncheon with party members that was attended by White House Legislative Affairs Director Eric Ueland, McConnell reiterated to reporters he was still awaiting word from the White House about what Trump is willing to support. He labeled a Monday press conference featuring House Speaker Nancy Pelosi (D-Cali.), Senate Minority Leader Chuck Schumer (D-N.Y.) and others demanding McConnell allow a vote on a House-passed universal background check bill as a "stunt" because Trump already previously warned he'd veto the measure.
"[The White House is] working on coming up with a proposal that the president will sign. Until that happens, all of this is theatrics," McConnell said.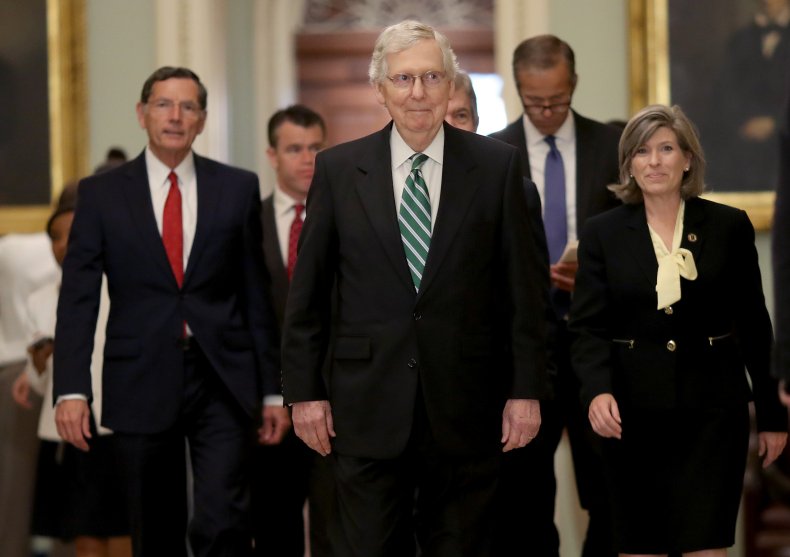 Trump is set to meet with top congressional Republicans, including McConnell, in the Oval Office Tuesday afternoon.
"It doesn't absolve Congress from doing its job," Sen. Marco Rubio (R-FL) told Newsweek of Trump's wavering position. However, he added: "It's difficult to move on a bill that's not going to be signed into law. So, I sure think that if he lined up behind something, it would make it easier for the leader to bring a bill to the floor and out of committee."
Rubio said he'd like to see Trump specifically support two bipartisan bills with his name on them. The first is a red flag law that would put restrictions on the ability for mentally ill people or those believed to be an imminent threat to themselves or others to possess or purchase a firearm. The second would seek to prevent targeted violence through threat assessments. He did not mention universal background checks, which Democrats continue to pressure McConnell to put up for a vote.
"I think those two things would be the most effective, by far, in preventing these horrible tragedies that we've seen. The Second Amendment is about the constitution, it's not about politics. There's politics involved in it, obviously," the Florida Republican continued. "One of the things all of these master shooters have in common, in many cases, is that they point to some previous shooting as their inspiration. And we clearly have a problem in identifying who these people are and getting ahead of it."
But even if Trump does decide to give McConnell the nod and put legislation on the floor, it doesn't mean everyone will be on board.
Sen. John Kennedy (R-LA) suggested that, unless he's shown evidence the various gun control measures on the table will "substantially reduce or eliminate mass shootings," he would be inclined not to support them — even if Trump does. He believed members of both parties have been using Trump as a scapegoat.
"I think some people are using the president's position, or lack thereof, as a tree to hide behind in both parties," Kennedy told Newsweek. "And I think senators and members of Congress need to step up and do what they think is right here and not try to try to hide behind anybody else."
In the wake of several mass shootings in recent months, many lawmakers have revived talks about a bipartisan bill by Sens. Joe Manchin (D-W.V.) and Pat Toomey (R-PA) that would expand background checks to close the gun show and Internet loopholes but stop short of going as far as the House-passed universal background checks measure to also require them for personal transactions. The House Judiciary Committee on Tuesday was set to begin debating additional gun control measures they may vote on in the coming weeks.
Toomey told Newsweek he's spoken "with the president a number of times about it," but did not say whether Trump has indicated support or when he would likely do so.
"The president has a real interest in doing something in this space," he said. "The president has not yet communicated to me what exactly he has in mind. But I think he's open to meaningful discussions. In fact, I know it, because we've been having it."
Toomey added the timing, however, was "up to him."