Senate Hopeful Alvin Greene Indicted on Obscenity Charge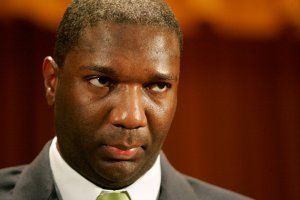 The story of Alvin Greene—the curiously nominated Democratic Senate candidate with neither an identifiable platform nor much money—just got stranger. AP reported today that Greene has been indicted on a felony obscenity charge for showing pornography to a college student last November, a charge as unflattering as it is strange.
The episode isn't exactly new. It's part of a string of questionable actions from the would-be senator, including a claim that he was indigent so that he could get legal aid, which raised questions about where he got his candidate filing fee. Greene, who is 32, has refused to discuss the porn charge in media interviews, but with a pending indictment, he'll now have to explain what happened before a judge, who would be wise to close the courtroom off to cameras.
As for his electoral prospects, unless South Carolina Democrats try to pull him out of the race, Greene will still face Republican Sen. Jim DeMint in November. Greene was a long shot even before news of the indictment broke, but for DeMint, Christmas just came even earlier than it was already looking to arrive. Stranger things have happened, of course, but with this news, DeMint and his staffers just got one of the best signs of job security one could hope for.