Senate Impeachment Trial Schedule and What Comes Next as White House, Democrats Prepare Arguments
It's official.
On Thursday, the U.S. Senate officially kicked off its third impeachment trial of a president in American history. As Chief Justice John Roberts entered the chamber to be sworn in, so did a solemnness among the lawmakers in the room. With their swearing to do "impartial justice" and their signing of the oath book, the trial officially began.
Although the trial proceedings will not begin in earnest until Tuesday, news will still occur over the weekend as House impeachment managers and the president's defense team draft briefs that will lay out each side's argument.
Here's what to expect in the coming days.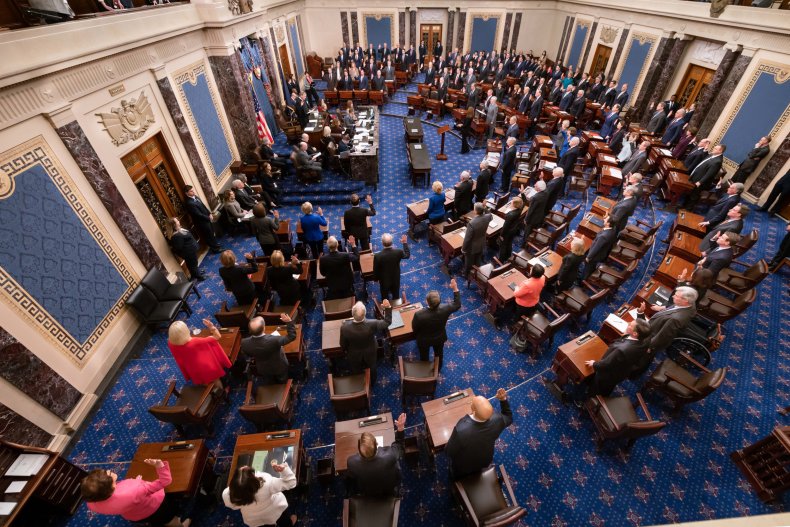 Schedule
Saturday, 5 p.m.: trial brief due from House impeachment managers
Monday, noon: President Donald Trump's defense trial brief due
Tuesday, noon: managers' rebuttal brief due
Tuesday, 1 p.m.: impeachment trial begins in earnest, starting with approval of the trial rules
Showdown Over Witnesses to Come
Tuesday is expected to have drama right from the start.
For the trial to commence and each team to make its arguments, the Senate must pass a resolution that will govern the proceedings. No text has been publicly released yet, but Senate Majority Leader Mitch McConnell says it will mirror the rules followed in President Bill Clinton's impeachment trial.
That means the text will not allow for a vote on witnesses at the outset. Rather, the issue of whether more witnesses and documents should be subpoenaed—as Democrats have demanded amid the release of additional damning information about the president's Ukraine dealings—will not be debated until after the managers and the White House team present their arguments.
"These demands for the Senate to pre-commit to reopening the House investigation do not show confidence," said McConnell, a Kentucky Republican, on the floor Tuesday. He told reporters later in the day that "we will be dealing with the witness issue at the appropriate time into the trial."
Expect Senate Democrats on Tuesday to force a vote on their desired witnesses, which include former national security adviser John Bolton, acting White House chief of staff Mick Mulvaney, Office of Management and Budget official Michael Duffey and Mulvaney senior adviser Robert Blair.
"We expect that we will have votes on these witnesses on Tuesday but can't be sure until we see the resolution that McConnell has put together," Senate Minority Leader Chuck Schumer told reporters.
Any vote forced by Schumer, a New York Democrat, over witnesses is expected to fail, as the more moderate Republicans considered toss-ups on votes such as these have said they support deciding at a later time, as was done in the Clinton trial.
Senator Susan Collins, one of those moderates who's considered a swing vote—and a Maine Republican facing a tough re-election—made her position crystal clear in a lengthy statement on Thursday. Although she said that "I will not support any attempts by either side to subpoena documents or witnesses" prior to the arguments or the senators' ability to post questions, Collins signaled that when the time comes, she will likely side with the Democrats on calling witnesses.
"While I need to hear the case argued and the questions answered, I tend to believe having additional information would be helpful," Collins said. "It is likely that I would support a motion to call witnesses at that point in the trial, just as I did in 1999."
She emphasized that she's "not made a decision on any particular witnesses."