Sandberg and Dorsey Grilled by Senate About Russian Meddling, WikiLeaks
Sheryl Sandberg and Jack Dorsey, high-profile executives at Facebook and Twitter, agreed during a Senate intelligence committee appearance on Wednesday that the abuse of personal information on their platforms had become a national security priority.
Sandberg, chief operating officer at Facebook, and Dorsey, the founder and chief executive of Twitter, were both called to provide expert testimony to the committee over alleged foreign influence operations and the impact of social media platforms on the U.S. political system.
Responding to a question by Senator Ron Wyden, both social media executives agreed that personal data had become the "weapon of choice" for political influence campaigns. "From this point on, beefing up protections and controls on personal privacy must be a national security priority," Wyden posited firmly. "Yes," said Sandberg. "Yes," replied Dorsey.
When asked why WikiLeaks remained on the platform, the executives said the whistle-blowing organization had not violated any rules. "I am not going to defend WikiLeaks, and I am not going to defend the actions of any actor on our platform," Sandberg said. "WikiLeaks has been public information, and it is broadly on other media and as such it doesn't violate our terms."
Dorsey added, "We have also not found any violation of our terms of service, but we are open, as always, to any law enforcement insight that would indicate a violation of our terms."
Dorsey said Twitter was looking at expanding its transparency report to also feature analysis of suspended accounts. The CEO noted that his company was building technology to recognize "new patterns of attack." And while Sandberg told senators Facebook was too slow to face the threat in 2016, overall, the hearing lacked the vigor of Mark Zuckerberg's April showdown.
A representative from Google was not present during the hearing. Previously, a request for Larry Page, chief executive of parent company Alphabet, was denied by the tech firm. Senator Mark Warner said he was "disappointed" that Google's senior leadership was not in attendance.
Both Facebook and Twitter were used by Russia during the 2016 presidential election to spread propaganda and misinformation. Both accounts were deployed to boost divisive messaging.
The two executives released written comments prior to their appearances. Dorsey addressed his to the House Energy and Commerce Committee, where he is also set to appear this week.
"We were too slow to spot this and too slow to act," Sandberg stated. "This interference was completely unacceptable. It violated the values of our company and of the country we love." She later added, "Security is never a finished job. Our adversaries are determined, creative and well-funded. But we are even more determined—and we will continue to fight back."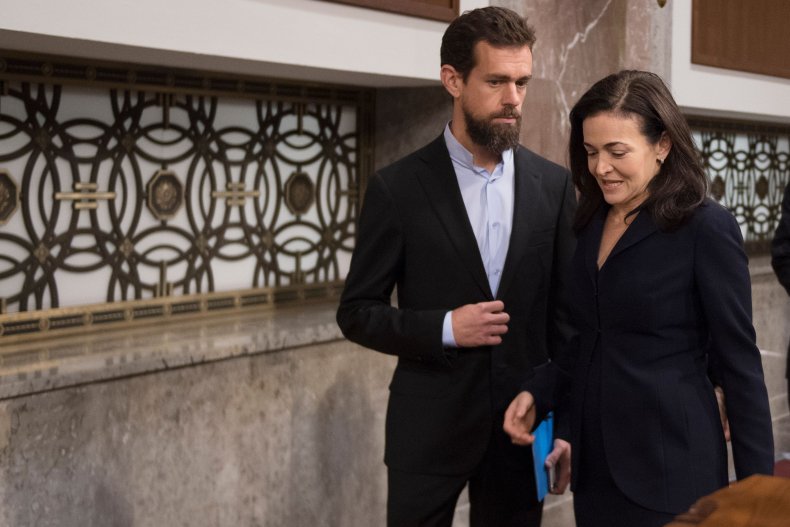 Dorsey wrote in his testimony: "We now possess a deeper understanding of both the scope and tactics used by malicious actors to manipulate our platform and sow division across Twitter more broadly. Our efforts enable Twitter to fight this threat while maintaining the integrity of peoples' experience on the service." He denied bias and voiced support for "conservative voices."
The committee was chaired by Richard Burr, who started proceedings this morning by paying respect to Senator John McCain, who passed away on August 25. During a short intermission, conspiracy theorist Alex Jones stalked the halls and attempted to interview politicians.
U.S. President Donald Trump recently accused social media of rigging search results in with an anti-conservative bias. Earlier, a process known as "shadow banning" had been raised by Republicans who felt they were being censored on Twitter, a claim the firm denied existed.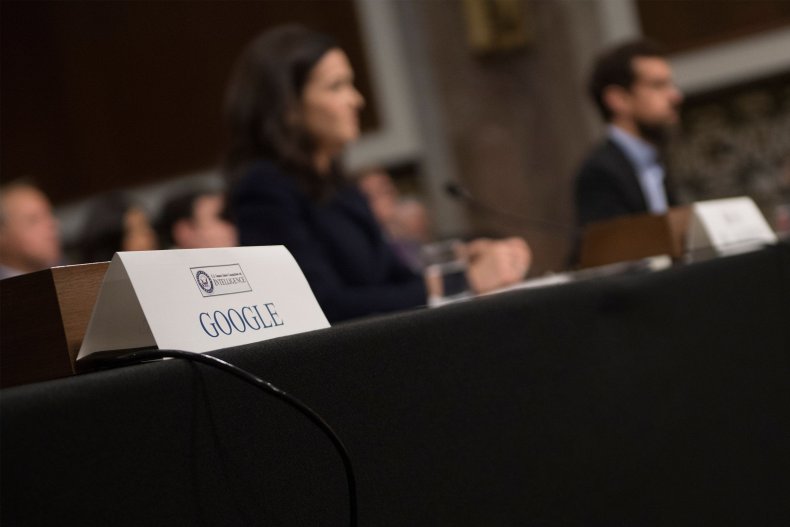 Attention is now turning to the upcoming November midterm elections, with some U.S. officials claiming that hackers with links to Russia may again attempt to sway political opinion.
Last month, technology company Microsoft said it had already stopped Russian hack attempts. But Kremlin officials deny running interference campaigns, as alleged by U.S. intelligence. "We have never engaged in this, nor has the Russian state ever taken part in it," commented Putin's spokesman Dmitry Peskov when asked about suspicious advertising on Facebook.
Facebook pledged to do better in future election cycles. "When we find bad actors, we will block them," Sandberg stated. "When we find content that violates our policies, we will take it down."