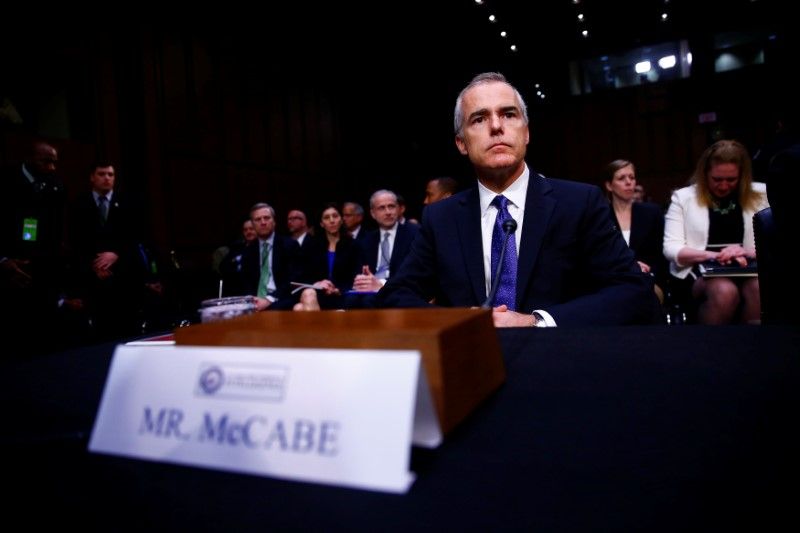 Updated | FBI Acting Director Andrew McCabe testified before the Senate Select Committee on Intelligence on Thursday, less than 48 hours after taking over for James Comey, who President Donald Trump fired earlier this week. McCabe's remarks were his first public comments since the firing.
The Senate Intelligence Committee is overseeing one of several federal investigations into Russia's interference in the 2016 presidential election. Some of those inquiries are also focused on whether members of Trump's presidential campaign colluded with Russia.
McCabe assured the committee that Comey's dismissal had not affected any FBI investigation. "The work of the men and women of the FBI continues despite any changes in circumstance, any decisions, so there has been no effort to impede our investigation to date," he said. "You cannot stop the men and women of the FBI from doing the right thing, protecting the American people and upholding the Constitution."
Asked whether he would inform the committee of any external efforts to disrupt the FBI investigation into Russia's tampering and possible collusion with Trump associates, McCabe said he "absolutely" would.
Related: FBI Acting Director McCabe is also under federal review
Senator Mark Warner, a Democrat from Virginia who is vice chairman of the committee, addressed Comey's firing at the start of the hearing. "It is impossible to ignore that one of the leaders of the intelligence community is not here with us today," he said. Referring to the Russia inquiry, he added, "It's hard to avoid the conclusion that the president's decision to remove Director Comey was related to this investigation, and that is truly unacceptable.... President Trump's actions this week cost us an opportunity to get at the truth, at least for today."
Comey had been scheduled to testify at the hearing, before his termination on Tuesday. The firing, which the White House indicated was because of his handling of the bureau's investigation into Hillary Clinton's use of private email servers, sent shockwaves throughout Washington and beyond. "I am troubled by the timing and reasoning of Director Comey's termination," Senator Richard Burr, chairman of the Senate Intelligence Committee, said in a statement Tuesday night. "I have found Director Comey to be a public servant of the highest order, and his dismissal further confuses an already difficult investigation by this committee."
Burr, a Republican from Virginia, continued, "Director Comey has been more forthcoming with information than any FBI director I can recall in my tenure on the congressional intelligence committees. His dismissal, I believe, is a loss for the bureau and the nation."
In his letter informing Comey about the firing, Trump wrote, "I greatly appreciate you informing me, on three separate occasions, that I am not under investigation." On Thursday, McCabe declined to comment on any conversations the president and former FBI director may have had. But he said informing someone that he or she is not part of an investigation would not be standard practice.
The open hearing on Tuesday was on worldwide threats, including Russian tampering, and other topics. A closed hearing on the threats was scheduled for Thursday afternoon. Besides McCabe, also testifying were Director of National Intelligence Daniel Coats, CIA Director Michael Pompeo, National Security Agency Director Admiral Michael Rogers, Defense Intelligence Agency Director Lieutenant General Vincent Stewart and National Geospatial-Intelligence Agency Director Robert Cardillo.
During the hearing, McCabe addressed media reports that Comey had recently requested more resources for the Russia investigation, which some have suggested could have contributed to the timing of his firing. The acting director said, "We don't typically request resources for an individual case" and that the Russia investigation is "adequately resourced." Responding to White House spokeswoman Sarah Huckabee Sanders's saying on Wednesday that the FBI's Russia investigation is "probably one of the smallest things that they've got going on their plate," McCabe said, "We consider it to be a highly significant investigation." He said all agents involved in that probe remain in their positions.
He also rejected media reports that rank-and-file FBI employees held a negative opinion of Comey. "It has been the greatest privilege and honor of my professional life to work with him," he said. "I can tell you also that Director Comey enjoyed broad support within the FBI and still does to this day." He later added that some people in the bureau "were frustrated with the outcome of the Hillary Clinton case."
It is unclear how long McCabe will serve as acting director. He joined the FBI in 1996 and became deputy director in February 2016. He had come under scrutiny in recent months for campaign donations that political organizations associated with Virginia Governor Terry McAuliffe, who has ties to Bill and Hillary Clinton, made to McCabe's wife's 2015 state Senate run. The Department of Justice's Office of the Inspector General is reviewing whether McCabe should have recused himself from the FBI's investigation into Hillary Clinton's use of private email servers, because of those campaign donations.
This article has been updated with additional comments by FBI Acting Director Andrew McCabe at Thursday'​s Senate Intelligence Committee hearing.