After a day of intense testimony, in which the Senate Judiciary Committee listened to Christine Blasey Ford and Brett Kavanaugh on allegations of sexual assault, lawmakers have voted to move forward with the judge's confirmation to the Supreme Court.
The committee came to a vote on Friday, with the judge being confirmed 11 to 10. But in last-minute drama, Flake said he would vote to proceed the nomination to the floor only if there was a one-week delay in order for an FBI investigation to take place.
The vote came a day after Ford gave a four-hour testimony detailing the alleged attack. She told senators that Kavanaugh sexually assaulted her at a party when they were both in high school over three decades ago.
When asked what she will always remember about the incident, Ford said it was Kavanaugh's "uproarious laughter" with his friend Mark Judge while he assaulted her. "I was underneath one of them, while the two laughed. Two friends having a really good time with one another," she told the committee.
Despite her testimony, the 11 Republican senators on the committee voted Kavanaugh through.
Republican Jeff Flake was considered to be the biggest contender to offer a swing vote to Democrats, but minutes before the vote on Friday the senator's office released a statement saying that he will support Donald Trump's nominee. The lawmaker was then confronted on his way to the hearing by two women, one asking him through tears: "Don't look away from me. Look at me and tell me that it doesn't matter what happens to me."
Before voting for Kavanaugh's confirmation to move to the Senate floor, Flake called for an FBI investigation. He is requesting no longer than a one-week delay so that the FBI can look into Ford's allegations.
"I'll move it out of committee, but I'll only be comfortable moving it on the floor after the FBI has done more to investigate than they have already," Flake said.
But the decision on whether or not a delay on the Senate floor can take place falls onto Majority Leader Mitch McConnell, who has not said whether he would support such a proposal. The White House would then have to call on the FBI to initiate the investigation.
The 10 Democratic senators who sit on the panel all voted against Kavanaugh, with Cory Booker and Kamala Harris refusing to vote on the committee's motion to vote on the judge.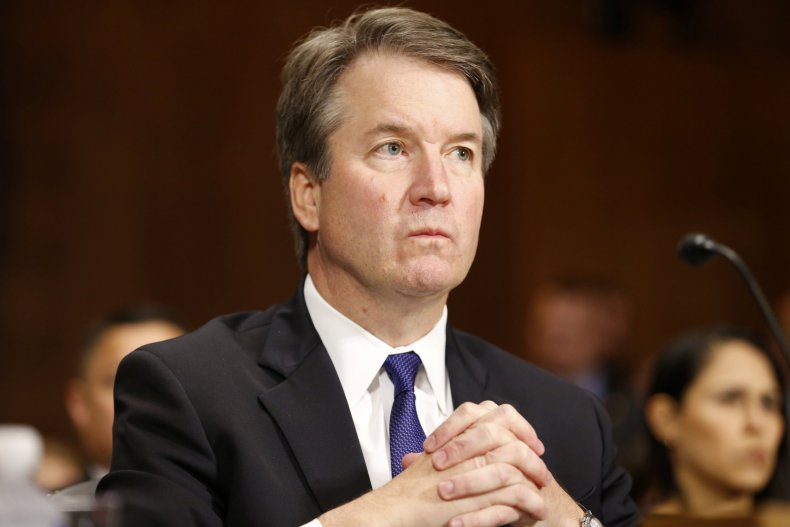 Kavanaugh came out swinging against Democrats during his opening statement on Thursday, accusing them of using him as a pawn to get "revenge on behalf of the Clintons."
"This whole two-week effort has been a calculated and orchestrated political hit, fueled with apparent pent-up anger about President Trump and the 2016 election, fear that has been unfairly stoked about judicial record, revenge on behalf of the Clintons," Kavanaugh said.
Kavanaugh continued, saying that Democrats have been "in a frenzy" since his nomination by President Donald Trump earlier this summer. He accused them of looking for reasons to ruin his "good name" and reputation for weeks and are now relying on these accusations to sink his nomination after failing to discredit him based on merit.
Kavanaugh has vehemently denied every allegation of sexual assault and misconduct made against him by three different women.
Since Kavanaugh has been confirmed by the Senate Judiciary Committee, the current plan is to hold a procedural vote on the Senate floor on Saturday afternoon. A final vote on whether or not Kavanaugh will be placed on the Supreme Court is expected to be held early next week.
Republicans can advance Kavanaugh's confirmation even if they do not get any support from Democrats in the Senate, as they currently hold a majority of 51-49 in the chamber.
But some Republican senators remain on the fence about Trump's nominee, including Lisa Murkowski and Susan Collins.
Here's how each of the senators on the committee voted on Friday:
Yes
Lindsey Graham (R-SC)
Chuck Grassley (R-IA)
Orrin Hatch (R-UT)
John Cornyn (R-TX)
Michael Lee (R-UT)
Ted Cruz (R-TX)
Ben Sasse (R-NE)
Mike Crapo (R-ID)
Thom Tillis (R-NC)
John Kennedy (R-LA)
Jeff Flake (R-AZ)
No
Dianne Feinstein (D - CA)
Cory Booker (D - NJ)
Patrick Leahy (D - VT)
Amy Klobuchar (D-MN)
Sheldon Whitehouse (D-RI)
Dick Durbin (D-IL)
Christopher Coons (D-DE)
Richard Blumenthal (D-CT)
Mazie Hirono (D-HI)
Kamala Harris (D-CA)