What Republicans Think of President Trump: They Can't Get Anything Done With Him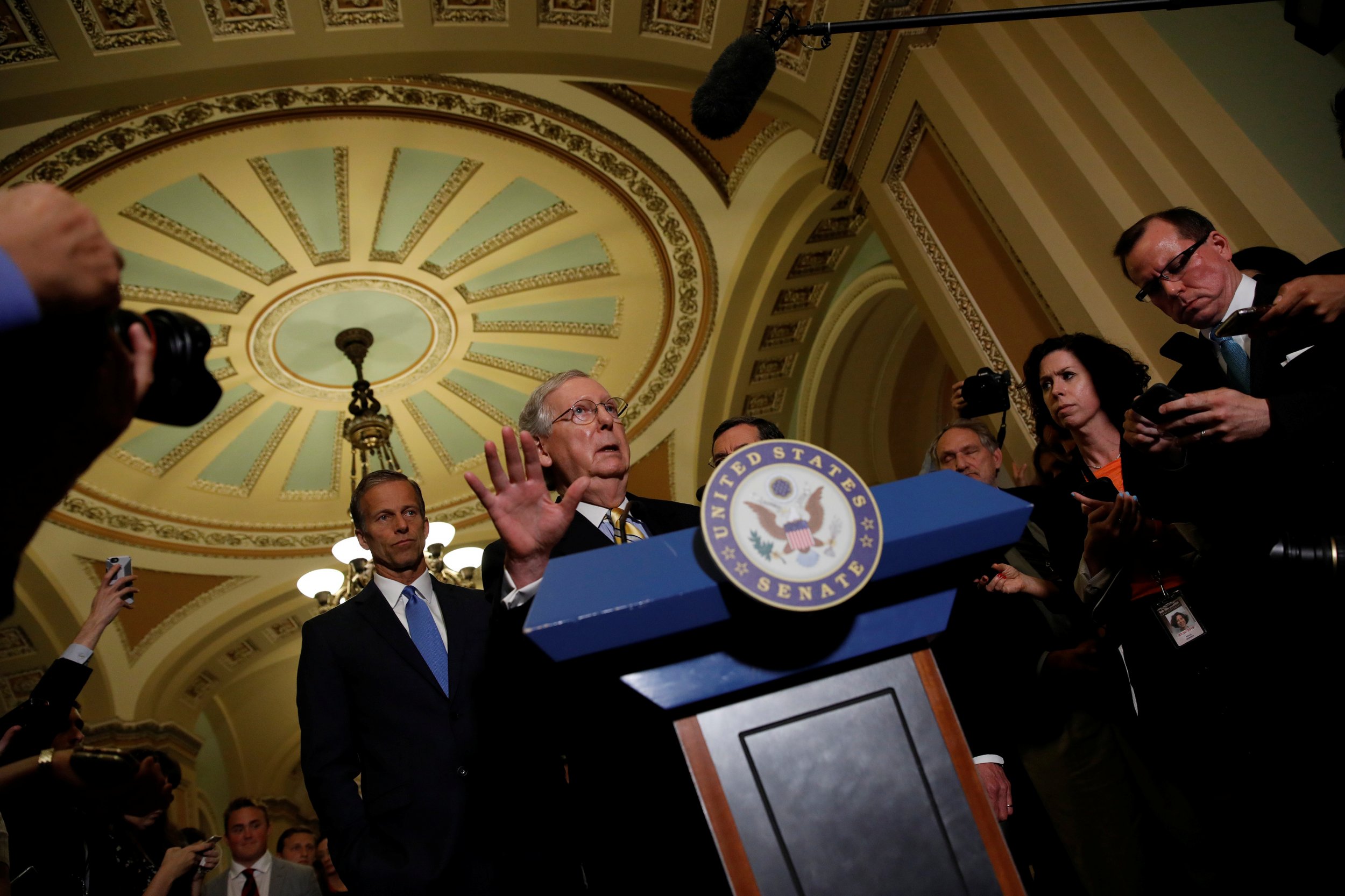 Republicans managed to retain their majorities in both the U.S. House of Representatives and the Senate in 2016 as President Donald Trump's victory handed the party control of the executive branch.
But despite that significant advantage, Republican efforts to overhaul the federal government on issues like health care reform and spending have come to nothing. And with few accomplishments to point to so far, Republicans are increasingly concerned that Trump is hurting their chances of retaining their Senate majority or building on it in the 2018 midterm elections.
High-ranking GOP officials such as Senate Majority Leader Mitch McConnell (R-Kentucky) have reportedly expressed "exasperation" and "deep frustration" with the new president and actions taken against current Republican senators, possibly putting their seats in danger next year, Politico reported Tuesday.
It follows the decision of the Republicans to push back the vote on the Senate's version of a health care bill, due both to its unpopularity around the country and the growing number of GOP senators that have either expressed concerns or come out against it. On Monday, the Congressional Budget Office found that as many as 22 million people could lose health care coverage over a 10-year period if the bill becomes law.
One of those in opposition was Senator Dean Heller, a Nevada Republican who may have a difficult race ahead of him next year. To the dismay of both the Senate and the GOP, a pro-Trump organization called America First Policies launched a $1 million campaign against Heller in response. Although the campaign now appears to have been halted, Republicans are afraid it could return in 2018 and risk handing Heller's seat to the Democrats.
Trump was also reportedly heard saying before he was elected last year that he wanted to find someone to run against Arizona Senator Jeff Flake, a Republican who openly criticized him before and after the election, according to the report.
The New York Times has reported that Senate Republican leaders prefer to work with Vice President Mike Pence and that McConnell had reached out to the White House chief of staff to say the attacks on Heller were "beyond stupid."
Trump's lack of political expertise has particularly frustrated McConnell. In one instance, McConnell directly attempted to intervene on Trump's appointment of Ryan Zinke, a former U.S. representative for Montana, as Interior Secretary. McConnell believed Zinke could take on Montana Democrat Jon Tester next year and encouraged the White House to instead appoint Democrats Joe Manchin of West Virginia and North Dakota's Heidi Heitkamp to run the Department of the Interior.
McConnell, meanwhile, has yet to see the Republican National Committee provide funds toward Senator Luther Strange's campaign in the Alabama Senate primary in December, leaving the majority leader "stewing," Politico reported.