Republican Tom Cotton Stands Alone Against Bill to Review Iran Deal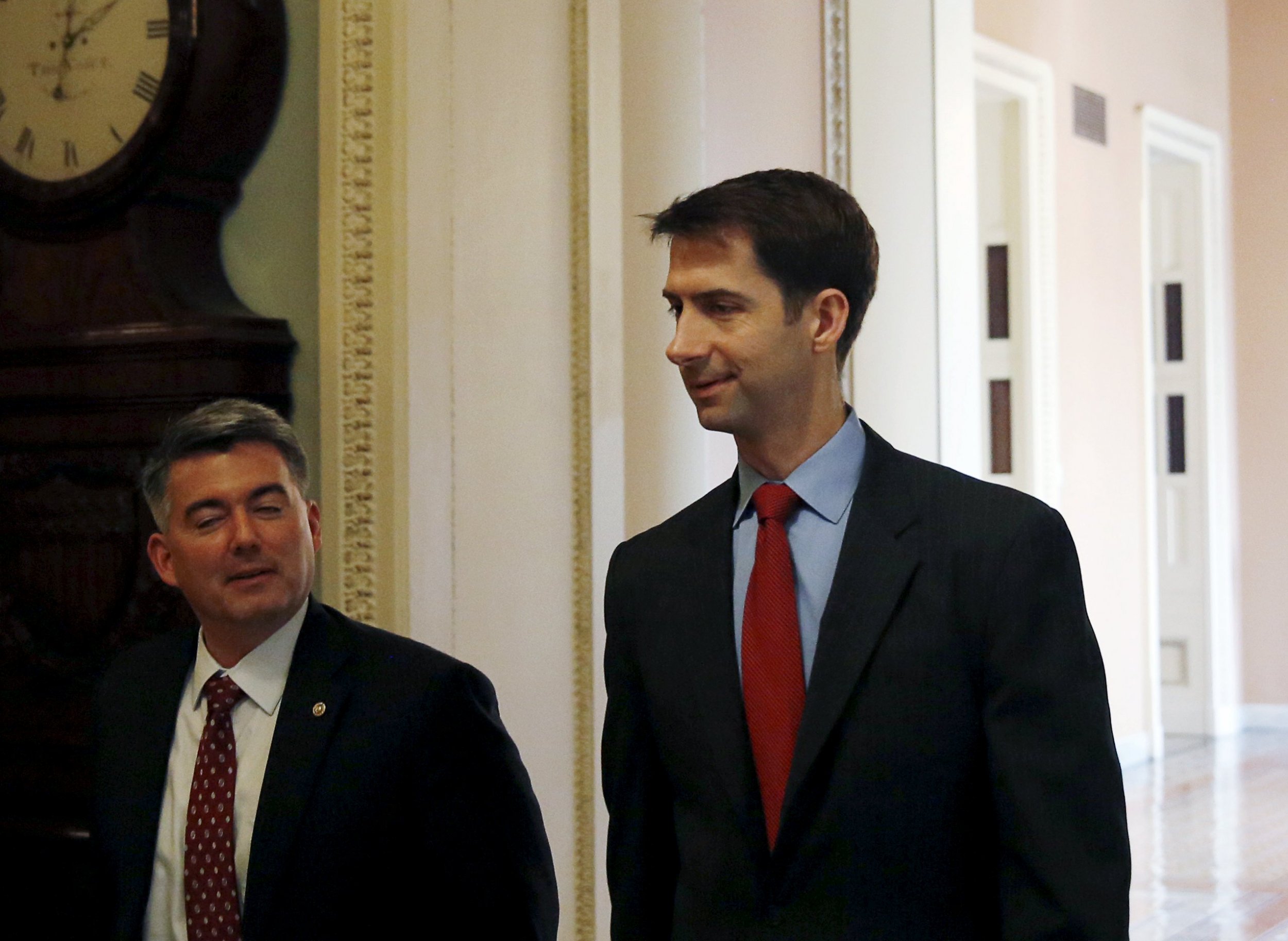 The Senate on Thursday took a big step towards giving Congress the ability to weigh in on any nuclear agreement the United States reaches with Iran this summer. Lawmakers voted 98 to 1 for a bill that would allow Congress to review a pact with Tehran, which is currently under negotiation.
The lone no vote: Arkansas Republican Tom Cotton, the upstart freshman who kicked up an international contretemps earlier this year when he orchestrated a letter from Senate Republicans to Ayatollah Ali Hosseini Khamenei of Iran, over the head of President Barack Obama, regarding the negotiations.
After resisting various attempts by Congress to insert itself in the talks, the White House finally backed off last month, clearing the way for Democrats to support a bill. But Cotton and other senators wanted to amend the measure further, which would have risked a renewed veto threat from Obama. So Senate Republican Leader Mitch McConnell ultimately decided to block them. The legislation, which would allow Congress to keep sanctions on Iran if it can override a presidential veto, now goes to the House for a vote, likely next week. It's expected to pass.
Despite initial grumbling, all four possible Republican presidential contenders in the Senate lined up behind the bill. Texas Senator Ted Cruz voted for the measure only a day after lambasting it as a "bad bill." His presidential primary rival, Florida Senator Marco Rubio, wanted a vote on his amendment requiring Iran to recognize Israel as a condition of any deal. But, like Cruz, he ultimately voted for the measure, as did Kentucky Senator Rand Paul, a declared 2016 candidate, and South Carolina Senator Lindsey Graham, who is also eyeing a run.
International negotiators from the United States, the United Kingdom, France, Germany, China and Russia are meeting with Iranian officials again in Vienna, Austria next week as they try to hash out the final details of a deal ahead of a June 30 deadline. In the March, all parties agreed to the outlines of an accord to reduce, but not completely eliminate, Iran's ability to enrich uranium, the key ingredient for a nuclear bomb. In exchange, the United States and other world powers are offering to lift some of the crushing economic sanctions they've placed on the Middle Eastern power.