Senate Republicans' Obamacare Bill Could Hinge on Three Women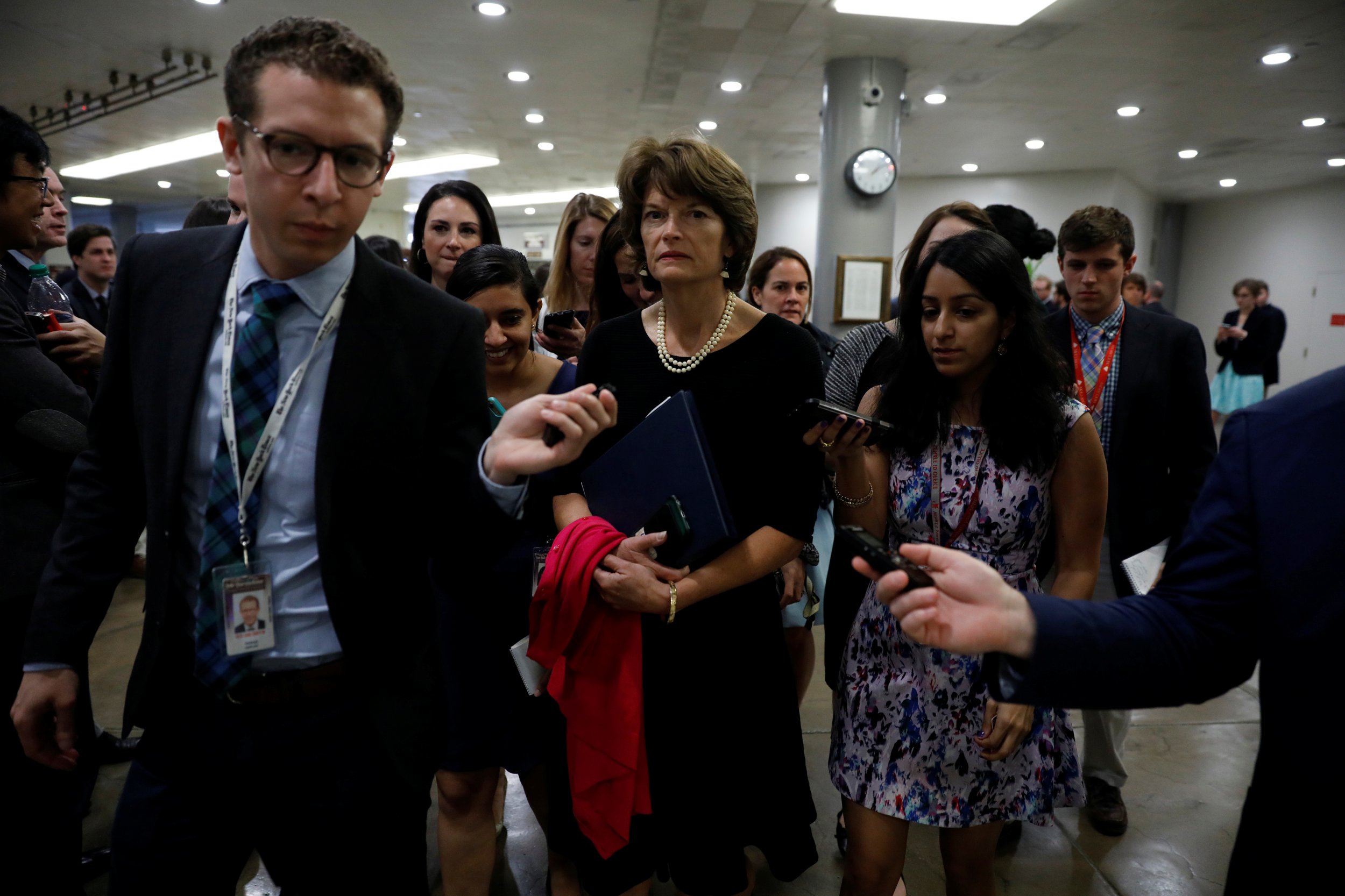 Senate Republicans aren't disclosing much about their plans to overhaul the Affordable Care Act (aka Obamacare). But with just nine legislative days left before their self-imposed deadline for a vote on the legislation, one thing is clear: Three female senators could make or break their effort to deliver on a political promise seven years in the making.
Related: All-male Senate healthcare group criticized by Democrats
Republicans Lisa Murkowski, Susan Collins and Shelley Moore Capito all hail from largely rural states (Alaska, Maine and West Virginia, respectively), and all have been openly critical of how the House-passed bill to repeal Obamacare would affect their constituents. "The plan the House laid down does not help Alaska. It does not help decrease their costs, and it does not help increase their access," Murkowski told Vox last week.
The trio of senators also tends to be more moderate than most of their GOP colleagues, at least in terms of how they view the federal government's role. So Medicaid funding is a huge sticking point for them, and they did not like the cuts in the House bill. The question is whether the final draft of the Senate's health care proposal will move far enough to the middle to assuage their concerns. With 52 Republicans in the Senate, the party can't afford to lose all three women and still pass its bill with a bare majority.
There's more than a small dose of irony in the fact that Murkowski, Collins and Capito could determine the fate of the Senate health care bill. They are among just five women in the entire GOP caucus, and none of the five was included in the original 13-man working group Senate Republican leaders put together to craft their replacement for Obamacare, the health law President Barack Obama and Democrats passed with great fanfare in 2010. The all-male cast of the working group drew plenty of unflattering headlines when it was unveiled in May.
GOP leaders responded quickly by inviting Capito to one of the group's meetings, and since then they have emphasized that the entire caucus is gathering regularly to discuss various parts of the legislation—at least three days a week. House Republicans also drew flak for their almost entirely male delegation that joined President Donald Trump at the White House in May to celebrate passage of the House's version of the bill.
But while Murkowski, Collins and Capito may not be integrally involved in drafting the text of the measure, they've made clear the drafters will need to work to win their votes. As of now, neither they nor their staffs are willing to take firm positions on the various proposals being floated in the news media, citing all the uncertainty surrounding the bill's final shape. Leaders have been pushing to have a draft completed before the Senate is scheduled to leave Washington for recess on June 30, but many Republicans are growing more pessimistic that an agreement can be reached in the coming days. It certainly doesn't help that Democrats have launched an effort to stall a potential vote.
The issues creating bottlenecks for the GOP are the ones the three female senators have been most adamant about, starting with Medicaid. Rural areas are disproportionately "older, poorer and sicker" than urban ones, says Maggie Elewhany, the head lobbyist for the National Rural Health Association (and former health counsel for Murkowski), and at the same time, health care costs are higher because there are fewer doctors and hospitals. Thus, Medicaid funding is that much more critical—and politically popular—in their states, compared with states that have bigger city populations.
Both Alaska and West Virginia expanded the public health insurance program, which under Obamacare provides federal money to states to help cover poor and disabled residents, leading to tens of thousands more people now relying on Medicaid for health care. In particular, Medicaid has helped people in both states get help for opioid addiction, which has been a particular scourge in rural areas. In 2015, West Virginia had the highest rate of death from drug overdoses in the country, according to the U.S. Centers for Disease Control and Prevention.
Maine faces many of the same challenges as Alaska and West Virginia, but its Republican governor opted not to take Obamacare funds to expand its Medicaid program. Still, Collins has been pushing hard to protect both states' access to the increased Medicaid funds under Obamacare and the individual marketplaces that the law created. The veteran Maine lawmaker, who is weighing a run for governor in 2018, has gone so far as to introduce, with Louisiana Senator Bill Cassidy, alternative legislation that represents a compromise approach between Obamacare and the much more conservative health care bill the House passed in May. The House version would not only end the Medicaid expansion but also cap federal funding for the program in the future, shifting more of the costs and burdens to the states.
Murkowski and Capito are similarly trying to carve out some middle ground in a political debate that has often been black and white. "We recognize that there were some good things that came out of [Obamacare], some things that I want to figure out how we maintain," the Alaska senator said in a Facebook Live town hall in May, "whether it's ensuring that those with pre-existing conditions continue to stay covered, those under 26 stay on their [parents'] policies, Medicaid expansion, making sure that those benefits…are able to be continued."
At the same time, it's rural areas that are having some of the biggest problems with Obamacare's private health care exchanges. For a variety of reasons having to do with the geography and nature of the populations, "the marketplace is not working in rural America," says Elewhany. "Seventy percent of the counties that [insurers] are pulling out of are rural counties." That's put all three GOP senators under intense pressure from advocates on both sides of the debate over Obamacare. But it's also made them highly sought after swing votes for the Senate's health care bill.
There's one other key part of the Senate bill where Collins and Murkowski could prove decisive, and it centers on one of the most politically fraught issues of all: abortion. The two women are the most vocal opponents of the House health care bill's effort to block federal funds for Planned Parenthood. (There's only one Planned Parenthood clinic in West Virginia, so this isn't as much of an issue for Capito.) Federal law already bars government funding for abortion, but Planned Parenthood, the country's largest abortion provider, still gets federal money for mammograms and other reproductive health screenings it provides to low-income women. Social conservatives have been fighting for years to halt those funds. In May, Collins argued against the move in an interview on ABC's This Week, saying low-income women shouldn't "be denied their choice of health care providers for family planning, cancer screenings, some well-women care."
It's the sort of perspective Senate Republicans could be missing out on in their male-dominated working group. But Collins's point of view, and those of her female colleagues, will have to be taken into account as Republican leaders seek to round up the 50 Senate votes they'll need to move forward with their Obamacare repeal effort.