Senate Republicans Hope to Pass Skinny Coronavirus Relief Bill Next Week; Dems Expected to Block
After returning from August recess next week, Senate Republicans are looking to pass a "focused, targeted" coronavirus stimulus package that's been stalled in Congress for nearly a month.
Senator John Barrasso, chair of the Senate Republican Conference, told reporters Tuesday morning that their goal is to approve a skinny aid proposal—the details of which have yet to be made public—sometime next week.
"We have a focused, targeted solution that we'd hope that the House would pass," the Wyoming Republican said. "It's focused on getting people back to work, getting kids back to school and the specifics of the disease."
Barrasso added that it "leaves out so many things that Nancy Pelosi has put in her bill that are unrelated to coronavirus."
But with few concessions made by either side of the aisle since negotiations among congressional Democrats, Republicans and the White House crumbled at the beginning of August, Democrats are expected to block the GOP measure because it will likely stop short of including the amount of relief that they believe is necessary. The looming November elections could also make the vote a difficult one not just for some Democrats, but some Republicans, too.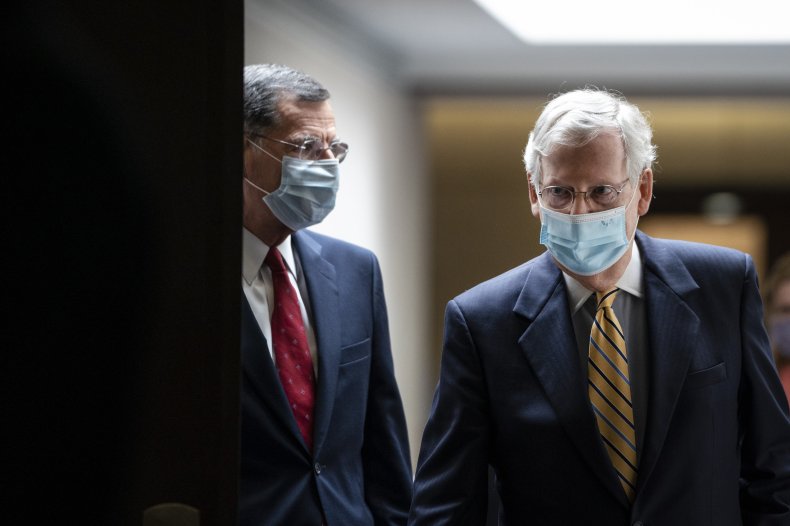 The yet-to-be-released proposal would need 60 votes to pass. It is expected to differ from Republicans' previous $1 trillion bill, which blew up after intraparty divisions erupted over how to pass more economic aid—or even if any should be passed. The Republicans' $1 trillion HEALS Act would have included a second round of individual checks and funding for schools and liability protections, but would have significantly cut the enhanced weekly unemployment benefits from $600 to $200, among other things.
There would need to be significant buy-in from all sides in order to get any new measure across the finish line, a notion that is unlikely to occur because of Democrats' opposition to such a trimmed-down package.
The latest offer from House Speaker Nancy Pelosi (D-Calif.) and Senate Minority Leader Chuck Schumer (D-N.Y.) was a $2.2 trillion bill, roughly $1 trillion less than the more than $3 trillion HEROES Act they previously pushed. Republicans have refused to budge from their previous $1 trillion price tag. Democrats have pushed for slightly more school aid than offered by Republicans, keeping the $600 jobless benefits, another round of checks, U.S. Postal Service funding, rental assistance and food aid, among other things.
Treasury Secretary Steve Mnuchin and White House Chief of Staff Mark Meadows have negotiated with Democrats on behalf of Republicans and President Donald Trump. Mnuchin told Fox Business on Monday that Senate Republicans would "hopefully" be unveiling their new bill next week.
Mnuchin is slated to be grilled before the House Select Subcommittee on the Coronavirus Crisis, a Democratic-led panel, Tuesday afternoon. Lawmakers and the Treasury secretary will discuss the Trump administration's response to the economic crisis.
This story will be updated, if new information becomes available.