Senate Republicans Join Pelosi in Opposing Trump Administration's $1.8 Trillion Stimulus Offer
Senate Republicans joined House Speaker Nancy Pelosi in opposing the Trump administration's latest coronavirus stimulus proposal during a conference call on Saturday.
Treasury Secretary Steve Mnuchin put forward a $1.8 trillion offer on Friday, the administration's most generous plan to date. But in less than 24 hours, the offer had been rejected by both sides of the political aisle. A previous White House proposal offered $1.6 trillion.
An unnamed Republican told the Associated Press that GOP Senators called Mnuchin's new plan too expensive and out of touch with conservative values during a conference call this morning. The source spoke on the condition of anonymity due to the private nature of the call.
President Donald Trump has pushed for more stimulus relief to be passed before Election Day in recent weeks. His stance on the matter is expected as, according to political analysts, another coronavirus stimulus package would help his chances of re-election. "Covid Relief Negotiations are moving along. Go Big!" the president tweeted on Friday.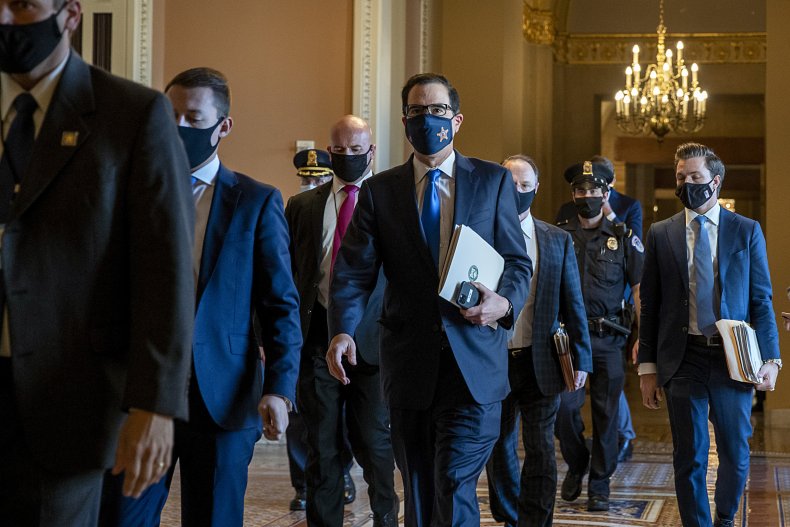 While some Republican Senators—including Lindsey Graham of South Carolina—supported going big, other file-and-rank members of the party—such as Marsha Blackburn of Tennessee and Rick Scott of Florida—refused to back legislation that would provide so generously to Americans.
Pelosi also rejected the president's latest proposal, calling it "one step forward, two steps back." In a letter to Democratic colleagues Saturday, the Speaker insisted that Mnuchin's plan was "insufficient in meeting families' needs."
"When the President talks about wanting a bigger relief package, his proposal appears to mean that he wants more money at his discretion to grant or withhold, rather than agreeing on language prescribing how we honor our workers, crush the virus and put money in the pockets of workers," the top Democrat wrote.
Additionally, she informed her party that all parties still disagree "on many priorities."
Senate Majority Leader Mitch McConnell on Friday expressed pessimism about another bill before Election Day. "I think it's unlikely in the next three weeks," said the Republican leader.
Pelosi, however, remains hopeful that a deal could be struck soon. "Despite these unaddressed concerns, I remain hopeful that yesterday's developments will move us closer to an agreement on a relief package that addresses the health and economic crisis facing America's families," she wrote in the letter.
Trump suddenly ended relief talks in a series of tweets on Tuesday, where he said he had "instructed my representatives to stop negotiating until after the election." But the president changed his mind later that day and urged House Democrats to consider pushing through standalone relief bills.
Newsweek reached out to the Treasury Department for comment.