Senate Republicans Omit State Aid From Stimulus Proposal Amid Historic Budget Shortfalls
Governors from both parties have pleaded for more federal aid amid the coronavirus pandemic and it looks like they will have to wait even longer.
The Health, Economic Assistance, Liability Protection and Schools (HEALS) Act unveiled by Senate Republicans on Monday afternoon outlined sending a second round of stimulus checks, reducing unemployment benefits and ramping up school funding but did not mention any new financial assistance for state and local governments.
State budget shortfalls are expected to total about $555 billion through 2022—a bigger drop than in the worst years of the Great Recession—according to the nonpartisan think tank Center on Budget and Policy Priorities.
"We already have an economy that is really struggling and this would make the recession even worse," Michael Leachman, the senior director of state fiscal research at CBPP, told Newsweek.
Texas lawmakers are facing their biggest budget shortfall in history. In Wyoming, one of the nation's least populated and most politically conservative states, the governor recently told state lawmakers that even if he laid off every government employee it wouldn't solve budget problems. Last week, the Nevada state legislature approved a resolution that asked the Trump administration to step in and provide more money to fill their $1.2 billion shortfall.
A stimulus package without state aid would be a "slap in the face," New Jersey Governor Phil Murphy said during a press briefing last week. When asked when he'll give up on federal aid, New York Governor Andrew Cuomo told reporters over the weekend that the "drop-dead date is this round that they're in now. They have been promising, promising, promising. They have been saying we're going to do it, and they didn't."
President Donald Trump and Senate Majority Leader Mitch McConnell spent most of the pandemic railing against providing more aid to states, dubbing such assistance as "blue state bailouts." McConnell even floated the idea of letting states go bankrupt rather than providing more money.
House Democrats, on the other hand, have allotted $1 trillion in state and local aid alone as part of the HEROES Act passed in May. But the $3 trillion bill was deemed "dead on arrival" in the upper chamber.
David Adkins, the director of the Council for State Governments, said setting aside additional funding for the states should be a "no brainer" for Congress. If it's not included in the final version of the relief package, then lawmakers are "failing to accept the realities" of the economic fallout from the health crisis.
"The aid to the states is the smartest investment the federal government can make in assuring that the recovery is stronger and faster than it otherwise would be," Adkins told Newsweek. "Without it, you're going to have fewer teachers, police officers, firefighters—all of the people that we look to provide services right now more than ever."
The National Governors Association, which is led by Cuomo and Maryland's Larry Hogan, said state leaders have already slashed budgets and reduced payrolls by 1.5 million people. Without Senate action, the group said those cuts will be multiplied.
"The rapid economic downturn has left no region of the country untouched and has stressed every aspect of state delivery of critical needs and services to its residents. In order to support states in the continuing pandemic response, a $500 billion state stabilization fund must be included in any COVID-19 relief package from the Senate," the National Governors Association said in a statement last week.
The National League of Cities slammed the HEALS Act for not committing more funds to address budget shortfalls. Clarence Anthony, the group's executive director, said in a statement that the proposal was "out of touch with the grim reality facing communities large and small across the nation."
"Today's proposal ignores not only the warnings of local leaders, but also those of economists who have cautioned lawmakers about the devastating long-term impacts of failing to address local government revenue shortfalls," Anthony said.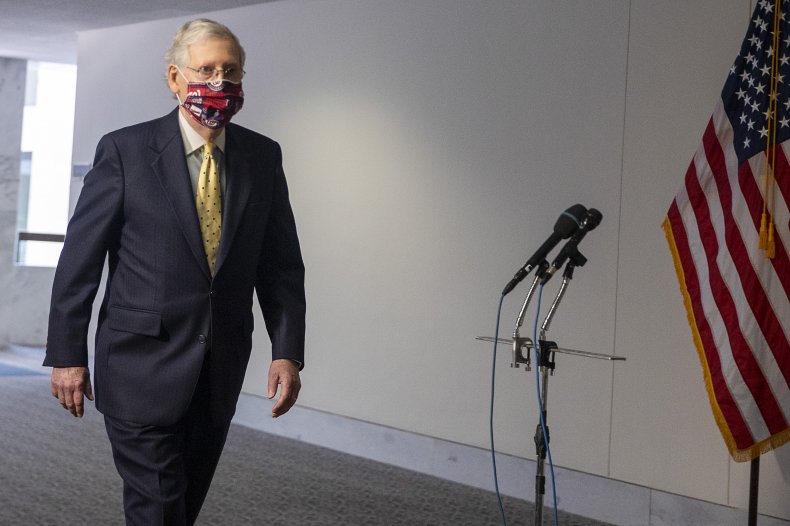 So far, the only federal assistance for states has been the $150 billion allocated under the $2 trillion Coronavirus Aid, Relief and Economic Security (CARES) Act in March. The legislation gave each state $1.25 billion in assistance and additional money was doled out to areas based on need.
But there have been complaints about the restrictions surrounding how states can use the federal funds. The proposal outlined by Senate Republicans on Monday will grant local leaders more flexibility in using the existing federal assistance.
"State and local governments have also asked for federal help. Our proposal extends the time frame in which governments can utilize the $150 billion in funding provided under the CARES Act, while also providing more flexibility—allowing some funds to be used to cover revenue shortfalls," said Senator Chuck Grassley, chairman of Senate Finance Committee.
The HEALS Act would also dole out more than $100 billion to schools and provide $16 billion for states to conduct testing and contact tracing.
House Speaker Nancy Pelosi called for negotiations on the bill to start immediately. Congress will go into recess on August 7, though the California Democrat said lawmakers can't leave before reaching a deal.
"If Republicans care about working families, this won't take long. Time is running out. Congress cannot go home without an agreement," Pelosi said in a statement.