Democrats Wanted $250 Million to Protect States' Voting Systems, but Republicans Rejected It
With Russian efforts to subvert the midterm elections already underway, a measure that would have provided an additional $250 million for states to bolster their voting systems and protect against election hacking was rejected Wednesday by Senate Republicans.
The amendment by Democratic Senator Patrick Leahy of Vermont was defeated after failing to clear the required 60-vote threshold.
"The integrity of our elections, which are the foundation of our democracy, should not be a partisan issue," Leahy said in a statement following the vote. "It is unfortunate that the Senate has followed the same path as House Republicans in blocking the funding our states need to help upgrade their infrastructure and secure our elections."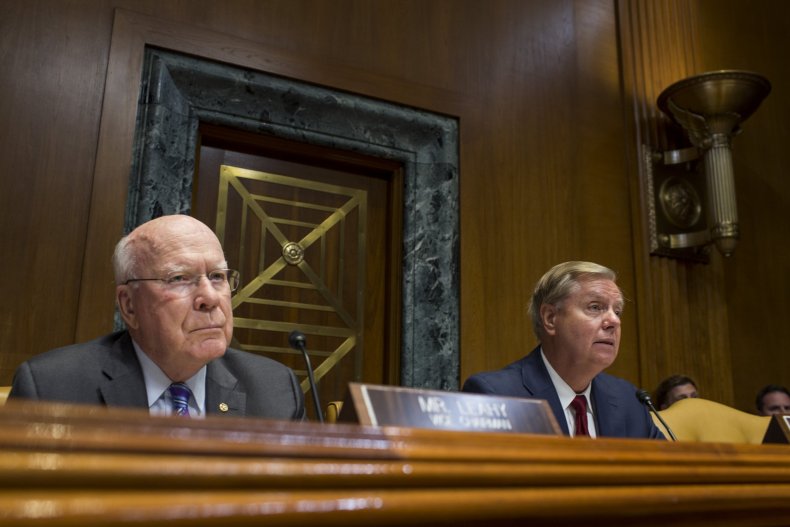 All 47 Democrats voted in favor of the measure, as did the chamber's two independent senators. Republican Senator Bob Corker of Tennessee, who is not seeking re-election this November, was the measure's lone GOP supporter. Corker's communications director, Micah Johnson, pointed Newsweek to an earlier statement Corker made Wednesday to the Daily Beast when he told the outlet it was necessary for Congress to put aside additional money for states to protect its election systems.
"Even though states have not yet fully completed using the 2018 money, we still have the 2020 election coming up," Corker told the Daily Beast. "It just seemed to me to be the right vote. We're talking about $250 million, a very small amount of money."
Just last week, 21 state attorneys general urged Congress in a letter to provide more funding for states to meet election security needs, saying, "More funding is essential to adequately equip states with the financial resources we need to safeguard our democracy and protect the data of voting members in our states."
The amendment, part of an appropriations budget, would have given an extra $250 million in grants for improving cybersecurity and replacing outdated equipment. Earlier in July, House Republicans approved a spending bill that excluded new funding for election security, something that led Democrats on the House floor to begin chanting "USA! USA!" in opposition.
With no clear strategy outlined by the Trump administration to protect future elections, Congress has tried, in some instances, to take matters into its own hands. In March, Congress approved $380 million in a spending package to go toward state grants for election security.
The president has repeatedly wavered on his stance regarding Russian interference in the 2016 election. At times, he appeared to accept the intelligence community's 2017 report, which concluded the Russian government, under direct order from Russian President Vladimir Putin, ordered cyberattacks on the election in order to help Trump defeat Hillary Clinton. At other times, he's refused to acknowledge the hacking came from Russia, including while standing next to Putin at their Helsinki summit last month.
Department of Homeland Security Secretary Kirstjen Nielsen unveiled the National Risk Management Center Tuesday, an agency that will allow federal officials from varying agencies to work together on protecting institutions against future cyberattacks.
Despite this, the White House has only held two meetings on election security during Trump's time in office, according to the Associated Press. One of those two meetings was last week, and it reportedly lasted only 30 minutes.