The Senate Is Returning to Business. That Doesn't Mean Another Stimulus Bill Is Imminent
As the Senate returns from recess on Monday, the nation eagerly anticipates news of a further coronavirus relief bill.
However, a decision on such funding is not expected imminently, with the chamber's GOP majority maintaining its stance on a pause before approving further such spending.
The $2.2 trillion CARES Act was passed in March, including measures such as direct economic impact payments, and Republicans have indicated a desire to assess its impact prior to additional action.
A further bill, the HEROES Act, passed the Democrat-dominated House of Representatives last month. At a cost of $3 trillion, it builds upon measures in the CARES Act, including further direct payments and extending the $600-a-week unemployment benefits boost.
This stalled in the Senate before it embarked on recess, with Republicans insisting it had no chance of passing the chamber.
While Senate Majority Leader Mitch McConnell (R-KY) has hinted at some sort of package coming to fruition, he has led on action being held off for the moment, while adding that the next bill would be the last.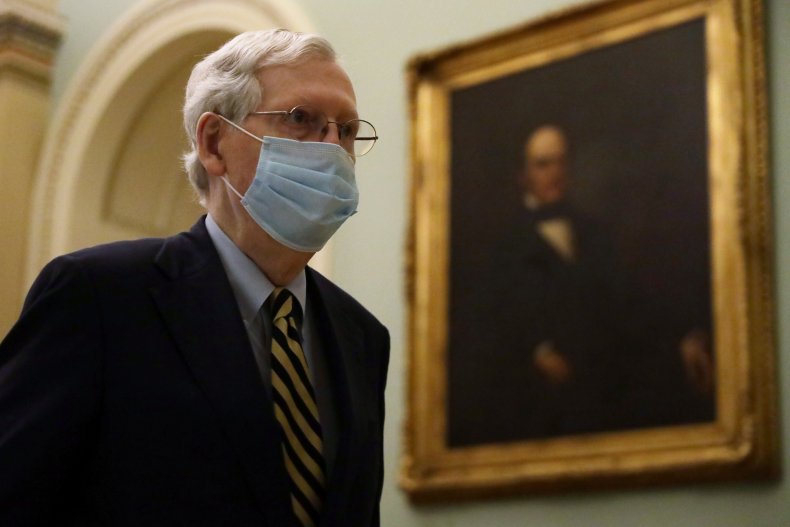 Senate Minority Leader Chuck Schumer (D-NY), has criticized the lack of plans for the chamber to progress such measures soon, bemoaning a lack of COVID-19 related legislative business scheduled for the working period starting June 1.
On Friday, he shared a letter to colleagues which called upon Republicans to engage in negotiations with the Democrats on something which could be passed, praising the HEROES Act passed in the House.
"We urge our Republican colleagues in the upper chamber to join Democrats at the negotiating table, immediately," he wrote.
"Watching our Republican colleagues over the last few weeks, you'd never know that the nation is in the midst of crisis."
In his letter, which he shared on Twitter, he also commented on the upcoming Senate Judiciary Committee hearing to look into the origins of the FBI probe into links between Trump's 2016 campaign and Russia, calling on this to be canceled to allow a greater focus on coronavirus relief measures.
Alongside a copy of the letter, Schumer tweeted: "Sen. McConnell hasn't scheduled any legislative business related to COVID-19 for the next Senate work period.
"But the Senate GOP Conspiracy Caucus will hold hearings on baseless conspiracy theories to prop up Pres. Trump
"They need to focus on this health and economic crisis NOW."
House Speaker Nancy Pelosi, a prominent voice behind the HEROES Act, has also hit out at McConnell's call for a pause, urging him to "tell that to the virus."
The Senate calendar for June 1 says it will convene at 3 p.m., proceeding to an executive session to resume the consideration of the nomination of Drew B. Tipton to become United States District Judge for the Southern District of Texas.
Despite the ongoing pressure from Democrats, McConnell has said it will be around a month before the next decision is made on a bill.
"We're taking a careful look at a fourth and final bill," he said. "You could anticipate the decision being made on whether to go forward in about a month. And it will be narrowly crafted, designed to help us where we are a month from now, not where we were three months ago."
This would potentially mean something being agreed just before the Independence Day break, giving around a month for decisions to be made in this next working period.
Republican Senators have hinted at this previously, with consensus appearing to be that something will happen.
Senator Roger Wicker (R-MS) previously said: "I think it's inevitable before the Fourth of July.
"I just think it'll be needed with the economy."
Newsweek has contacted McConnell, Schumer and Pelosi for comment.
A key question for any further measures will be whether or not to include a second round of direct payments, or stimulus checks, as have been made before. The prospect of these has been raised, and questioned, from members of both parties in the Senate.
Polling indicates people across America feel the need to receive further direct financial assistance to help them due to the economic hardship associated with the coronavirus pandemic, while Americans have been increasingly searching the internet for details of another set of payments.
The CARES Act paid out one-off payments of up to $1,200 for American adults, with $500 payments for children under 16.
Coronavirus infections continue to rise in the U.S., with more than 1.79 million cases confirmed so far.
The graphic below, from Statista, shows the states with the most cases as of May 29.