The Lugar Center, a DC-based nonprofit public policy institute focused on bipartisan governance, has given the Senate Committee on Veterans' Affairs a grade of an "F", the lowest grade Lugar has given the committee since 2009.
The Senate committee failed because it didn't hold any investigative oversight hearings into veterans issues for the last year. Comparatively, Lugar gave the House Committee on Veterans' Affairs an "A" for the seventh year in a row, writer Alyk Russell Kenlan reported in Military Times.
The Lugar Center assigned its score using the Congressional Oversight Hearing Index (COHI), its analytical database that grades each congressional committee based on how many hearings it holds during each congressional year—especially the number of investigative oversight hearings—and their frequency compared to how many oversight hearings were held in previous congressional years.
Over the last congressional year, the House Committee on Veterans' Affairs held 89 total hearings including seven investigative oversight hearings. The Senate Committee on Veterans' Affairs, however, has held 25 total hearings over the last congressional year, and none of them have been investigative oversight hearings.
The reason the COHI weights oversight hearings so heavily in their grading is that such hearings investigate military branches, government agencies and private sector companies for problems, wrongdoing and leadership failures while seeking to understand and solve their underlying issues. Such hearings are an important function of the committees in addition to policy and legislative hearings.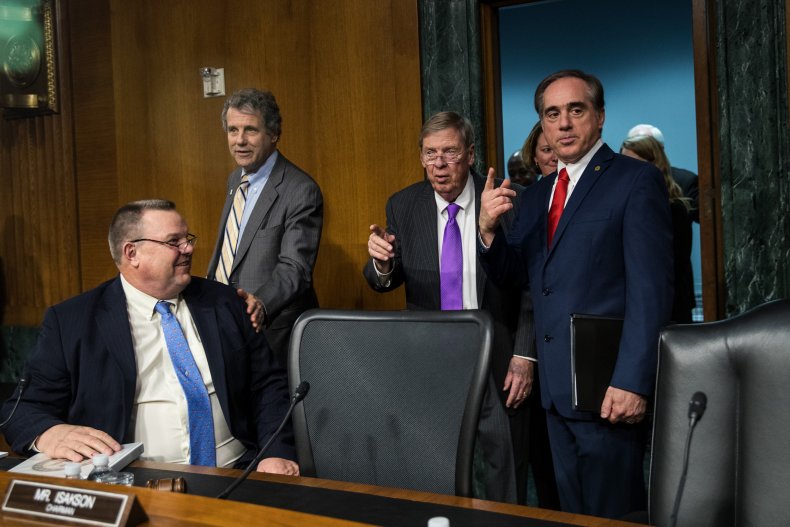 "If a committee is holding any kind of oversight over a federal agency then it will include a congressional hearing," Jamie Spitz, Assistant Policy Director for Bipartisan Governance at the Lugar Center, told Military Times. "In our view, every committee hearing contains some oversight component. This is why we give some oversight credit to every hearing held in Congress."
With COVID-19 outbreak occurring in high numbers among military veterans, claims of racial discrimination among Veterans Affairs staff and ongoing issues with funding, access and privatization, both veteran affairs committees have suitable grounds for potential hearings.
Republican Senator Jerry Moran of Kansas serves as the Senate Veterans' Affairs Committee chairman and Democratic Senator Mark Takano of California serves as the Senate Veterans' Affairs Committee chairman.
At times the House and Senate committees have disagreed, such as in October 2019 when Democrat committee members accused Republicans of trying to attach "poison pill" amendments to a bill on female veterans' health care after Republicans stormed out of the House Veterans Affairs Committee.
Newsweek contacted Moran's office for comment.