Senate Vote on $2,000 Stimulus Check Will Test Donald Trump's Influence Over GOP Lawmakers
President Donald Trump's sway over GOP lawmakers faces a test after he said the Senate would follow the House in voting on the higher-value stimulus check he demanded while refusing to sign the new stimulus and government spending bill.
Trump eventually caved after several days of backlash over delay to relief for struggling Americans, ending the prospect of a government shutdown, signing the $2.3 trillion bill that included the bipartisan $900 billion stimulus package on Sunday night.
In a statement, Trump said he would sign the bill amid bipartisan pressure to provide urgent financial relief such as the new $600 checks and extending the additional unemployment benefit as coronavirus again surges in the U.S.
But the president also repeated his call for lawmakers to increase the size of $600 stimulus checks to $2,000 per adult and said the Senate would vote on such a rise after a House vote scheduled for Monday.
"The Senate will start the process for a vote that increases checks to $2,000, repeals Section 230, and starts an investigation into voter fraud," Trump said. He later added that "much more money" would be coming to the American people.
Only a handful of Republican senators have signaled support for $2,000 stimulus checks so far, including Josh Hawley of Missouri and Lindsey Graham of South Carolina, a long-time ally of the president.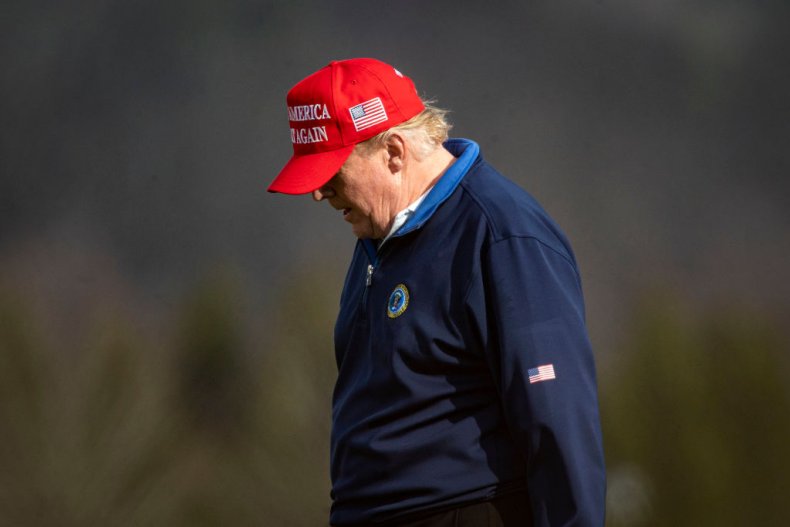 "Donald Trump is right—workers deserve much more than $600, as I have repeatedly said & fought for," Hawley tweeted last week. "And there's obviously plenty of $$ to do it—look at what Congress threw away on corporate giveaways & foreign buyouts. Let's get it done."
Graham also came out in support of larger stimulus check payments after a trip to Trump's golf course in Florida over the Christmas break.
"After spending some time with President Donald Trump today, I am convinced he is more determined than ever to increase stimulus payments to $2,000 per person and challenge Section 230 big tech liability protection," Graham tweeted on Saturday.
"Both are reasonable demands, and I hope Congress is listening. The biggest winner would be the American people."
Republican senators on the libertarian wing of the party have raised complaints about the provision of stimulus checks altogether, whether they are worth $2,000 or $600.
Senator Rand Paul (R-KY) told Fox News last week that most Americans didn't need a stimulus check, despite mounting rent arrears and heightened unemployment.
"I think giving money to people, though, who are already working—look, my kids are working and don't need a check. They're not rich, but they don't need a check," he said. "And most working Americans don't need a check right now."
However, the bulk of the Republican Senate caucus has remained coy on where they would come down on a $2,000 stimulus check vote.
Releasing a statement after the president signed the latest COVID relief bill on Sunday night, Senate Majority Leader Mitch McConnell (R-KY) applauded Trump's decision to prevent the prospect of a government shutdown.
McConnell did not comment on the commander-in-chief's claim that the upper chamber would "start the process" for a vote to increase stimulus checks to $2,000.
"The compromise bill is not perfect, but it will do an enormous amount of good for struggling Kentuckians and Americans across the country who need help now," the Republican leader said.
Georgia Republican Senators Kelly Loeffler and David Perdue, facing tight runoff elections this January and who have Trump's backing, have also not been definitive on whether or not they would back the proposal to increase the size of stimulus checks.
Speaking to the Atlanta Journal-Constitution last week, Loeffler said: "I'll certainly look at supporting it [$2,000 checks bill] if it repurposes wasteful spending for that, yes."
In signing the bill, Trump sacrificed much of his leverage over the Senate GOP. But, despite his lame-duck status, Trump retains a significant hold over the Republican voter base who largely take his cues on who are the heroes and villains in politics.
Lawmakers who defy Trump risk his ire and opposition in primaries for their seats, and if his popularity with the base endures it could give him enough power to make-or-break Republican politicians for years to come.
Democrats have mostly backed the president's push for $2,000 checks, leaping on the division in Republican ranks ahead of a House vote on the proposals later today, and January 5 Senate runoff elections in Georgia.
"At last, the President has agreed to $2,000 — Democrats are ready to bring this to the Floor this week by unanimous consent," House Speaker Nancy Pelosi (D-Calif.) said last week. "Let's do it!"