Senate to Vote on Coronavirus Relief—Does It Include a Second Stimulus Check?
Senate Majority Leader Mitch McConnell is pushing forward with a vote on an economic relief package, but even if Republicans can get House Democrats on their side, Americans likely won't see another round of direct payments.
The relief, McConnell said, isn't intended to solve "every problem forever" but is designed to deliver "huge amounts" of help to workers and families as negotiations continue. At a price tag of about $500 billion, the package includes funding for expanded unemployment benefits, school safety, vaccines and testing.
Likely not to be included is another round of stimulus checks, formally known as economic impact payments. The first payments, which were provided under the Coronavirus Aid, Relief, and Economic Security (CARES) Act, cost about $290 billion. McConnell hasn't explicitly said the bill doesn't include the payments, but if the total package is expected to be in the $500 billion range, checks are likely to be cost-prohibitive.
Newsweek reached out to McConnell's office for comment but did not receive a response in time for publication.
"Working families have spent months waiting for Speaker [Nancy] Pelosi's Marie Antoinette act to stop," McConnell said in a statement on Saturday. "This is half a trillion dollars of good that Congress can do right now."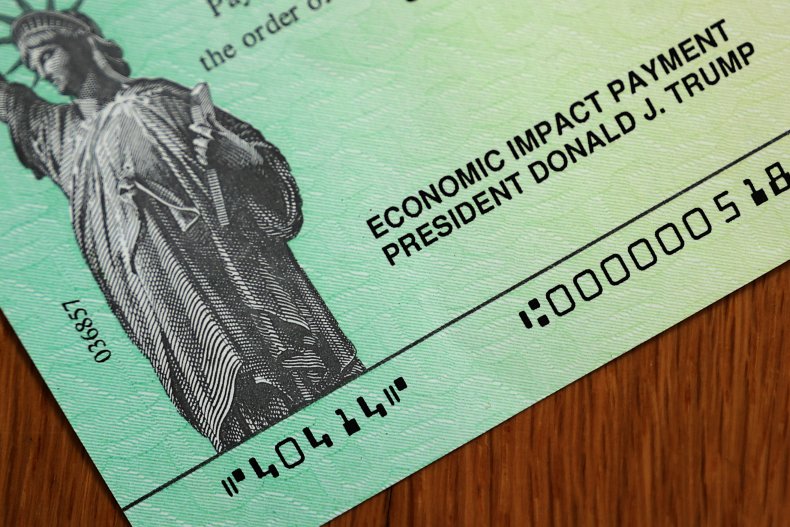 After three legislators tested positive for the coronavirus, McConnell put the Senate in recess until Monday. A stand-alone vote on the Paycheck Protection Program, which helps small businesses maintain their payrolls during the pandemic, is expected to take place on Tuesday, followed by a vote on the full bill on Wednesday.
Passing a bill in the Senate is mostly a symbolic effort about bringing relief to the American people, as it's unlikely to gather enough support in the House to become law. Democrats had a symbolic vote of their own back in May when they passed a $3 trillion relief package called the Health and Economic Recovery Omnibus Emergency Solutions (HEROES) Act. Only one Republican representative, Steve King, voted in favor of the package, and a vote never occurred in the Senate.
As McConnell pushes forward with a package that's been criticized for being too small, Pelosi and other Democratic Party leaders have been negotiating with the White House on a larger proposal.
That package is much more likely to include another round of stimulus checks. It's a provision that both sides agree on, according to Treasury Secretary Steve Mnuchin, who is representing the White House in the negotiations, and the new checks are likely to resemble the first round of $1,200 payments. However, differences on other issues have prevented Democrats and the Trump administration from putting together a bipartisan proposal, and now the clock is ticking.
After speaking with Mnuchin on Saturday night, Pelosi imposed a 48-hour deadline on the negotiations if they want to get the deal done before the election. It's a goal that the speaker said she wants to reach, and she told ABC News' George Stephanopoulos she was "optimistic" it could happen.
Mnuchin said he is "hopeful" there can be a deal before the election, although he speculated that Democrats were dragging their feet to avoid giving President Donald Trump a victory before November 3. If the two sides can agree on a package that includes stimulus checks, people will probably start receiving the payments quickly. In August, Mnuchin said that with an agreement he could push out the checks the following week.