Al Franken Resignation: Here's Every Sexual Misconduct Allegation That Led Senator to Resign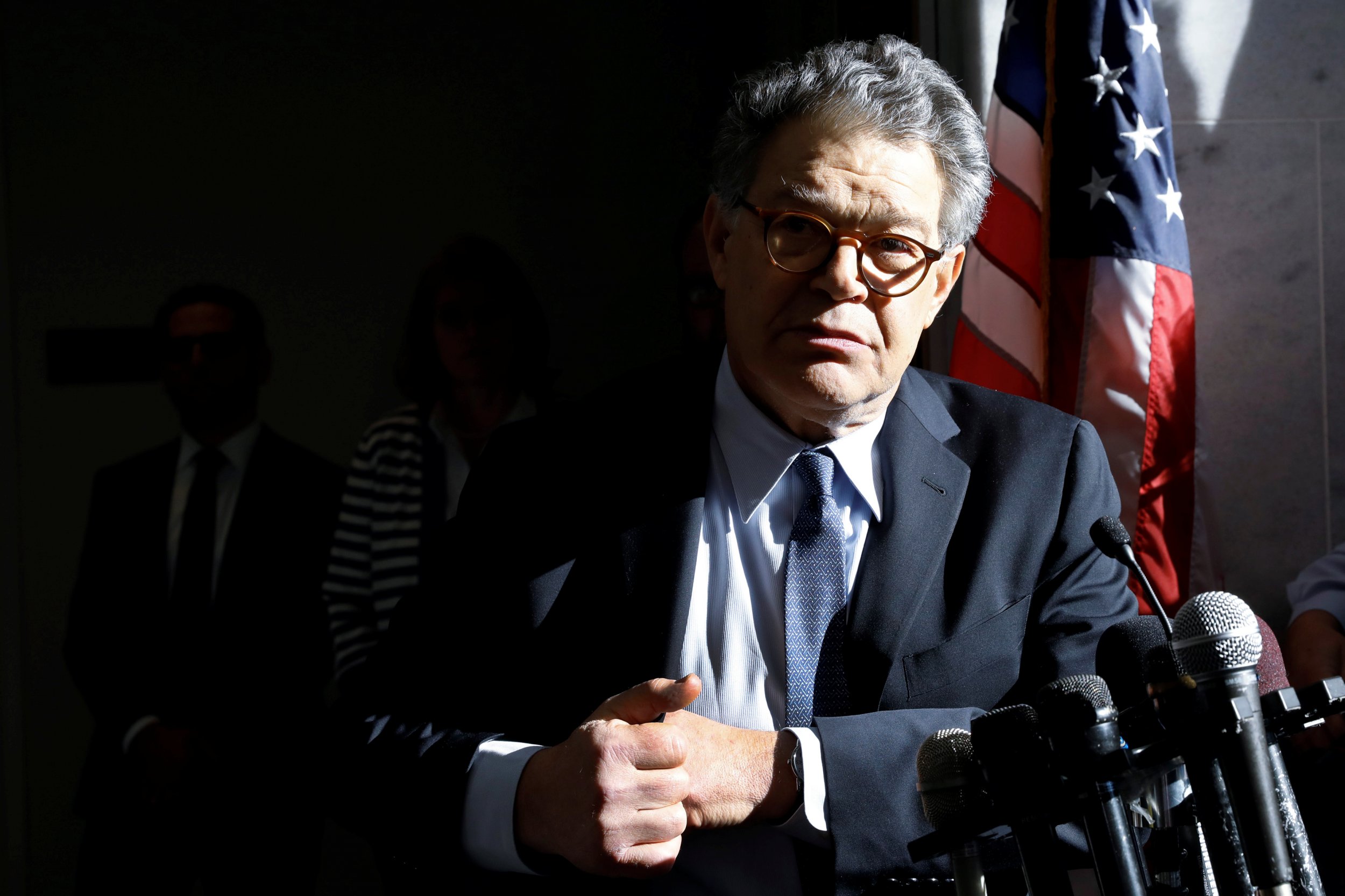 Senator Al Franken announced Thursday he would be resigning amid mounting pressure from his Democratic colleagues, who said the multiple sexual misconduct allegations against the Minnesota Democrat were unacceptable.
Here is a list of every allegation that contributed to Franken's decision to step down:
1. Leeann Tweeden
Tweeden was the first woman to go public with accusations against Franken, breaking her silence with a story on KABC, the Los Angeles radio station where she works as an anchor.
According to Tweeden, Franken forcibly kissed her when they were rehearsing a skit Franken wrote for a USO show.
"He repeated that actors really need to rehearse everything and that we must practice the kiss," Tweeden wrote. "I said 'OK' so he would stop badgering me. We did the line leading up to the kiss, and then he came at me, put his hand on the back of my head, mashed his lips against mine and aggressively stuck his tongue in my mouth."
Tweeden also accused Franken of once groping her breasts while she slept, an allegation she bolstered with photographic evidence.
In a statement addressing the allegations, Franken said, "I certainly don't remember the rehearsal for the skit in the same way, but I send my sincerest apologies to Leeann. As to the photo, it was clearly intended to be funny but wasn't. I shouldn't have done it."
2. Lindsay Menz
Menz came forward with her accusations days after Tweeden, claiming Franken grabbed her rear while they were posing for a photo at the 2010 Minnesota State Fair.
Menz said when she and Franken went to pose for the photo, the senator pulled her in "really close, like awkward close" and put his hand "full-fledged" on her rear as her husband snapped the photo.
"It was wrapped tightly around my butt cheek," Menz told CNN. "It wasn't around my waist. It wasn't around my hip or side. It was definitely on my butt. I was like, 'Oh my God, what's happening?'"
Franken issued a statement to CNN, saying he had no memory of taking the photo with Menz.
"I take thousands of photos at the state fair surrounded by hundreds of people, and I certainly don't remember taking this picture," Franken said. "I feel badly that Ms. Menz came away from our interaction feeling disrespected."
3. Anonymous Women 1 and 2
Two women brought their stories of feeling violated by Franken to The Huffington Post on the condition of anonymity, both recounting times Franken allegedly grabbed their rears.
The first woman, a 38-year-old book editor who lived in Minneapolis at the time of Franken's alleged advances, said the incident occurred when she posed for a photo with Franken after performing in a feminist choir at a Minnesota Women's Political Caucus event in 2007.
"My mother loves Al Franken," the woman told the outlet. "I saw him and asked if we could take a photo together for my mother, and we stood next to each other...and down his hand went."
The second woman said Franken groped her rear at the senator's 2008 fundraiser at the Loft Literary Center in Minneapolis. When Franken later introduced himself to the woman and her friends, she was taken aback by Franken allegedly putting his arm around her waist and then moving it lower to "cup" her butt.
"I felt like I didn't have a voice," she told HuffPost. "This man had all of the power, all of the authority. In addition, he is a white man, and I am a woman of color. I was 21 years old. And I was afraid that he would use all of those privileges to discredit me, to make me feel even smaller than I already felt."
4. Stephanie Kemplin
Kemplin, an Army veteran, accused Franken of groping her breast when he visited American troops stationed in the Middle East with the USO. She was 27 at the time.
Like many of Franken's other accusers, Kemplin said the alleged incident happened when she posed for a photo with the senator, who at the time was working as a comedian.
"When he put his arm around me, he groped my right breast," Kemplin told CNN. "He kept his hand all the way over on my breast. I've never had a man put their arm around me and then cup my breast. So he was holding my breast on the side."
She told the outlet she was plagued with racing thoughts in that moment, wondering if Franken had grabbed her breast by accident and if he would move his hand. She said he didn't.
"I was in a war zone.... You were on a USO tour—are you trying to boost the morale of the troops or are you trying to boost your own?" she said. "I just feel so sorry for that young girl in that picture."
5. Former elected official
A former elected official who was granted anonymity by Jezebel told the site Franken once attempted to give her a "wet, open-mouthed kiss" on the mouth while the two were onstage for a 2006 event. Instead, he managed to plant it on her cheek.
"I was stunned and incredulous," said the woman, who had been working as the chairwoman of her town's Select Board at the time. "I felt demeaned. I felt put in my place. It was onstage in front of a full theater.... It was insidious. It was in plain sight, and yet nobody saw it."
The woman said she wanted to come forward because she hoped Franken might "take personal responsibility for his actions, learn from this, not repeat this behavior and go forward with respect in all his interactions with women."
6. Former congressional aide
A former congressional aide came forward on Wednesday with an account not dissimilar to the former elected official's. In an interview with Politico, the unidentified woman accused Franken of attempting to kiss her without her consent following a taping of his radio show in 2006.
"He was between me and the door, and he was coming at me to kiss me. It was very quick, and I think my brain had to work really hard to be, like, 'Wait, what is happening?' But I knew whatever was happening was not right, and I ducked," the former aide said in an interview. "I was really startled by it, and I just sort of booked it towards the door, and he said, 'It's my right as an entertainer.'"
In a statement to Politico, Franken called the allegations "categorically not true."
"The idea that I would claim this as my right as an entertainer is preposterous," he continued. "I look forward to fully cooperating with the ongoing Ethics Committee investigation."
7. Tina Dupuy
Dupuy, a freelance journalist and former communications director on Capitol Hill, said she was groped by Franken in 2009 at a Media Matters party following President Barack Obama's inauguration.
In a piece for The Atlantic, Dupuy said she'd asked for a photo with Franken at the party because he was a hero of her foster mother's. When they went to pose for the shot, Dupuy said, Franken put his hand on her waist and squeezed her "at least twice."
"It shrunk me. It's like I was no longer a person, only ornamental," Dupuy wrote. "It said, 'You don't matter—and I do.' He wanted to cop a feel and he demonstrated he didn't need my permission."