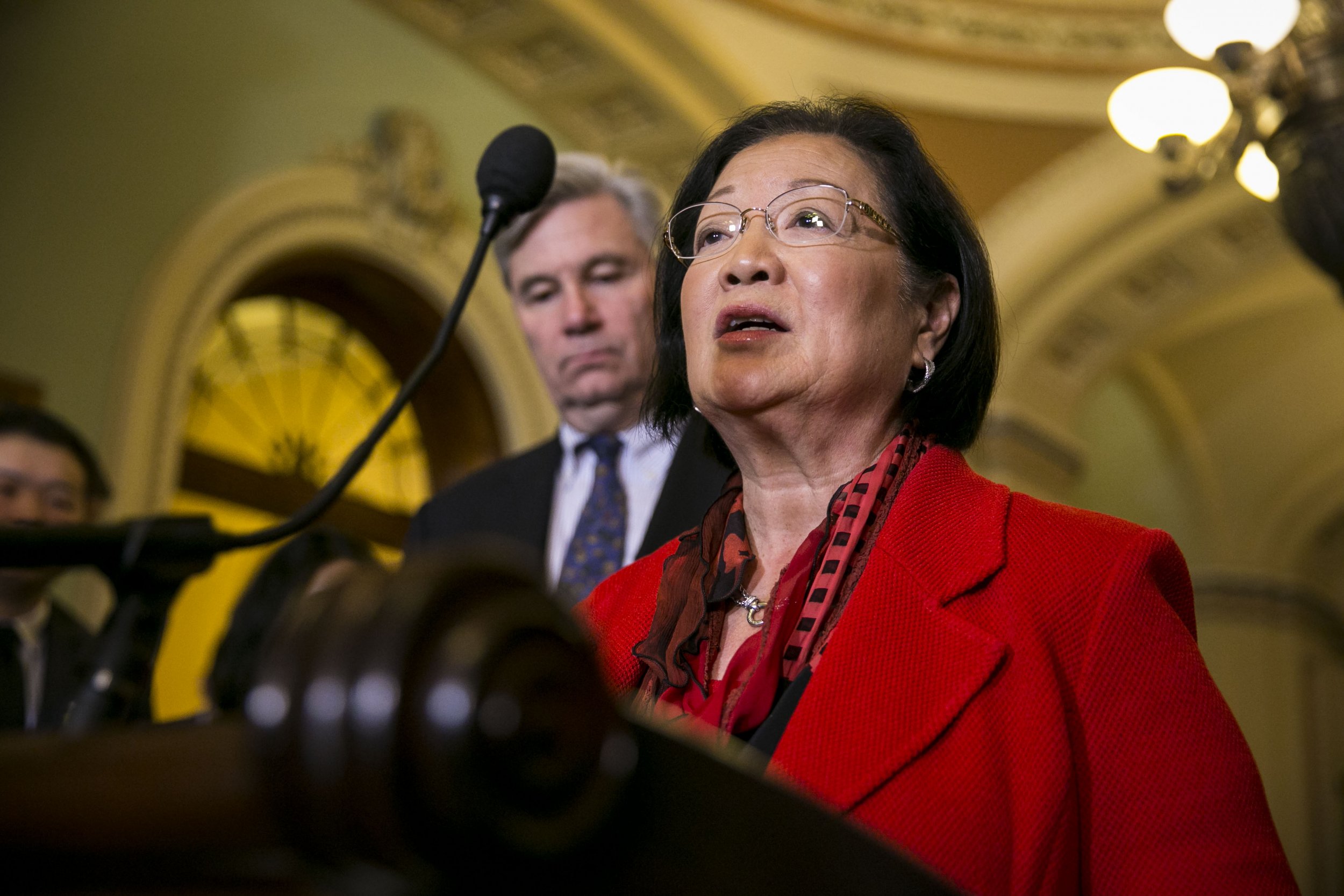 A Hawaii Senator says she will now start asking all federal judiciary nominees whether they have ever committed sexual misconduct—a move she says will help change the culture on Capitol Hill and ensure that would-be judges are worthy of the bench.
Senator Mazie Hirono (D-Hawaii) unveiled the new approach at a Judiciary Committee hearing on Wednesday, asking Fifth Circuit Court of Appeals nominee Kurt Engelhardt whether he had ever "made unwanted requests for sexual favors or committed any verbal or physical harassment or assault of a sexual nature" and whether he had ever been disciplined for such conduct.
Engelhardt said no to both questions.
Hirono referenced the #MeToo movement as the inspiration for her to start asking all would-be judges about their history with sexual assault and harassment.
"The nominee answered my questions and that was that," Hirono told Newsweek on Thursday. "And that is how it should be. I want nominees who come before me in the Senate to know that these questions are about to become normal."
Hirono's exchange with Engelhardt took just over one minute. But it accomplished something longer-lasting: If someone comes forward with proven allegations against Engelhardt, he could then be found guilty of lying under oath.
"We all have a responsibility to take action to stop sexual harassment and assault, and create lasting cultural change," Hirono continued. "This means keeping this issue on the front burner. Women have endured this behavior since time immemorial, and this line of questioning is a step I can take as a U.S. senator to hold accountable nominees who will be in positions of power."
In a year-end report last month, Chief Justice John Roberts called for a review of the federal justice system's problem with sexual misconduct, writing that it was clear "the judicial branch is not immune" to the issue. Roberts was referring to Alex Kozinski, a chief judge on the Ninth Circuit Court of Appeals who resigned in December after at least six former female clerks and junior staffers accused him of showing them porn in his chambers, making crude sexual comments toward them and touching them inappropriately.
Roberts wrote that the judiciary's administrative office would assemble a task force in 2018 to "review procedures and codes for sexual harassment claims."
Hirono's decision to begin asking nominees about their pasts is the latest in ongoing efforts to address sexual misconduct in the federal government and nationwide. Last year, both the House and Senate voted unanimously to pass new internal policies that would make sexual harassment prevention training mandatory for all members of Congress and their staff.
Democratic women plan to wear black and bring victims of sexual misconduct to this month's State of the Union address in solidarity with the #MeToo movement and "Time's Up," Hollywood's initiative to combat sexual harassment. Over the next several months, the Democratic Women's Working Group will also invite women from different industries to a series of hearings that may lead to legislation.
"It's not all about Donald Trump," House Minority Leader Nancy Pelosi said this week. "This is a culture change that is sweeping the country, and Congress is embracing it."