Senator Bernie Sanders Throws Support Behind Boston Graduate Student Workers
Presidential candidate Senator Bernie Sanders tweeted his support for student workers in Massachusetts on Tuesday. It was the type of recognition the students credited with possibly influencing their schools to come to the bargaining table as they push for changes in how they are compensated for on-campus work.
Throughout the country, graduate and doctoral students have formed unions and used their collective voice to advocate for better wages, medical care and other benefits. Students from multiple prestigious Massachusetts universities are slated to speak about issues affecting them before the Boston City Council on Thursday. Now, they have Sanders' support.
The senator's declaration came days after he announced a plan to forgive an estimated $1.6 trillion of student loan debt and on the eve of the first democratic presidential primary debate, where some speculated education would be a topic of discussion.
"Boston College grad students are fighting to have their labor rights acknowledged," Sanders posted on Twitter. "It's time the university respects the majority of grad students who voted to be in a union."
Sam Levinson, a Ph.D. candidate and research assistant in Chemistry at Boston College, told Newsweek it was exciting to see Sanders' tweet, especially because he's running for president. Levinson said graduate student unions should "absolutely" be a national-level conversation because of the number of graduate workers that are affected.
"We had hoped that the university administration would do the right thing and bargain with us after we won our election, but since they have refused to do so, we hope that with the majority support of graduate workers and vocal support from national figures like Senator Sanders, they will change their course," Levinson said.
Tim Larock, who's pursuing a Ph.D. at Northeastern University, agreed that the national spotlight Sanders cast on the issue could apply pressure to schools because the "biggest asset" to a university is its reputation. However, he noted aside from calling attention to the issue, Sanders is limited in his ability to enact change since he isn't in control of the National Labor Relations Board (NLRB).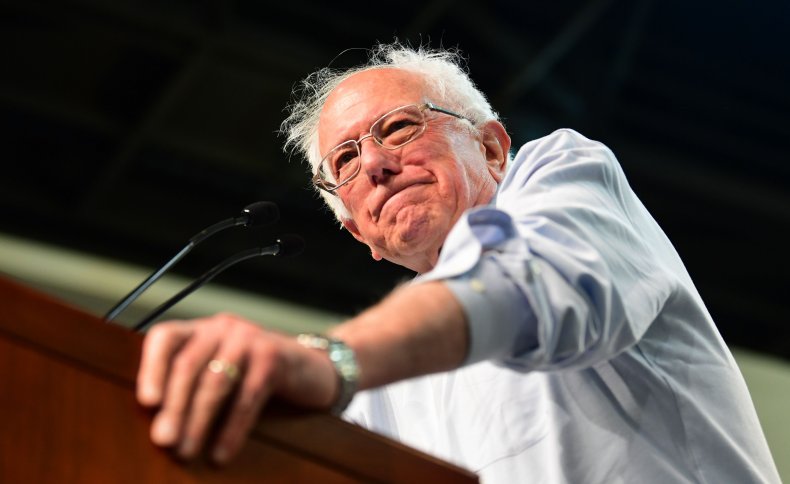 Right now, Larock said there aren't strong incentives for Northeastern to agree to a union election because the NLRB under President Donald Trump said they may reconsider if graduate students qualify as employees.
"If we were to get to a Bernie Sanders presidency, I would feel much more confident that we could win through the traditional NLRB union recognition process," Larock told Newsweek. "That said, I think almost any Democrat would appoint members to the Board who would not be looking for an opportunity to strip our right to unionize."
Zach Coto, a Ph.D. candidate at Boston University, said the most important thing Sanders could propose was removing restraints on organizing. Appointing people who recognize graduate workers' rights to organize to the NLRB would be a "simple, but powerful help."
"Of course, there is no replacement for our own organizing and power building amongst the grad worker community and, ultimately, that will be what we need to have strong and vibrant unions," Coto said. "But, having a hostile federal government to our rights creates one more barrier to unionization that we have to face."
Seeing Sanders' tweet was "heartening" for Harvard University Ph.D. candidate Cherrie Bucknor, who credited an increase in supporters with strengthening the power of a united workforce.
The concept of power in numbers is one both Bucknor and Levinson agreed could be beneficial even just within Boston. They noted there were over 10,000 graduate students in the city and by combining voices to act collectively their influence increases.
"These universities are forcing their student workers into a second-class workforce," Bucknor said. "This is bad for Boston, bad for the economy, and bad for workers. There is power in collective action, and we believe that joining in solidarity can affect change."
While all graduate student unions want improved working conditions, each one has specific items on their list, although most commonly, they're pursuing living wages and better medical care. Some students, Larock said, have to resort to food stamps because wages can't sustain them. The financial stress that comes with pursuing higher education is one that Larock noted can cause capable student workers to "throw in the towel."
At the center of the argument, is whether graduate students, who often fill roles on campus outside their direct studies, such as teaching courses and serving as research assistants, are employees. Many schools say no, but the students say yes.
"We are workers. We teach classes, grade papers, and do groundbreaking research. We're not asking for the sun and the moon. All we want is to be treated the way all employees deserve to be treated. With respect, a living wage, healthcare, and a process we can trust for reporting harassment and discrimination," Bucknor said.
Levinson added that every day, graduate students complete difficult jobs and they deserve to have their rights recognized. "Graduate work is work," Levinson said.