Senator Blames Trump's Decision to 'Walk Away' from Iran Nuclear Deal for Saudi Arabia Oil Attacks
Senator Angus King, who sits on the Armed Services Committee, blamed the Trump administration's decision to "walk away" from the Iran nuclear deal Tuesday morning, following reports that the Saudi Arabia oil attacks originated from an Iranian base.
When asked by CNN's New Day co-anchor John Berman to comment on a CNN source's report that the attack was carried out by low altitude cruise missiles from inside Iran, King responded that he had given it a lot of thought over the last day and offered "some important historical context."
"I think the unfortunate and the unwise decision by the Trump administration to walk away from the Iran nuclear deal really led us to where we are today," the Independent senator from Maine said. "There was no reason to do that. The deal was flawed, everybody knew that, but the way to approach it was to build on our international coalition and work on some of the issues like Iranian proxies, like Iranian missiles."
King continued: "Instead we walked away, we put all the pressure on Iran and now we shouldn't act surprised when they strike back."
President Donald Trump withdrew the United States from the Iran nuclear deal, officially titled the Joint Comprehensive Plan of Action (JCPOA), in May 2018. An achievement of former President Barack Obama, the deal signed in July 2015 offered Tehran billions of dollars worth of sanctions relief in exchange for ensuring that Iran's nuclear program would be "exclusively peaceful."
Tehran agreed to decade-long restriction on its nuclear capabilities and promised that "under no circumstances will Iran ever seek, develop or acquire any nuclear weapons." But Trump deemed the deal "terrible." Tensions between the U.S. and Iran have climbed steadily since Trump withdrew from the deal.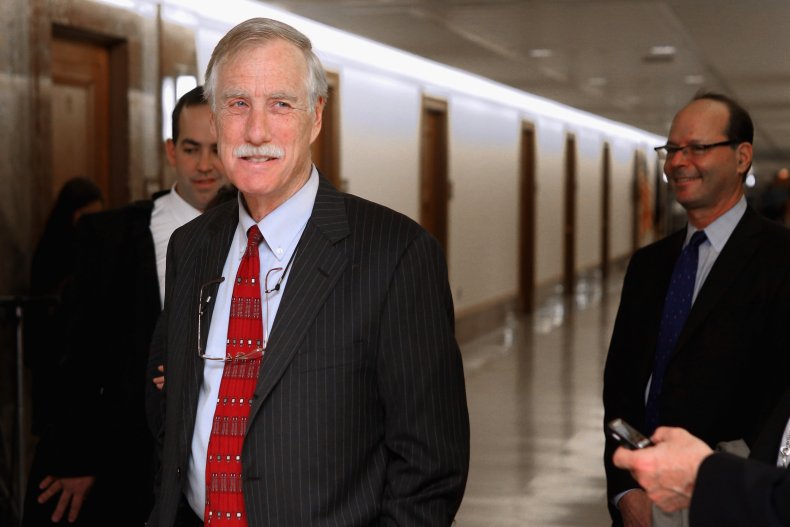 On Tuesday King continued to blame Trump after criticizing him for walking away from the deal.
"Number two: I think the president should stop tweeting altogether about this and stop making off-the-cuff remarks," King said. "This isn't domestic politics—this is war and peace and he has already sent confusing signals."
Trump was heavily criticized for a tweet on Sunday in which he did not identify who he thought was behind the attacks, saying he first had to consult with Saudi Arabia. Critics accused him of having an overly friendly relationship with the Saudi royal family.
"Saudi Arabia oil supply was attacked. There is reason to believe that we know the culprit, are locked and loaded depending on verification," Trump tweeted, "But are waiting to hear from the Kingdom as to who they believe was the cause of this attack, and under what terms we would proceed!"